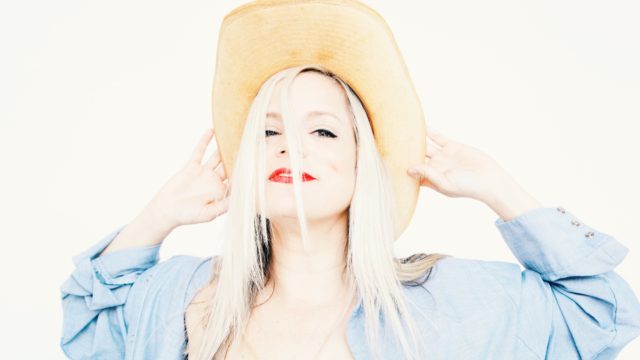 By Jim Roberts
Barbara Nesbitt was a teenager when she first sang with Rare Daze in the late '80s at Cogan's Instant Art Bar. Little did she know that gig would begin a journey that has taken her from Tidewater to the artistic Mecca of Austin, Texas, with a six-year layover in San Diego. Along the way, she's released four solo albums and had the good fortune to share the stage with a few of her idols, including Willie Nelson. She's coming back to Virginia in late July to headline two shows with Bernie Lee, who played with her in Rare Daze and later in the Perpetrators and has remained her "oldest, dearest, most trusted friend." Here are excerpts from a recent interview with Veer Magazine.
How has living in Austin changed your songwriting and musicianship?
Well it's definitely a high caliber, you know? There's always a challenge to learn more and to be better at what you're doing and hone your skills as best you can. I've also been able to delve into what was already a natural propensity toward Americana, roots, traditional country, and start writing songs that kind of fit that bill and were allowed to come out. …
Just being around so many good musicians and good songwriters, there's such an intra-support between bands and genres in Austin. A punk rock band is totally into going and seeing the singer-songwriter. That's really cool, and you get a lot of influences that way. I always have this end up happening to me, where I hear an incredible songwriter—whatever genre it is—and I'm simultaneously wanting to go home and write and never write again. Like: 'OK, never mind. I'll never write a song that good.' But ultimately, all it really does is inspire. And that's such a great thing. It's such a great community. … So far, it's been a super positive experience for me. I've been real lucky, I think.
When you come back to Virginia, you're doing a show at the oceanfront and then a show in Norfolk. Are those straight solo gigs, or will you be playing with Bernie or anybody else?
It's pretty much a Perpetrators gig, but I'm going to infiltrate it with a lot of my original music that Bernie knows a lot of. Also exciting—my fiddle player from Austin [Eddie Dickerson] will be coming. He's going to be in western Virginia during that time, and he's going to travel down and play with us at the beach and hopefully at Cutty Sark too. … It's ridiculous how good he is. He's amazing.
I know you still have a lot of fans here, and you come back at least once or twice a year. Do they come out and support your shows?
They do. So much. We've had a couple of shows that have been just slam full of people and awesome. I do think I might be shooting myself in the foot a little bit because this will be the third time in less than a year. I don't know what to expect exactly. I just go into it, looking at it like: I love playing music with Bernie. I love getting my Orapax spinach pizza. And I love seeing any of my friends who are willing to make the trek to hang out with us.
What did Bernie think when you left—what—12 years ago now?
God, it has not been 12 years! … Bernie was super understanding about me wanting to explore outside options, and he was by far—by far—above and away, beyond the rest—the thing I missed and still do miss the most about leaving. … I'm so lucky to have met him. I credit him with the course of my life turning toward music. That is not hyperbole. I just mean it 100 percent.
I want to ask you about performing with Willie Nelson and with Bob Weir. How did those performances come about?
Yeah, that was kind of incredible. We were asked to perform—to open up for Willie Nelson at Austin City Limits Live New Year's Eve, and after much debate, I decided to say yes. It was so amazing. … It was just a magical night, and then he asked us to come up and join him on stage, and I ended up getting to sing like four songs with him. He was super gracious and super sweet, and that was definitely one of those, 'OK, I'm good now—probably nothing else better than this is ever going to happen. I might as well pack it in.' … That was incredible, and I hope it's not the last time it happens.
Bob Weir was so awesome too—especially for me because my musical journey all started out with me being a little hippie Deadhead. I was following the Dead around when I was 15. The last time I had seen Bob Weir sing—for instance, 'Friend of the Devil'—it was at a stadium, and he was a mile away from me. And this time, I was singing it with him, and he was three feet from me! It was just such an incredible, full circle sort of moment.
I got hooked up with that because I sing back-ups for Tim Flannery. … We played a show at Bobby's venue, and Bobby was there. … We had chatted a little bit, and I told him how much I loved his music. I was trying to be cool but not too cool for school. I wanted to tell him how much I appreciated him. He said, 'Do you want to get up and sing a few songs?' And I was like, 'Uh, yep. Sure do.'" … That was just super special—super special to me.
I've been so lucky, so lucky to be able to have some of these experiences. I don't know what I did to deserve it, but I'm super grateful.
What advice would you give a local artist here in Norfolk or Virginia Beach who's where you were 10, 15 years ago?
I would say, you've got to want it real bad. You've got to want it real bad, and it's worth it. Music has saved my life. Don't quit. … Want it enough to continue being able to have a journey that includes music. If you are able to do that—if your journey is able to include playing music on any level, then you're doing pretty good, I think."
Barbara Nesbitt will perform at 7 p.m. July 26 at Cutty Sark in Norfolk. For more information, visit: barbaranesbitt.com.
[Sidebar]
Right as Rain
Nesbitt released her fourth solo album, "Right as Rain," in January.
"I'm proud of it," she said during our interview. "I feel like I had a really interesting mix of the singer-songwriter stuff … and the more raucous, kind of upbeat country stuff. … I've come out of those into this new evolution—whatever it is. I have a hard time thinking of a nice little neat genre to put my music into. Whatever it is, it's really kind of fun to see the evolution over the years."
Critics seem to agree.
Jim Caligiuri of The Austin Chronicle wrote: "The new disc finds Nesbitt making accomplished contemporary country, music with smarts and attitude, a faultless demonstration of her clear soprano. … The disc features some of Nesbitt's best songwriting, a mix of bluegrass ('Hot Tin Roof'), honky-tonk ('Someone I Can't Live Without') and plainspoken sexuality ('I Brought My Pajamas, Let's Get Drunk'), all from the heart and with a knowing wink toward tradition." – Jim Roberts