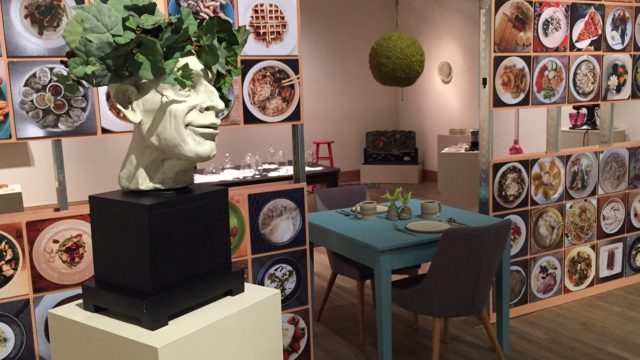 By Betsy DiJulio
Twenty-five years after the exhibition Dream House quickly became one of the most memorable and historic in Peninsula Fine Arts Center History, and even the region, the exhibition concept has shape-shifted into the 21st century as Dream House Remix, and includes many of the original artists as well as many more new ones.
During a busy installation week, Diana Blanchard-Gross, curator, took time to indulge me in a Q and A for Veer readers.
What was the original concept of Dream House 25 years ago?
The original concept of Dream House in 1992 was about exploring and achieving the material dream by blending crafts with fine art and architecture in a fantasy house.  It was originally designed by former curator, Deborah McLeod, who had two goals in mind: bringing experimental and contemporary art to the public through an accessible theme, and to enable a huge collaboration among artists, architects and craftsmen, all working in the same space.
How did the idea of a Remix come about and how long has it been in the works?
Many of our visitors still remember the Dream House exhibition fondly. The Remix exhibition has been in the works for nearly two years.  Reimagining it in its 25th year was so necessary when we think about the role we play as a museum and our responsibility to help educate and enlighten the general public. We often notice the confusion most people have when faced with contemporary art, asking questions like what is it that makes art meaningful to a person, what is its worth, what makes you want to come back or draws you in?
By bringing contemporary art inside a familiar setting – like a home—our intention is to make the general public feel more comfortable and relaxed to explore. We can all relate to that "nesting instinct," and wanting to find objects to make our homes more beautiful; this exhibition has you seeing those everyday objects as works of contemporary art in a setting that is relatable and accessible.
How do your intentions for Dream House Remix both parallel and depart from the original show?
I wanted Dream House Remix to feel familiar and draw from everything that worked in the original exhibition, yet I also wanted to breathe new life into it. Much has changed in 25 years. Contemporary art, after a quarter century, starts to shift with new technology and uses for it, design methods, and new ways of thinking.  You will definitely see some of these more modern features woven into the Remix exhibition.
I wanted to expand our idea of home and how we "feather our nest."  Our homes are undoubtedly extensions of ourselves and how we want to be seen.  We spend so much time in our home that it should be the most imaginative place to foster our most true lives. I also wanted to recognize how we decorate our homes and how we could utilize artists in that endeavor. Instead of buying mass produced items for our homes, I wanted to encourage people to think about purchasing original objects that offer more substance and meaning.
How many artists and works are included and how were they selected?  How many of the original artists are in the show and did you attempt to contact all of them? 
There are 55 artists with over 137 works on display in this exhibition, and we have 20 of the 77 original artists returning. It took the better part of last year tracking down the original artists.  Some had moved out of the area, some had passed away, and some were very excited to be part of this exhibition again. I gave the original artists the first opportunity to create some of the signature pieces I had planned for the different rooms.  Once that was determined, I contacted additional artists that I thought could take on the challenge of creating works for the home and about the home.  Also, participating artists recommended other artists for this exhibition.
Did you know exactly what you were going to receive from each artist or were there some significant leaps of faith and surprises on delivery day?  Will you share some examples?
I knew some of the specific works I would be receiving and others have been works in progress for months that I didn't see until they were delivered.  Many of the artists were producing works specifically for the exhibition and I gave them the time to create. Charles Streshley is one of the original artists from the 1992 Dream House exhibition.  Once we put out the call for artists, he contacted us immediately and wanted to create a bed for the bedroom. His bed and accompanying side table are stunning.  I have been amazed at the response of the artists in creating works for this exhibition.
In terms of installation, I am imagining that, much like designing a room in an actual home, you had places in mind for the signature pieces in each gallery "room," and filled-in around them in a process akin to staging.  Is that somewhat how the installation process worked?  Or was it all mapped out ahead of time or, conversely, all in-the-moment/on-the-spot decision making?
In my mind, I had specific works that I wanted in each room.  Most of the anchor pieces were selected by the artists to create.  For the few works that I knew I wanted, I researched artists and asked them about creating works for specific rooms.  Since some of the works were being created specifically for the rooms, I didn't know what they looked like until they were delivered.  The installation process was part staged and part in-the-moment.
Will you give Veer readers a general sense of what kind of work they can expect to see?
The general sense when visitors walk through our doors is to experience walking through a home.  As you meander through the rooms, you are in a familiar setting, viewing functional pieces as well as fantasy works. Again, they are works that encourage thought and introduce contemporary art in a familiar and accessible way.
Is there anything else you would like to share about this exhibition or related programming and materials?
I want visitors to have fun and an open mind as they visit and explore the attributes of the household and its contents. Dream House Remix presents a vast survey on how the commonplace objects that are utilized unceremoniously from day to day are, in fact, rich with ceremony and visual prospect.
Gallery Guides and panel copy will introduce and discuss contemporary art and different art mediums for both children and adults.
Programming for Dream House Remix includes Art after Dark events on Thursdays, July 27 and August 24, with live music and a cash bar and a Community Day on August 12th.  At each of these events, collaborative projects and ways to build and think about your own home and community will be involved, such as a canned food drive where visitors can bring it items to be added to a large collaborative sculptural piece of art with non-perishable food items donated to the Food Bank upon completion.
PFAC's large Imagination Playground Blocks will be available daily for our littlest guests to dream up their own fantast home or fort, and Hands-On for Kids programming and activities will all focus on building, creating, and imagining the home and community and through contemporary works.
On September 28th PFAC will host an Art over Wine event which will pair wine with food and art as guests wander through the galleries sampling food, tasting wine, and interacting with artists as they discuss their work.
Admission for "Dream House Remix" is just $1 through special "Swing Into Summer" pricing which runs through Labor Day. PFAC is open Daily Tuesday through Sunday.
WANT TO GO?
Dream House Remix
Through October 8
Peninsula Fine Arts Center
101 Museum Drive, Newport News 23606
757.596.8175 / http://pfac-va.org