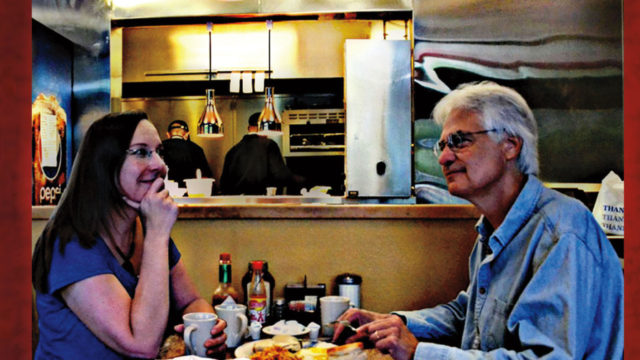 By Tom Robotham
If you've lived in this area for any length of time, chances are you've seen Jim Newsom perform. Over the last three decades he has been a mainstay at local festivals, while also playing frequently at countless smaller events, in both jazz ensembles and pop-rock cover bands.
While playing covers can get old for some people, Newsom never seemed to tire of it. Indeed, although he had performed evergreen hits like "Brown-eyed Girl," thousands of times, he always seemed to embrace them with the same joy that he had when he first learned them as a teenager in his parents' home in Suffolk.
Three years ago, however, he decided it was finally time for a change.
"I'd gone to see Inside Llewyn Davis (a film about the early '60s folk scene in Greenwich Village)," and when I came out of the theater I said to my wife, 'You know—I think I'm going to start going to open-mic nights again.'" Newsom had moved to the Village himself in 1978 to become part of the scene there, and the movie had awakened a desire to get back to his roots.
"I hadn't been to an open mic night since 1984," he recalled, "but I was getting musically restless. I'd been with the same band for 14 years. It was great—I love those guys—but I needed a new challenge."
Two months later he learned of a new open-mic night not far from his home in the Larchmont section of Norfolk and decided to act on his impulse. He'd planned to play solo, but after striking up a conversation with a fiddle player named Holly Kirsten, he asked her if she'd like to play a song or two with him. She agreed, and in that moment a new musical partnership was formed. Soon they were performing regularly together as the duo Mountaintide.
On June 16, they will release their new album, Coffee & Fried Steak.
"This is our third project together," Newsom told me as we chatted over beers recently, "and it's definitely a more mature record. We know each other better now—we know each other's strengths and weaknesses—so we've developed a more symbiotic relationship."
The symbiosis is evident when they perform live, not only in their vocal and instrumental harmonies, but in their between-songs banter. At shows, however, they keep things fairly simple, performing contemporary folk, with Newsom playing either flute or guitar, and Kirsten switching off between guitar and fiddle.
What's not fully evident during those shows is Kirsten's astonishing musical range.
"Holly can play anything," Newsom said. "She probably plays instruments that I don't even know about."
Since Newsom is a versatile musician as well, they decided to make the most of this on the new album, overdubbing instrumentals to add texture to songs when it seemed appropriate. A couple of songs are even backed by string "quartets"—a word I put in quotes, since it's actually Kirsten alone playing all the parts. (Such is the magic of recording technology.) Newsom, meanwhile, played bass on a few tracks, in addition to guitar and flute, and both of them contributed piano parts.
The writing process, Newsom told me, was fluid as well. While classic songwriting teams tend to specialize—one person handles the lyrics while the other writes the music—Newsom and Kirsten traded off. Six of the 14 tracks are collaborations; another six are Newsom's creations, and two are Kirsten's.
THE FIRST THING I NOTICED about Coffee & Fried Steak, while listening to the album, was its thematic cohesiveness. In fact, there are several related themes running through the album, like threads in a tapestry.
First, it is marked by wistful reflections on youth. 'Evanston,' for example, which honors the great American tradition of the song of the open road, was in inspired by Kirsten's memory of borrowing the family car at the age of 16 and heading off with a friend from her home in Salt Lake City to a small-town truck stop across the Wyoming border. But it is a road song with a twist, as Kirsten realizes that she "wasted so much time trying to run away." (It is also the song from which the duo drew the album title.)
Likewise, the song 'Street Singer' was inspired by Newsom's recollections of his humble beginnings as a busker in New York City—although Kirsten wrote the melody and handles all the vocals on this one. That his story is presented as hers is a symbol of that aforementioned symbiosis.
Given that Newsom turned 65 this year it is not surprising that the album includes contemplations about youth and age. It's a universal impulse to reflect on the choices we've made. But several of these meditations are time-specific. Like many children of the '60s, he can't help but reflect on the idealism of that era. In 'A Thousand Monday Mornings,' for instance, he recalls his college days when he "dreamed of life in stereo" and "didn't know that [he] might get stranded down the road in a life incorporated."
Newsom—recently retired—ended up spending most of his adult life working as a bank executive, so the song is bittersweet. But I wouldn't call it rueful, especially in the context of the album as a whole. The question many of us ask ourselves—how did we get here?—is tempered by an expression of acceptance and a savoring of the small pleasures of everyday life. In 'Last Anti-War Song,' Newsom sings that he's "tired of gunsmoke blowin' in the wind" (an allusion to Dylan, I imagine, since Newsom first taught himself how to play guitar by working his way through a Dylan songbook) and that it's now "someone else's fight." The sense of weariness, however, is balanced by the thought of a quieter life, in which he can make "time to sing and laugh and love and play."
Ah yes, but the thing is, it's not his last protest song. Another song on the album— 'Desperate Days'—was written while Newsom was snowbound at home, 10 days before Trump's inauguration, when every day seemed "stranger than the last."
Meanwhile, 'Growing Guns on Trees,' is a plea to all of us to rise up and put an end to the "rubbish from the NRA." He originally wrote the song in 1977, but after the mass shooting in Orlando, he rewrote most of the lyrics to reflect more recent horrors.
"It's the most powerful lyric I've ever written," Newsom told me. "I've played it in public and had people come up to me crying, telling me that their brother, or someone else close to them, had been shot. I quickly realized that I can't play this in bars. But the Orlando thing hit me hard. I thought, this shit's gotta stop. Sometimes I cry when I sing the song. But it needs to be said. It needs to be sung."
In spite of the strong socio-political commentary—presented in an intensely personal way—the album also contains songs of unfettered joy in a life lived with simplicity and gratitude. "Virginia"—to my mind the most beautiful song on the album—begins with a gently rolling guitar intro—and unfolds through Holly's gorgeous lead vocals, backed by Jim's gentle vocal harmonies, into a loving tribute to the state they both call home.
Indeed, my main takeaway from our conversation was Jim's gratitude for the life he is living now. When I asked him whether retirement spurred this new surge of creative energy, he said that it was probably the reverse. Several years ago he had planned on working at his day job until he was in his late 60s. As his desire to write and play more often grew, however, he moved up the timetable.
"I feel like the luckiest guy in the world," he said. "I'm 65 years old, and people are still paying me to go out and play music."
Coffee & Fried Steak will be available as of June 16 on Amazon.com, iTunes and other online outlets, as well as at Birdland Records and other selected stores.