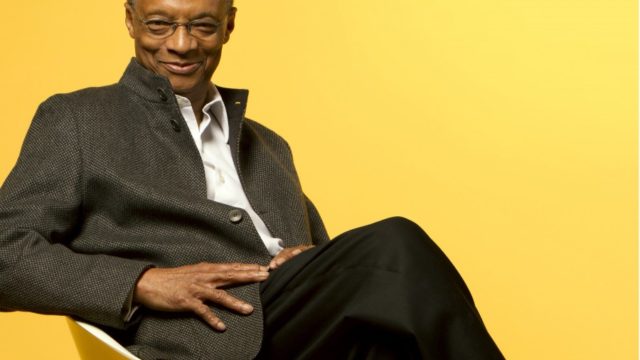 By Michael P. Curry
It was the Summer of 1968.
The very first Hampton Jazz Festival was presented (after the idea had been gestating for about a year)
on Armstrong Field at (then) Hampton Institute. That first  Festival included performances by  Count Basie, Dizzy Gillespie, Herbie Mann, Theolonius Monk, Nina Simone, Dionne Warwick, Muddy Waters and…. Ramsey Lewis.
And the Maestro is back – 50 golden years later.
Widely revered as a Master of Jazz, Ramsey Lewis exploded onto the international jazz scene with his Grammy Award winning "The in Crowd."  For more than half a century he has been an iconic mover and shaker in contemporary jazz and was recognized by the National Endowment for the Arts which bestowed on him the title of Jazz Master.  His collaborations with such other legends as Dr. Billy Taylor, Nancy Wilson, Grover Washington, Jr. and dozens of others are now regarded as classics.
Hampton Jazz Festival's 50th Anniversary lineup also includes such perennial favorites as Patti Labelle, Jill Scott, Fantasia, Maze featuring Frankie Beverly and Coastal Virginia's own up and coming bluesman, Bobby Blackhat Walters.
So, it all really began back in 1967 when the now legendary jazz impresario George Wein attended a week long jazz clinic at Hampton Institute. Having already founded the world famous Newport Jazz Festival, he partnered with the City of Hampton and HI to create what is now a premier musical event, showcasing not only jazz but soul, rhythm and blues and many other genres. All of which basically come from the same origins.
In 1970, the Festival moved to the safer indoor confines of the Hampton Coliseum which had just opened its doors. Built as a major part of the vision of Mayor Ann Kilgore, the Coliseum (often now known as The Mothership) has hosted literally hundreds of great musical, family and theatrical events ever since. The Hampton Coliseum was thriving long before the huge arenas in neighboring Virginia Beach, Portsmouth, etc. came into being.   It was actually very fortuitous that the Festival moved to the Coliseum that year because the weekend of the third Hampton Jazz Festival turned into an immense rainstorm which would certainly have washed out the Festival in an outdoor setting.
Over its 50 year history, the Hampton Jazz Festival has presented virtually (if not ) all of the royalty of the contemporary musical world. Kings and Queens, Dames and Knights, Counts, Dukes and even a Maharaja have been on stage at the Hampton Jazz Festival.
In case you were wondering… the Kings include B.B. King – the King of Blues; Count Basie – The King of Swing. The Queens are: Ella Fitzgerald – the Queen of Jazz; Aretha Franklin – the Queen of Soul…the Duke and the Count are pretty obvious and the real life Dame is Cleo Laine. Don't forget the Godmother of Soul (Patti Labelle) and The Divine One (Sarah Vaughan).
Even though some "purists" decry the fact that the Hampton Jazz Festival is not really pure jazz, it certainly does continue to succeed in selling out year after year, bringing thousands of out of town visitors from all over the country. It is a Festival in the true sense – , it's a family reunion for tons of people crossing several generations.  And the Festival continues to have a huge impact on the economy. Literally hundreds of families gather all the relatives and return for the Hampton Jazz Festival year after year.
Founding producer George Wein once famously said, "These festivals are basically social events. We have always tried to reflect the constant changes in music, especially in jazz. As long as people keep coming and enjoying, we will give them what they want". And that has always been the philosophy behind Hampton's Jazz (and Heritage?)Festival.
So what is pure jazz anyway?
Like the Tango which had its beginnings in the red light districts of Buenos Aires at the turn of the 19th and 20th centuries, Jazz was born in the red light district of French speaking New Orleans at roughly the same time.  The sultry sounds of street musicians creating jazz in order to make a dime has grown into what many call the first true American art form – jazz. And of course, as an art form, jazz is constantly evolving, giving rise to generations of talented musicians and singers while opening up new boundaries and creating new "movements" or genres under the overall umbrella. And jazz has even influenced many a classical composer most notably perhaps Maurice Ravel  and several others living in Paris who incorporated some of the rhythms and idioms of this dynamic art form into their compositions , effectively transporting this nascent art form back to its French roots.. There were and are many others who caught the bug of jazz's unique musical form and vocabulary and hopefully there always will be more .
A TRIBUTE TO ELLA – THE FIRST LADY OF JAZZ
While we celebrate the 50th Anniversary of the Hampton Jazz Festival and the 35th Anniversary of the Norfolk Jazz Festival, let us celebrate the life and legacy of the eternal First Lady of Jazz – Ella Fitzgerald.
Ella was born in 1917 right here in Newport News. She only lived here for three years before her mother moved to Yonkers in New York, with her new partner, a Portuguese by the name of Joseph Da Silva.  Passionate about music and dance as a youngster, Ella was devastated at the age of fifteen when her mother was killed in a car crash. Like so many other great artists who overcame difficulties and tribulations, Ella went through a troubled period, eventually ending up homeless.
She survived by singing on street corners in Harlem and was one of the first contestants at the Amateur Night at the famed Apollo Theatre. She won first place which included performances for an entire week with the Tiny Bradshaw Band.  She came to the attention of Chick Webb (bandleader and drummer) who famously called her "a diamond in the rough". He signed her to her first engagements at the Savoy Ballroom and her 1938 single, A Tisket a Tasket" (which she actually co-wrote) launched her to international fame.
When Webb passed away, Ella took over the duties of bandleader – a first for a female singer – and went on to record more than 100 songs with the band.
Ella left the band in 1942 to create a solo career – one which became not only legendary but exemplary.
As the era of swing came to an end, being replaced by the new bebop movement, Ella changed her style and basically invented the art of "scat" singing -making the voice sound like horns or several other instruments. "I just tried to do with my voice what I heard the horn s in the band doing", she said.
In 1955, her manager Norman Granz (for whom she had appeared on numerous occasions at the Los Angeles Jazz at the Philharmonic Series) created the VERVE record label, mainly for her.  With his powerful powers of persuasion he urged her to try something new . The eight sets of Songbooks, known collectively as the Great American Songbook, were released between 1956 and 1964. These became, and still are, the most well known, most well loved and most revered of Ella's entire catalogue. And of course, VERVE became THE jazz label for several decades.  Her live albums remain absolute treasures for any jazz lover. The Ella in Berlin live album remains a best seller and includes her Grammy Award winning performance of Mack the Knife during which she had a memory slip and forgot the words. No worries, she improvised magnificently, never missing a beat and created an international sensation with her scat singing.
This is pure jazz.
The first of the collection was the Cole Porter Song Book, followed by those by Duke Ellington who was the only composer to appear live with her on these recordings. Then came the songbook by Rodgers and Hart, Irvin Berlin, George and Ira Gershwin , Harold Arlen, Jerome Kern and Johnny Mercer. All of these are the stuff of which dreams are made. As highly respected New York Times critic Frank Rich so aptly said: "Ella performed a cultural transaction as extraordinary as Elvis' contemporaneous integration of white and African American soul. Here was a black woman popularizing urban song often written by immigrant Jews to a national audience of predominantly white Christians."
While recording the songbooks, Ella continued to tour around the world for 40 or more weeks per year.
Her collaborations with Louis Armstrong, Joe Pass, Count Basie, Duke Ellington and the Ink Spots are among the most enduring musical legacies of our time.
It was the purity of her voice, her impeccable diction and innate phrasing that earned her the title of The First Lady of Jazz. She won 14 Grammys, a National Medal of the Arts, The Presidential Medal of Freedom, festivals and theatres being named in her honor and even a postage stamp issued by the US Postal Service in 2007.
THOUGHTS FROM A PRO: BOBBY BLACKHAT WALTERS
Winner of the 2016 Veer Magazine Music Award for Best Blues Band, Bobby is more than excited to be on the same lineup as Patti Labelle, Frankie Beverly, and Ramsey Lewis.
One of only a few "regional" artists to be invited to play at the Hampton Jazz Festival  he ran down Mercury Boulevard  in the middle of the night to photograph his own name in lights on the Hampton Coliseum Marquee. "What an honor… to see my name in lights alongside such greats" he said humbly.
And, as he always likes to say: You never know what is going to happen at a Bobby Blackhat concert"!
2017 HAMPTON JAZZ FESTIVAL
Friday June 23:  Jill Scott, KEM, Brian Culbertson, Gerald Albright & Jonathan Butler
Saturday June 24: The O'Jays, Fantasia, Anthony Hamilton, West Coast Jam featuring Richarld Elliot, Norman Brown & Rick Braun
Sunday June 25: Maze featuring Frankie Beverly, Patti Labelle, Ramsey Lewis, Bobby Blackhat Walters