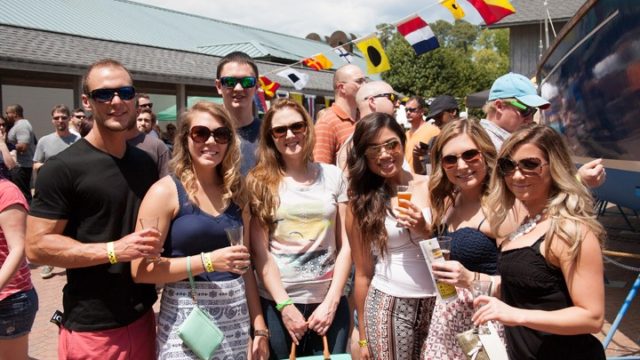 By Chris Jones & Diane Catanzaro
It will be "ale hands on deck" Sunday May 7 at the Mariners' Museum Beer Festival.  YES it is on a Sunday, from 12 – 5.  While there are lots of beer festivals that beckon like a bevy of suds-soaked sirens, there are some very good reasons to navigate to Newport News for this nautically-themed fest.
#1: The museum setting is unique, with a pretty courtyard and grounds, and the museum is open during the event at no additional charge. If one of you likes beer and your fellow mariner is more inclined toward culture there is more to do at this festival than just drink beer. We love to wander through the museum and gawk at the collection of colorful painted figureheads, intricate ship models, paintings, and maritime artifacts.  You can circumnavigate the International Small Craft Center (in a separate building behind the stage), a collection of 150 vessels from 42 countries, including an antique Venetian gondola, a vintage Chris Craft, indigenous boats from numerous culture, completion boats, and many others. Got kids? They can watch Journey to the South Pacific in 3D in the IMAX Theater (separate admissions to both Theater and Museum for kids over 3).  The Monitor Center has the ironclad  warship USS Monitor in both replica and submerged-actual-artifact-from-the-Civil War formats.  Oh, and there is a 150-acre park surrounding the museum and Noland Trail for walking/hiking around Lake Maury.
#2: Ok, now that the culture part has been addressed, you want to know about the BEER!!! We get it. This is why you come to a beer festival after all. The culture stuff is how you get people who aren't into beer to the festival so they get can be your designated driver. (Crafty you!) What we like about this beer festival is the size is big enough to be interesting, but not so big as to be overwhelming. There will be about 50 beers from 20 breweries. As your $35 in advance admission gets you tickets for 20 4-oz pours, you can literally drink a beer from every brewery at the festival. (This is why we mentioned the designated driver in #1, above. Non-drinkers can enjoy the festival for $15, or just spend time at the museum, theater, or hiking trail).
#3: Enjoy beer education and an indoor place to sit and chill out. There will be various talks, lectures, and seminars throughout the day by brewers, brewery reps, and beer educators. These are in a large comfortable room with ample seating and climate control. AND these all feature people who will pour you a sample of beer while you listen to the speaker. This is one of our favorite aspects of this festival.
#4: A focus on local and Virginia breweries. You can taste beers from most of the breweries in the 757 area code. Alewerks from Williamsburg, St. George, Bull Island and Oozlefinch from Hampton, Tradition from Newport News, Smartmouth, Bold Mariner, and O'Connor from Norfolk, and Commonwealth from Virginia Beach will be at the festival.  Breweries from other parts of Virginia will also be represented, including Center of the Universe, Devils Backbone, Bold Rock (hard ciders), Legend, and Starr Hill. These last two will soon be in the 757, as Legend is opening a brewpub in Portsmouth and Starr Hill will be in Norfolk's Waterside District.
#5: Beers you can't get elsewhere: Returning this year by popular demand is a "Cask-Off" where several breweries will provide cask ales, typically infused with some type of flavor addition. Coffee beans? Chocolate? Spices? Fruit? Impossible to know what the breweries will bring but these will be special concoctions you can't get elsewhere, and festival attendees can vote on their favorite.
#6: And finally, what's a beer festival without music? Two bands to please all but the scurviest of dogs will buoy your spirits. Perennial favorites the Esoteric Ramblers will play beer-basted ballads and tippling toe-tappers from their CDs "Keg of Love" and "Beer and Now" during the first half of the festival. (Disclaimer: one of the writers of this column is lead singer).  Hey Hey Hooligans! will play selections from their energetic "Tall Tales and Bitter Ales" CD during the second half.
So, with culture, beer, and music, what else do you need? Oh, yes, food trucks. There will be several food trucks because it takes more than just beer to float your boat. Hope to see you there! Advance tickets are $35.  While they advertise $45 tickets day-of, this festival has been known to SELL OUT.  Buy yours at early so you don't miss out at
http://www.marinersmuseum.org/beerfest/  or call 757-596-2222.