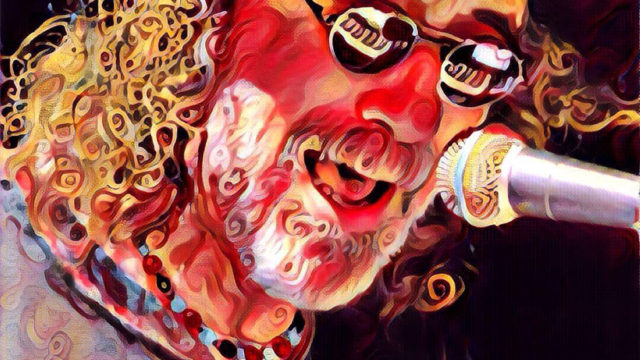 By Tom Robotham
If you listen to NPR, you're familiar with BJ Leiderman's work. For nearly 40 years, his theme music has introduced the public-radio network's signature program, Morning Edition. Subsequently, the longtime Virginia Beach resident—who now lives in Asheville, NC—composed the musical intros to several other popular NPR shows, including Car Talk, Marketplace and Wait, Wait, Don't Tell Me.
All the while, Leiderman—a self-taught pianist and vocalist who never learned to read music— has performed with a variety of bands. His exuberance on stage is infectious, and his soulful renditions of well-known songs—especially those by his beloved Beatles—are deeply moving. Indeed, as I noted in an article about him in VEER several years ago, when he performs 'Imagine,' he seems to be channeling the spirit of John Lennon.
Over the years he's written some originals as well, including a song called 'History 911,' an engaging ballad that is musically reminiscent of Billy Joel, but sharply political. But to the surprise of many people, he never released his own album—until now.
Titled simply BJ, the album is noteworthy for its deeply personal and heartfelt lyrics.
"I'd never wanted to put myself out there like that before," he said when I caught up with him by phone as he was about to be interviewed on Morning Edition.
Sharing one's vulnerability with the world is difficult for a lot of people, of course. But some of us feel more vulnerable than others. Leiderman now speaks plainly and openly about his battles with depression and anxiety, conditions that have hindered him both personally and professionally.
He didn't always speak openly about those struggles. On the contrary, people who know him only casually might be shocked to learn that he has dwelled for so long in emotional darkness. In social settings he comes across as warm, jovial, and quick-witted. As he and I became good friends, he revealed to me his inner struggles—knowing that I've shared many of the same feelings. Some years ago, in fact, after a long conversation on his front porch in Virginia Beach, he gave me a book called Feeling Unreal, a book about coming to terms with one's sense of self, which, for some of us, can be a slippery thing.
I thought of that book while listening to his new album because it now seems terribly ironic. There is nothing unreal about him. His upbeat social persona is not a mask but rather a part of his complexity as a man who sees both the joys and sorrows of life in equal measure.
All of this is evident on the new album.
Take 'Pray,' for example, an up-tempo pop-rock song that breaks out of the gate with a catchy guitar riff, then quickly launches into a personal lyric: "People tell me that I think too much about what I see / but all I know is what I read in the paper and watch on TV /… there's an army of liars pounding on my door / it's getting so much harder to know just what to believe…" After a few more bars, he confronts the reality that, "everybody's gotta pay the rent—except the homeless and the president…" and, for the rest of us, "the only real choice that's left is the freedom to…"
At that point there's a pregnant pause, before he sings the word, "choose" and draws it out. It is a powerful moment in the song, as if he is thinking out loud and hesitating: Do we really have the freedom to choose?
Yes, he ultimately decides—just as he has in spite of his battles with his depression. We have the freedom to choose life—to go on, in spite of external horrors and internal demons.
The album's power comes not just from its lyrics but from its instrumental arrangements. After he sings the word "choose," one expects more verses, but instead the song veers off into an extended instrumental jam, accentuated by soaring saxophone lines and fierce drum beats that pick up to a frenetic pace before settling into resignation.
But if there's one song that captures the essence of the album more than any other—to my mind, at least—it's 'Bring on the Sunrise.'
"Once a fine young dreamer / witness to the time," he sings in a gentle but crystal-clear voice. "…You almost fooled yourself, refused to walk the line, when you found your one last chance had already past / So you stand on your principles / and you swear your god is near / but your god can't protect you from all of the demons you fear / you drive an empty boulevard / stare into the night / wondering what became of the dream that you lost / You glance in the mirror / looking weary from the fight / but the voice in your head says to go on no matter the cost…. "
The tension builds with a couple more lines, backed by rising instrumentals, before it breaks into the chorus: "Yeah, bring on the Sunrise…" A mournful guitar solo follows, but momentarily that chorus of determination comes back.
Bring on the Sunrise.
When I told BJ that this was my favorite song on the album, he responded that this made sense.
"I see the whole album as the start of a new chapter in my life," he said.
How will that chapter unfold?
He has no idea.
"I don't know whether I'll do another album," he told me. "This might be my first and last."
I, for one, hope it's not his last. But it was the most honest of answers—a recognition that nothing is assured. All we can do is greet each day anew—as best we can—and try to make the most of it. Above all, that is the essential message of the album. And in these dark times, it is a valuable reminder for all of us.