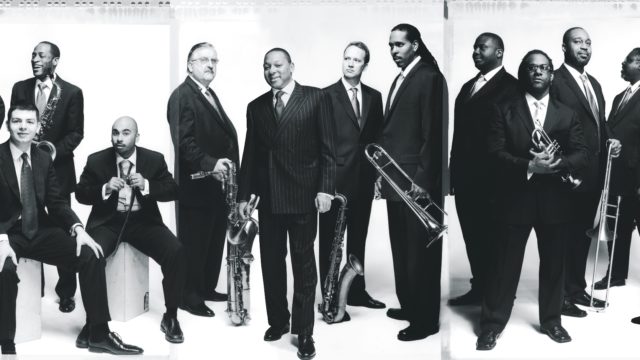 By Jerome Langston
It's been just a few hours since severe weather brought a tornado or two to southeastern Virginia, when I finally catch up with the acclaimed trombonist, Vincent Gardner, who grew up in a noted musical family in Hampton, and is now teaching at Northwestern University in Chicago where he was born. He's actually in Chicago now, when I reach him by phone. Vincent is perhaps best known as the lead trombonist of the Jazz at Lincoln Center Orchestra, which is of course lead by jazz music icon and trumpeter Wynton Marsalis.
Vincent is only a few days removed from his honeymoon with his new wife Belinda, where they spent time in Grenada and Barbados. Just last month my Facebook newsfeed was lit up by photos from the wedding ceremony, where Vincent's father, Burgess, a trumpeter who played with greats like Ray Charles and Count Basie, performed, and JLCO members, Wynton Marsalis and Sherman Irby, were groomsmen.
Sometimes I forget just how rich our local jazz history is, until I have these occasional interactions with jazz musicians like Vincent, who are from the 757. His older brother, trumpeter Derrick Gardner, is also a major name in jazz music, and they join artists like saxophonist Steve Wilson, and brothers Victor and Roy Wooten, who both play with Béla Fleck and the Flecktones. Award-winning jazz radio programmer and drummer, Jae Sinnett, is especially acclaimed on the Peninsula. And, of course, arguably the greatest jazz singer of all time, Ella Fitzgerald, was born right here in Newport News. And I'm sure there are other notables too.
For Vincent's part of this remarkable, yet clearly underappreciated legacy of great jazz emanating from Hampton Roads, he's been featured as a sideman on recording projects from huge names like Wynton, and Nicholas Payton. He's also released multiple albums as a leader on acclaimed jazz label, SteepleChase Records. And his work as an influential member of JLCO has resulted in acclaimed commissions and worldwide tours.
Speaking of which, Jazz at Lincoln Center Orchestra is returning next month to Norfolk's Chrysler Hall as part of this spring's Virginia Arts Festival. For this performance, there doesn't appear to be a set, themed program, which is actually good, because it's nice to just hear the impeccable 15 member orchestra — cats including Vincent, Chris Crenshaw on trombone, Sherman Irby on saxophone, and Ali Jackson on drums, play whatever suits them. And Wynton's trumpet solos, the marvels of sonic beauty that they are, are worth the ticket price alone. Still, Vincent gives me a bit of insight into what we can likely expect.
"I'm sure it will be a mix of everything that we've been doing with this year's programming in New York," he tells me. Jazz at Lincoln Center is currently in its 2016 to 2017 season, and so there have been plenty of performances from the big band, as well as a ton of guest artists this season, who have graced the multiple performance spaces in New York City's Frederick P. Rose Hall, which opened in 2004, though JLCO's history dates back much further. "This whole season has been a season where we've taken each decade in jazz's development, and a different guy in the band has been the musical director for one of the decades," Victor explains. He got the 1940s, which means his focus was on the early development of Bebop, and its pioneers like Thelonious Monk and Charlie Parker.
"They wanted to make a music that still swung, but it had some new elements in it that were harmonically challenging, that set it apart from this commercially driven swing music," Victor says. "Bebop's big thing was that it broke out of the swing era." Programming JLCO's 1940s focused jazz concert, allowed the jazz composer and historian to really dig into Bebop's hidden treasures — classics that are not well known from that era in jazz. "The obscure music in Bebop was just as revolutionary as the more well-known ones."
Coming up later this month is Jazz at Lincoln Center's annual fundraising gala, which celebrates Ella Fitzgerald's centennial (she was born on April 25, 1917) via a multi-artist concert honoring the Virginia native's enormous influence on not only jazz, but American popular music as a whole. The gala is a keynote part of the institution's Ella Fitzgerald Festival.
Jazz at Lincoln Center's upcoming performance here in Norfolk will likely encompass some Ella. Simply put, Ella Fitzgerald, known as the First Lady of Song, is one of the most important musical acts of the 20th century. Since her death in 1996, she's been heralded as one of the most popular female artists in recorded music history. Ella is the recipient of a bunch of Grammy awards, a Presidential Medal of Freedom honor, and even a postage stamp honor in 2007.
"She really showcased how the female voice could lead a band," notes Vincent, who has a lot to say about the jazz legend. "She could do anything…"
WANT TO GO?
Jazz at Lincoln Center Orchestra
With Wynton Marsalis
Chrysler Hall
Friday, May 5th
8:00 PM
vafest.org