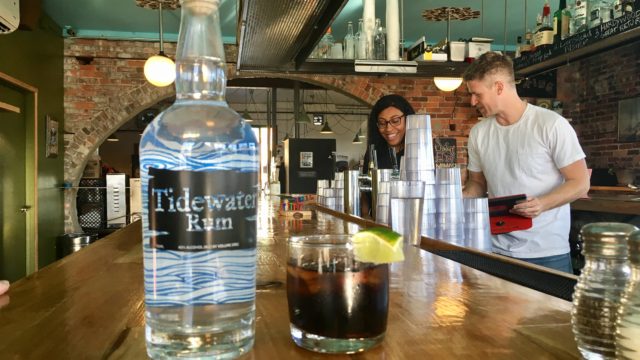 By Jim Roberts
Dead Reckoning Distillery draws its name from the method of navigation sailors use as a last resort. "It can be said that this method is about trusting your instincts," the distillery's website explains. "About trusting your gut." It has probably felt that way at times for Derek Ungerecht since he founded Dead Reckoning more than two years ago, but his hard work is about to bear its first fruit—in the form of clear, unaged rum. Here are 12 things to know about the Norfolk-based distillery before its flagship product, Tidewater Rum, hits Virginia's ABC stores on July 1.
Ungerecht taught himself how to distill rum.
"It's similar to learning how to brew beer at your house," he said. "The first time you do it, it's never any good. Then you learn a little more and talk to people." He spent months "messing with fermentations, trying to get everything right" and now has it down to a science. "Distilling has been going on for 5,000 years," he said. "It's really, at its root, a very simple process: We distill it, proof it back out, filter it, bottle it, label it and put it on the shelf."
He also built Dead Reckoning's copper still.
Ungerecht considered buying a brand-new still, but he said his production forecasts over-run the capacity of any that he could afford as a start-up. (There's also an 18-month wait, due to current demand.) So he bought sheets of copper and built one himself. "I've always been handy," he said, "but all I've ever done is sell stuff for a living. This is kind of an opportunity to do something with my hands."
Ungerecht was a "rum and Coke guy" in his 20s, but he chose to distill the sugary spirit for historical reasons.
"Whether people like to admit it or not," he said, "the first liquor in America wasn't whiskey; it was most likely rum." He also said rum is "the most fun" of all the spirits. "People are starting to take it more seriously," he said. "It's growing dramatically, and you can do more things with rum than you can other categories. … You can play with rum, and people are OK with that. A bourbon's supposed to taste like bourbon. Rum is more loosely defined."
Tidewater Rum will sell for $24.99—a few dollars more than major brands like Bacardi and Captain Morgan.
"Obviously, our costs per liter are much higher," Ungerecht said, "but we want a product that's price-competitive enough that it's reachable by the main populace. We feel people are willing to pay a few dollars more for something that they know is made locally by guys that are trying to put their kids into college and trying to pay for retirement and just make ends meet like everybody else."
Ungerecht and his business partner, Matt Hartman, met in the Boy Scouts.
Hartman said it didn't take much convincing to get him on-board. In fact, when other friends would wax on about opening a brewery (and drinking for free), Hartman was always the odd man out, making the lone pitch for a distillery. "We are extremely excited," he said of Tidewater Rum's debut. "We've put a lot of work into getting where we're at. We've had a lot of help, a lot of support, and we're just thrilled to hit this milestone. We've already started talking about what's next."
Hartman is responsible for Tidewater Rum's distinctive label.
"We wanted this to be something that's going to pop off on the shelf," he said. "Something that's going to immediately catch your attention." They settled on a black label with cut-out letters, but it's the inside back label—a blue and white wave graphic that shows through the clear bottle—that really catches the eye. "We're real proud of that," Ungerecht said. "That label design is all him, and I couldn't be more proud of it, honestly."
Ungerecht was planning to open in Norfolk's Chelsea neighborhood—until John Porter called. Porter, the co-owner of Handsome Biscuit and Toast, tracked down Ungerecht and encouraged him to consider opening in Park Place. (In fact, their first face-to-face meeting took place down the street at O'Connor Brewing Co.) Porter, who knows how hard it can be to launch a business, is pulling for Ungerecht. "He's obviously a really hard-working guy who's pulling this off, which I think is no minor feat," he said. "It's been impressive to watch, and I'm excited."
He earned a marketing degree at Old Dominion University, but patience and persistence have been his most valuable assets.
"I knew that I didn't know a lot," he said, "that there was going to be so many things I'd never thought of. I took a couple entrepreneurship courses, and I just knew there's so much stuff you have to do and so many agencies you have to deal with and hoops you've got to jump through. I knew it would drag on longer than I thought, but it's even longer than longer than I thought."
Along those lines, he's already identified one thing he would have done differently.
"Hindsight being 20/20, I would have opened this business without the tasting room," he said. "Initially, I would have gotten an occupancy certificate and got the place open and then went through the special exemption process." (The exemption, which was imminent at the time of publication, will allow Dead Reckoning to sell and serve on premises.)
Next up: spiced rum and barrel-aged rum.
Ungerecht's plan is to introduce a spiced rum in the fourth quarter and eventually start barrel-aging rum. "That's really where a lot of our passion lies," he said. "Rum as a category has suffered from this image of the fruity cocktail drink where the liquor really gets drowned in the sugar and fruit that you add to it. People are starting to realize … it's also something that can be aged and enjoyed over ice or neat just like an aged whiskey. That's what we're hoping to bring to market."
Ungerecht doesn't seem too worried about the competition.
"At the end of the day, all of the rum within 150 miles of us equals one-tenth of one-hundredth of a percent of the rum market in the world," he said. "We're not really competitors." That said, he's a big fan of Outer Banks Distilling in Manteo, North Carolina. "All of their products are, in my opinion, to be envied," he said. "They've got a great, great white rum."
He is already preparing for the craft distillery bubble to burst.
"It's just like the craft beer thing," he said. "People are always going to care about craft and homemade, but it's all going to cool down, and the industry's going to change. I don't know if that's two years from now or 10 years from now, but at some point, this whole microdistillery boom is going to bust, and you've got to hope that you've grown your market big enough and large enough and strong enough that you can remain in business once that happens. I already feel under the gun to grow it as fast as I can."
Dead Reckoning Distillery, Inc. is located at 312 W. 24th Street in Norfolk. For more information, visit deadreckoningdistillery.com or Dead Reckoning's Facebook page.