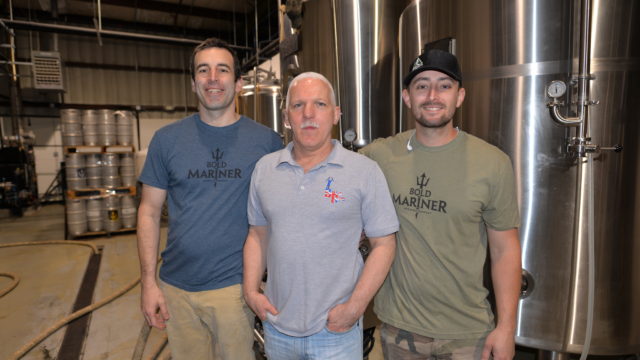 By Jeff Maisey
Norfolk's Bold Mariner Brewing Company recently joined forces with NATO Allied Command Transformation Chief of Staff Air Marshall Sir Graham Stacey of the United Kingdom to collaborate on a craft beer full of as much symbolism as tasty ingredients in honor of Norfolk NATO Festival, the 100th anniversary of Naval Station Norfolk, the centennial of America's entry into World War I, and the 75th anniversary of the Royal Air Force Regiment.
Cross The Pond IPA will make its debut Saturday, April 29 in Town Point Park during NATO Fest, and will be made available in the Bold Mariner tasting room.
Air Marshall Stacey, being British, of course, is a fan of a good pint of beer. He prefers bitters and has found many American IPAs to his liking. While he has never collaborated on a beer before, he does have firsthand knowledge of the principles of brewing.
"I did spend three years at university doing homebrew because it was cheaper than going to the pub," he said with a smile. "I just hope that this turns out better than my homebrew did."
The name Cross The Pond IPA was pitched by the Chief of Staff's assistant, Jonny Kane, an American helicopter pilot. It's perfect for the occasion and a beer name not previously used.
"This is about Norfolk NATO Festival and the link across the Atlantic; the enduring bond and friendship between North America and Europe based on a huge history," said Stacey. "This (beer) is going to be part of it."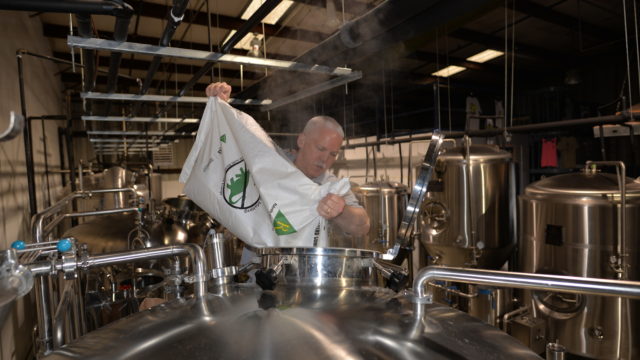 Cross The Pond IPA is stylistically a New England-style IPA – another appropriate element of this unique collaboration.
The main difference between a standard IPA and a New England style version is the cloudiness in appearance of the NE product. Its visual appearance can be compared to a traditional hefeweizen.
"The base for it is super light," said Bold Mariner head brewer John O'Reilly, "with wheat, oats, and two-row barley with no sweetness coming from the grain to showcase the hops. We're going for a ton of hop flavor with low bitterness."
The hop varieties used in 7-barrel (217 US gallons) batch of Cross The Pond IPA are Amarillo, Centennial and Equinox.
During the two-session brewing process, after the beer was boiled, Graham Stacey rejoined the brewers a couple of weeks later for the dry-hopping process, which is key to accentuating the hop aroma on the nose when consumers put their face in a glass of beer.
Cross The Pond IPA is estimated to be at 6 % ABV, according to Bold Mariner's Michael Stacks. It will be the perfect IPA for spring consumption.
"It should taste great and be refreshing for a nice spring festival," said Stacks.
For Stacks, who still serves in the military, this collaboration is rewarding in several ways.
"Collaborations are fun because you get to use the creativity of friends and people you want to work with," Stacks said. "It will stimulate some interesting ideas you wouldn't think about on your own. It's always fun to create something that will represent something else. I do know that Graham is a fan of IPAs, and we wanted to make something that has a very citrusy IPA flavor. Brewing it together in the spirit of NATO is where we want to go. So to make a beer for the Norfolk NATO Festival is something we are happy to be part of."