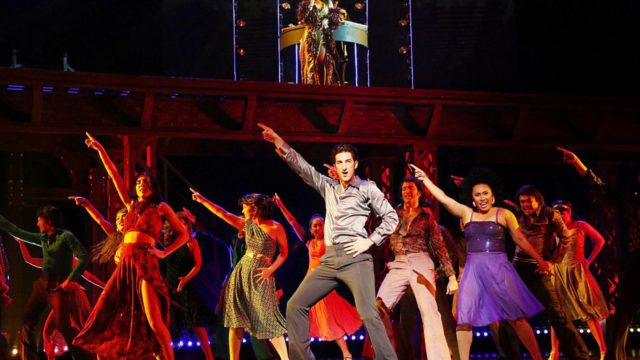 Compiled by Staff
Turandot
Virginia Opera
March 17, 19, 21
Based on an ancient fable set in China, this story of the legendary Princess Turandot, so desirable that men risked their heads for her hand in marriage, weaves the quest for love with the ultimate consequences. From the opening moments of Puccini's extravagant and exotic score, you will be thrown into a world of suspense and horror. Featuring "Nessun dorma," one of the most famous opera arias of all time, and sung by a stellar cast of internationally recognized singers, led by audience favorite Kelly Cae Hogan (Salome 2015) and Derek Taylor (La Boheme 2009), you will be enthralled by this epic new production, under the direction of Virginia Opera's beloved Lillian Groag (La Traviata 2015).
Saturday Night Fever: The Musical
March 24-25
Ferguson Center
"Saturday Night Fever – The Musical" tells the iconic story of Tony — the kid from Brooklyn who dreams of dancing his way to a better life. Fueled by vintage Bee Gees hits, this contemporary retelling of the classic story captures the energy, passion and life-changing moments that have thrilled audiences since 1977. Now, a new generation of dancers meets a new generation of playgoers to explore the soaring sounds and pulsating rhythms of this coming-of-age disco fantasy, in a new production that showcases Tony's love for dancing in spectacular ways.
Lovesick Blues: A Tribute to Hank Williams, Sr. & Patsy Cline
April 1
American Theatre
This is no April Fools' Day prank!  The American Theatre welcomes the incomparable Robbie Limon back to the stage with his guest, the very talented Tracey Wygal. Lovesick Blues brings together two powerful musical icons, Hank Williams, Sr. and Patsy Cline, in an unforgettable evening of music and memories. Together, these award-winning actors perform some of the greatest hits of both Country music legends, climaxing with a made in heaven duet of their respective hit Love Sick Blues.
Motown the Musical
April 4-9
Chrysler Hall
It began as one man's story… became everyone's music… and is now Broadway's musical. Motown The Musical is the true American dream story of Motown founder Berry Gordy's journey from featherweight boxer to the heavyweight music mogul who launched the careers of Diana Ross, Michael Jackson, Smokey Robinson and many more. Motown shattered barriers, shaped our lives and made us all move to the same beat. Featuring classic songs such as "My Girl" and "Ain't No Mountain High Enough," experience the story behind the music in the record-breaking smash hit Motown The Musical!
The Wright Brothers – Those Daring Young Men & Their Flying Machine
April 8
American Theatre
Two brothers, Orville and Wilbur Wright, decide that it is indeed their destiny to make this dream real and begin in earnest to build a machine that can fly.  Starting with gliders they take their dreams and equipment to Kitty Hawk, North Carolina. After some success, but a lot more failure, they return to Dayton feeling despondent and at the end of their road. The brothers toss a coin to decide who be the very first human to experience sustained, powered flight? Who wins? Find out the answer, and witness the historic flight itself in this Wright Brothers musical guaranteed to send your imagination soaring!
The Wiz
April 11-30
Presented by Virginia Stage Company
Wells Theatre
This multiple Tony Award-winning musical adventure, adapted from L. Frank Baum's classic children's novel, The Wonderful Wizard of Oz, has received critical acclaim for film, television, and Broadway productions for more than 40 years. Our production will feature cast members from New York as well as Norfolk State University and promises to be one of our biggest spectacles since My Fair Lady.
In the Mood: A 1940s Musical Revue
April 14
Sandler Center
In The Mood celebrates America's Greatest Generation through the music of Glenn Miller, Tommy Dorsey, Artie Shaw, Benny Goodman, Harry James, Erskine Hawkins, The Andrews Sisters, Frank Sinatra and other idols of the 1940s. In The Mood takes a look at America's Swing Era, the last time when everyone listened and danced to the same style of music.   It recreates defining moments from the 1930s/1940s – from the happy-go-lucky era before WWII – to the start of the war when thousands of our youth were going abroad to defend our freedoms – and longing for the end of the war when loved ones would be reunited. The famous Life Magazine picture "The Kiss" by Alfred Eisenstaedt epitomized such a moment.   The music arrangements of these American songs evoke powerful emotions even in people who were born decades after WWII.
How to Succeed in Business Without Really Trying
Presented by Virginia Musical Theater
April 21-23
Sandler Center
How to Succeed in Business Without Really Trying, the Pulitzer Prize and Tony Award-winning musical, is a story about the triumph of the common man amid the buffoonery of big business. When a restless, creative, and ambitious window washer named J. Pierpont Finch happens upon a book entitled 'How to Succeed in Business Without Really Trying', he decides to begin his rise up the corporate ladder. With the book's instructions and a dose of his own cleverness, Finch starts by landing a job in the mailroom at the World Wide Wicket Company, before quickly gaining promotions and outsmarting his scheming, sniveling rival, Frump – who also happens to be the boss's nephew– until finally reaching the very top of the organization. From the very beginning, Finch has had the love and support of Rosemary, a marriage-minded secretary who recognizes Finch's potential, and finds his innocent demeanor endearing. But in his single-minded pursuit of the top job, Finch is in danger of discounting Rosemary's love. In a moment of crisis, Finch's manual to success can no longer help him: he must rely on his own wits, and ultimately, his heart, to save the day. The standout score by Frank Loesser features such classics as the surreal and funny "Coffee Break", the rousing "Brotherhood of Man", and the melodious tongue-in-cheek ballad, "I Believe In You", while the immensely clever book by Abe Burrows, Jack Weinstock, and Willie Gilbert, won the Pulitzer Prize in 1962 for Best Drama.
Chicago
Performances 5/19-6/11
Little Theater of Norfolk
Music by John Kander
Lyrics by Fred Ebb
Book by Fred Ebb & Bob Fosse
In roaring twenties Chicago, chorine Roxie Hart murders a faithless lover and convinces her hapless husband Amos to take the rap…until he finds out he's been duped and turns on Roxie. Convicted and sent to death row, Roxie and another "Merry Murderess" Velma Kelly, vie for the spotlight and the headlines, ultimately joining forces in search of the "American Dream": fame, fortune and acquittal.
Kept: A Ghost Story
May 25-28
Presented by Virginia Arts Festival
Attucks Theatre
Be among the first to hear this new opera! The Festival's John Duffy Institute for New Opera seeks and supports the work of opera composer and librettist teams, providing mentors and shepherding new works to the stage. This spring, one of those carefully tended nestlings will fly, with the world premiere of Kept — the 19th-century story of a wild young woman, the lighthouse keeper she marries, and the dark secrets they share. Kept marks the first operatic collaboration between composer Kristin Kuster and poet Megan Levad, whose haunting score and vivid poetry illuminate the hearts of these ill-fated lovers.