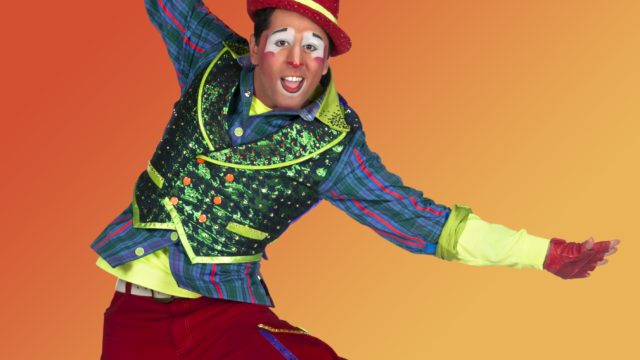 By Jim Roberts
Ivan Vargas is a happy clown, but he broke character last May at the final Ringling Bros. and Barnum & Bailey circus performance that featured elephants.
"I usually keep my emotions in check because I'm out there performing," he said in a recent interview with Veer Magazine, "but I remember as soon as they took their final bow in the finale and they started to leave the arena floor … that's where I lost it. I just started tearing up."
Vargas will likely have a similar reaction this May, when Feld Entertainment presents the very last show in the circus' 146-year run. Feld, which owns the Ringling Bros. and Barnum & Bailey brand (as well as Disney on Ice, Marvel Live and Monster Jam), announced the decision to end the circus in January, blaming high operating costs and declining ticket sales.
"It was heartbreaking," Vargas said of the all-hands meeting where employees were notified of the decision. "Since I started performing, I've seen changes, but I never thought it was bad enough to merit what's happening now. … I can't lie to you. It was very hard to hear those words—especially for someone like me. I was literally born and raised on Ringling Brothers."
"Born and raised" is not a cliché for Vargas. He comes from six generations of circus performers on his father's side and five on his mother's. His parents were originally trapeze artists who joined Ringling Bros. in the 1980s; now, his father works on the show as an animal superintendent, and his mother works in wardrobe.
Vargas grew up traveling with the show and began performing as an acrobatic at age 15. He made the jump to the world-famous "Clown Alley" at age 18. Now—at only 26—he's considered a senior member of the show.
"Being a clown has just opened my whole world up," he said. "Not just performing, but as a person—how I interact with people in life. I was actually a very shy person. … Now I'm happy to see everybody."
And he's happy to come back to Norfolk one last time. "Every time I go there," he said, "I make new memories because there are new people in the show. … Even though it's familiar and I've been there, it's with new people, and they're experiencing this for the first time."
Seven Venues' records show that the Ringling Bros. and Barnum & Bailey circus made its Norfolk debut in 1919 and that "big top" shows continued in the area every two or three years through 1958. The circus made its Norfolk Scope debut in 1972 and has returned 46 times. (Hampton Roads natives of a certain age may recall the infamous 1980 performance when spectators were held in the venue overnight due to a blizzard that delivered over a foot of snow.)
Norfolk is also unique in that it's so close to the next city on the circus' tour; Hampton Coliseum is only 19 miles from Scope, which allows for two extra shows in the second week. "The arenas—they get filled," Vargas said. "Even people who come to Norfolk will come to see the show again in Hampton. … If they love the show and they want to see it again, they do have the opportunity because we're there in the same area."
Of course, Hampton Roads has another dubious connection to the Ringling Bros. show: The Norfolk-based People for the Ethical Treatment of Animals (PETA) is largely responsible for Feld's decision to retire the elephants, and that had a major impact on ticket sales this year. In fact, the Associated Press story announcing the circus' cancellation quoted PETA President Ingrid Newkirk as saying: "After 36 years of PETA protests, which have awoken the world to the plight of animals in captivity, PETA heralds the end of what has been the saddest show on earth for wild animals and asks all other animal circuses to follow suit, as this is a sign of changing times."
Vargas said the initial shock of the cancellation wore off at the first show after the announcement. "We're still giving it our all," he said. "Now everybody is coming out, and almost every show is filled to the top." (The AP reported that the final show in Uniondale, New York, sold out in January and that tickets are selling on the secondary market for as much as $2,000.)
Vargas doesn't have specific plans yet for his post-circus life. All he knows for sure is that he wants to continue entertaining people. "Whether it's in one of these arenas that I grew up in with 10,000-plus people or if it's outside in a park with 10 people, it doesn't matter," he said. "To me, it's entertaining. As long as I'm making people happy with skills that I've learned over my lifetime so far, I want to show that.
"The circus isn't closing," he continued. "Ringling Brothers, unfortunately, is closing, but the circus will always be alive in one form or another. … There will always be some type of entertainment somewhere, and I just hope to be a part of it."
And if Feld ever revives the circus, Vargas will be the first one in line.
"There is nothing like Ringling, honestly," he said. "I hope one day, in some shape or form, Ringling will be back, and I hope I'm still around, because I'll be back in a heartbeat. This is such a magical place, and it's my home. I hope people come out to see me and my friends and my home one last time—at least for now."
Ringling Bros. and Barnum & Bailey will present "Circus XTREME" from March 23-26 at Norfolk Scope and from March 29 through April 2 at Hampton Coliseum. Ticket prices start at $15 in Norfolk and $13 in Hampton. For more information, visit SevenVenues.com or HamptonColiseum.org.