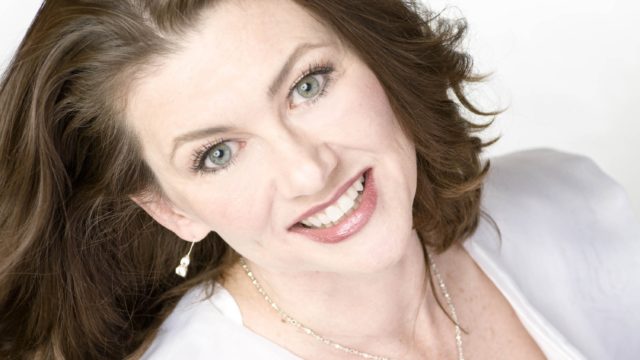 By Montague Gammon III
Puccini's final opera, Turandot, from 1924, is a fable about sex and death, and about fearing (and not fearing) sex and about not fearing (and fearing) death.
This love story, as it is often called, is "not about finding the right person for you, starting a family, and so forth," says Lillian Groag, stage director of Virginia Opera's upcoming production.
"It's about erotic romantic passion. It's about eros."
"The words of the opera are for the most part very sexual – not sexy but sexual."
Groag says that an Act 2 trio about a wedding night "Comes this close to being physically descriptive."
"Eros is very dangerous. It's like an illness. [The opera] is about the danger of passion. It tells you right off that [eros] kills. All those princes are dead."
"Those princes" are the beheaded former suitors to the Chinese Princess Turandot, who has stipulated that she will marry only a man of royal blood who correctly answers three riddles she will pose. The prospective bridegroom must agree that if he fails to answer any of those riddles, he will be executed.
Prince Calaf falls in love with the merciless Turandot at first sight, though perhaps it would be more accurate to say that he falls in lust with her. Despite the pleading of his elderly blind father, a deposed king himself, and of his adoring servant girl, Calaf without revealing his name, agrees to her Highness' potentially fatal bargain.
He wins, but then gives the lady an out. Since she does not know his name, he agrees that if she can discover it before the next dawn, he will consent to die.
Groag calls this "The most extraordinary declaration of love! He puts himself in someone else's hand. That's what passionate love does; you're in the hands of the other person."
"This loss of self is what Turandot fears all the way through. In her view men destroy women and she's not going to be destroyed."
Turandot's tale of how the mistreatment an ancestress suffered at the hands of a man motivates her vengeful approach to men and marriage, Groag maintains, is an "excuse."
She fears "that kind of all encompassing love… She does not want to lose herself." She also fears the physical consequences of sex, in an era when pregnancy often ended fatally for the mother.
Therefore Turandot commands that no one may sleep in her capital city of Peking, so that the Unknown Prince's name may be discovered. (This prompts the still anonymous and confident Calaf to sing one of the most famous of operatic arias, "Nessun Dorma," Italian for "None Shall Sleep.")
All this is usually played out against a literal and figurative backdrop of great spectacle and Asiatic opulence.
Groag is taking a different tack, as befits a director who is also an actress and playwright. "Psychological fear makes this a really interesting opera. All that gets lost in the bling. That gets buried in spectacle."
Instead the VOA staging will put its "concentration on the performers…on the story, on what's going on between these two people, [with] little of the bling."
It's still "a fable," she points out, and thus not required to hold to behavioral or historical realism.
In Puccini's music, she says, "You can hear the 20th Century howling in the orchestration and in the harmonies and disharmonies."
Turandot by Giacomo Puccini
Virginia Opera
March 17, 19 & 21
Harrison Opera House
160 W Virginia Beach Blvd.
Norfolk, Virginia 23510
www.vaopera.org
1-866-673-7282
(Additional performances in Richmond and Fairfax)