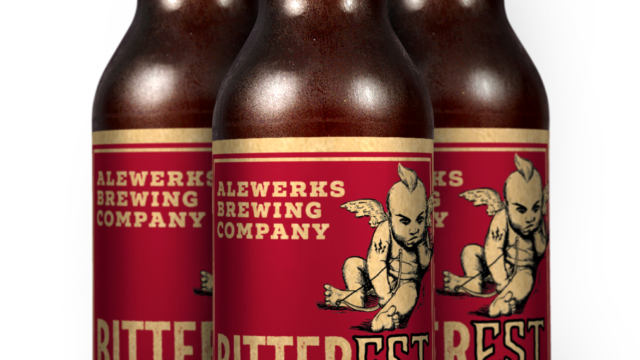 Compiled by Staff
Looking for something new to try from your favorite Coastal Virginia Breweries? Here's a healthy sampling to get you started.
Alewerks: Bitter Valentine
Release Date: Early February
Double IPA.  8.3% Alc by Vol
Our Double IPA starts with strong citrus and stone-fruit aroma and flavor, then finishes dry and cleansing. A bitter valentine for you to love, however unrequited. Consistently rated one of the best beers in Virginia.
Smartmouth Brewing Company: Locals Only
Release Date: Early February
Locals Only is a tasty 5.7% saison brewed with Virginia malts including Virginia pale malt, Chesapeake wheat and smoked sarsaparilla rye. Available on draft and in 16oz 4-packs.
Gordon Biersch Benihana Stout
Release Date: Early February
Imperial stout with massive roasted barley and chocolate flavors. Leave your kickflips at home, this beer is for the big kids.
Home Republic Brewpub:  Salted Caramel Ale
Release Date: Early February
A brown ale with the smooth sweet flavor of caramel and a hint of sea salt. This unique blend of flavors is perfect for the cold winter nights.  ABV 7%
O'Connor Brewing Company: Shipwrecks Bay Nelson Sauvin Saison
Release Date: February 10
Named for a renowned surf spot in New Zealand, this farmhouse-style ale showcases Nelson Sauvin hops—a New Zealand hop variety that evokes notes of tropical fruit and white wine. Like the never-ending rides one experiences at Shipwreck Bay, after a sip of this brew you'll be wishing that the essence of Nelson Sauvin hops never leaves your taste buds! ABV: 7.5% IBUs: 46
Rip Rap Brewing Company: Azimuth IPA
Release Date: February 11
Classic IPA brewed with Simcoe and CTZ hops. 6.6% ABV
Alewerks: Bitterest Valentine
Release Date: Available Feb 11
Double IPA, 8.3% Alc by Vol
A limited release concoction from the minds of Alewerks.
A Bitter Valentine base is allowed to age on orange and graprefruit peels before the brewers add a secret, custom dry-hop blend to taste.
Alewerks: White Ale
Release Date: Available early February
Belgian-Style Witbier
4.5% Alc by Vol
Alewerks White is a seasonally available Belgian-style Witbier brewed with coriander and orange peel.  We took great care to respect the tradition of Belgian brewing when we set out to create this beer.
Back Bay Brewing Company: Queen Anne's Revenge
Release Date: February 17
An American Imperial Stout that has the depth of a frigate. coffee, chocolate and stone fruit esters waft through this black as coal libation. Full bodied beer that would make anyone run aground. Lookout for variant casks in the taproom. 10% ABV
Back Bay Brewing Company: Smoked Honey Blonde
Release Date: February 24
Laying the base of a classic blonde ale with a quaffable head and mild bitterness. This twist-full rendition has layers of smoked malt and raw smoked honey added late in the boil that add depth and complexity. 5.3% 17Ibu
Rip Rap Brewing Company: New Moon Schwartzbier
Release Date: February 25
Our first lager release, a dark but light in body schwartzbier with chocolate malt falvors and a clean finish. 4.9% ABV
Brass Cannon Brewing:  Oyster Stout
Release Date: March 1
Utilizing oysters donated by the Hayes oyster company, this is a stout brewed to raise funds for local river conservation.  The oysters themselves lend little flavor to a full flavored beer like a stout, but they add a 'briny' undertone that rounds out the flavor.  A portion of all proceeds from the sale of this beer will go to the James River Association.  5.8% ABV.
Tradition Brewing Company: One City Gose
Release Date: March 1
This sessionable offering was designed for the One City Marathon held in Newport News every Spring, and can be found in restaurants around Newport News beginning the first of March. Lightly tart from the addition of orange peel and mildly salty, this refreshing runner's beer beats the clock every time.
ABV: 3.5% IBU: 7.6
Gordon Biersch: Köldbier
Release Date: 3/1/17
Helles rye lager brewed with Virginia grown Copper Fox rye. Clean and refreshing with subtle spice flavors from the rye and noble Saaz hops.
O'Connor Brewing Company: Heavy Footer Double IPA
Release Date: March 3
Our Heavy FooterDouble IPA features a heavy malt backbone which is balanced by an outrageous hop profile. Dry hopped not once, but twice, this DIPA exudes flavors and aromas of tropical fruits and citrus. Winner of a silver medal at the 2016 Commonwealth Cup; winner of a silver medal at the 2015 Virginia Craft Brewers Cup; winner of a silver medal at the 2015 Tastings World Beer Championship. Alc. by Vol.: 9% IBUs: 86
Bold Mariner Brewing Company: Monkeys Fist, Coconut Wheat
Release date and party: March 4
A twist on the Hefeweizen style wheat beer; distinguished by its light body and flavored with hints of banana and clove then followed by coconut throughout. 4.9% ABV 10 IBU. Cubania will be out with some tasty eats. 5-8pm live music featuring two bands all the way from Nashville.
Rip Rap Brewing Company: Steamboat Jack Pilsner
Release Date: Mar 4
A clean and crisp German style pilsner brewed with Hallertau Mittlefrau hops. 5.1% ABV
Gordon Biersch: Hellahötbier
Release Date: 3/8/17
Delicious golden wheat beer brewed in collaboration with Hot100 radio station. Crisp ale with fruity citrus flavors from Saaz and cascade hops. Perfect beer for the coming spring months.
O'Connor Brewing Company: Imperial Vienna Pale Ale
Release Date: March 10
This ale's multidimensional malt backbone comes from our heavy handed use of Vienna and Munich malts. Expect classic bready aromas and flavors, with layers of wheat, caramel, and rye. An array of American hops provides balance in this medium-bodied, malty beer—resulting in a well-rounded offering with imperial size. 8% ABV 60 IBUs
Tradition Brewing Company: Mighty Mick Dry Irish Stout
Release Date: March 14
Coming in March for St. Patrick's Day, Mighty Mick will quench your thirst for a wee pint of the Irish on our favorite holiday. Its dry, roasted, smoky, and chocolate notes coupled with a big frothy head lead you into this quaffable stout. Slainte! ABV: 5% IBU: 35
O'Connor Brewing Company: R&R Lager
Release Date: March 17
OBC's 7th flagship! This lager has a clean profile with a touch of sweet malt character, balanced with a floral hop aroma and slightly spicy hop flavor. Light, refreshing, and easy drinking, this beer is the perfect accompaniment for a bit of R&R, any time of year.  5% ABV 25 IBUs
Bold Mariner Brewing Company: Tropic Thunder, New England IPA
Release Date: March 25
New England style IPA brewed with oats and wheat. Aggressively hopped for beautiful tropical fruit flavors.  6% ABV 40 IBU
Bold Mariner Brewing Company: Frogman Lager
Release Date: March TBA
A well balanced amber lager featuring a delicate balance between caramel and bready malt flavors combined with earthy and floral notes from Saaz hops. Bold Mariner will be releasing Frogman Lager on behalf of the UDT-SEAL Association. A good portion of the proceeds will directly support the programs for our SEAL Veterans and their families. 5.3% ABV 24 IBU