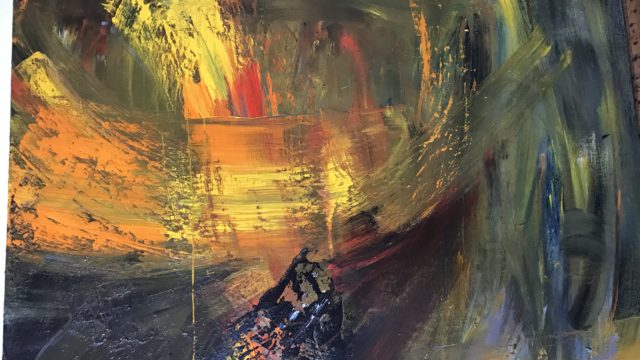 By Betsy DiJulio
In anticipation of the January 26 opening of New Works: Paintings by Angelo Mesisco, I had the distinct pleasure of visiting the artist in his spacious studio in an old commercial building on E. 25th Street in Norfolk the day before our early January snow storm.  Located on an upper floor of what appeared to be an otherwise abandoned and cavernous quasi-industrial space in a neighborhood with a similar vibe, the studio was brightened to a far greater extent by the artist's large non-objective paintings than by the opaque gray light emitted through long expanses of windows along two walls.   The juxtaposition of cold, somber weather and bright, exuberant paintings was as appealing as it was unexpected.
Once an acclaimed stylist—Mesisco owned an eponymous salon in Norfolk following a prestigious hair career in NYC (with Sak's, Clairol, and Revlon)—Mesisco now paints full time.  Rather, he reads voraciously for three or four hours in the mornings before painting for the remainder of each day.  A few years back, his figurative work gave way, in a moment of epiphany, to non-objective work which he describes as "pure feeling."  Admitting to, at one time, not connecting with abstraction, today, that is the only world he explores, other than small drawings in his sketchbook.
Self-taught, Mesisco, who hails from the Bronx, held a job at the St. Regis Paper Company as a teenager.  One day, while out making a delivery, he decided on a whim to take a detour through the Museum of Modern Art.  He describes rounding a corner, encountering Picasso's "Guernica," and changing the course of his life forever.
Working—or "dancing" as he describes it—with only red, yellow, and blue paint—applied with huge brushes, trowels, sponges and the like—Mesisco reflects that his finished paintings no longer interest him.  Rather, what interests him are the blank canvases leaning against the wall—stretched by an assistant—for these embody pure possibility.
Still, when reflecting on the finished paintings that he calls "human scale"—they are as tall and wide as he is with his arms outstretched, recalling Leonardo's "Vetruvian Man"—he acknowledges their very intuitive, yet intentional rhythm and movement, each stroke a response to the one before.  But he understands their layered essence as far more than formal statements; rather they function as a non-referential embodiment of everything he is, knows, reads, thinks, and feels; that is, the human experience.  But his reason for making the pieces is far less complex: for the joy of it.
Arranged around the cavernous space with its warm and warn hardwood floors, the paintings had been laid out to mimic the order in which they would be hung at Gallery 21, a sleek new contemporary space—thankfully devoid of any retail—on Norfolk's 21st Street devoted to Hampton Roads-based artists.  Though Mesisco gives his work poetic titles that seduce the imagination, he explained that it is the color, visual rhythm, and movement that determined the placement of the paintings.
Prior to my visit, Mesisco kindly agreed to a Q&A via email. Following is our exchange:
BD:  As a self-educated artist who or what has been your greatest teachers; what artists have inspired you, and why? 
AM: Why? Who knows why? As for early influences, my uncle was a jazz musician, I was an early reader, and NYC was full of public art, going to and from school on the subway, the art of Grand Central station, the Chrysler bldg. etc.; the streets of Harlem, Manhattan and the Bronx; museums, concert halls and galleries; the public murals of Benton, Rivera, Siqueiros, etc.; obviously a long list.
BD:  What is it about working abstractly and non-objectively that feels like the best expression of who you are as a person and as an artist?
AM:  This morning I was occupied with drawing. Who I am as a person shouldn't matter. That my work moves the viewer to think matters a lot.
BD:  Your show at Art 21 features your most recent work.  Will you describe that work and how it both continues and departs from your previous work?
AM: As a child I started out drawing comics, a dog a pony a landscape or whatever, and developed that to a point where I could draw and paint anything I could see. I remember coming across an article in a magazine about abstract artists, I think it was Pollock, Rothko, de Kooning, and Kline, in a grouping with other artists. They had tapped into the universal language of color, rhythm, and form. I realized then that art, like music, was about feeling and that nonobjective painting was like blues, like jazz. That's the path I'm on.
BD:  Do you see your future work moving more or less along the current continuum or do you see a major change ahead?  If the latter, can you articulate that direction for us?
AM:
Life is change; my work changes.
WANT TO GO? 
New Works: Paintings by Angelo Mesisco
January 26 through March 3
Opening Reception: Thursday, January 26, 5 PM
Gallery 21, 115 W. 21st Street, Norfolk
757.624.8429, gallery21norfolk.com