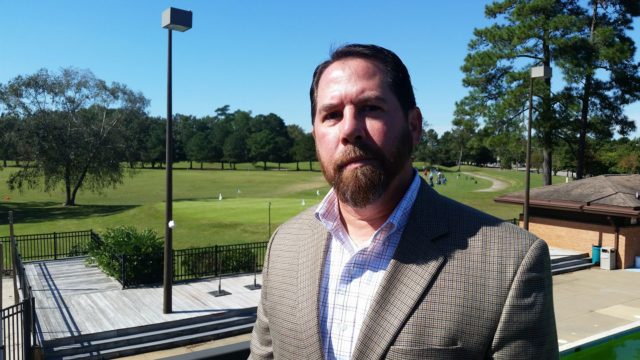 By Jeff Maisey
Domenick Fini spent the past 20-some years working in various capacities to bring the general public such award-winning events as the Town Point Virginia Wine Festival, Virginia Beer Festival, Harborfest and Bayou Boogaloo & Cajun Music Festival. Fini did so as a staff member of Festevents, which programs festivities in Norfolk's Town Point Park.
This summer Fini announced his departure from the successful organization in order to pursue his dream of running his own event production and consultant company.
Fini's first event is Winter Wine Celebration. It's scheduled December 3 from noon to 5 pm and happens at the Virginia Beach Convention Center. Participating wineries include AnRhein Wine Cellars, Chateau Morrisette, Hill Top Berry Farm and Winery, Barboursville, Cooper Vineyards, Potomac Point Winery, and many others.
Veer Magazine caught up with Domenick Fini at the Greenbrier Country Club in Chesapeake to learn more about his new business adventure.
Can you share with readers the years and specific duties you performed while at Festevents?
I began in 1995 as Sales and Operations Director after working part time on the Production Crew for two seasons.  My main role was raising money through onsite sales including food and non-alcoholic beverage, beer, wine and spirits as well as admission and retail.  The food and non-alcoholic beverage sales and the retail sales were accomplished mostly through 3rd party vendors that involved much planning and many administrative tasks.  The beer, wine and spirit sales plan included area charities and social organizations that provided volunteers to staff the sales locations in return for a percentage of the net sales.  I was also very involved in the event operations including setup, maintaining the site and breaking down the event.  In 2010, the Sales team merged with the Marketing team and I assumed the role of Vice President, Sales and Marketing.  My responsibilities were expanded to include promoting the events through media partnerships including radio, TV and print as well as digital and social media.  These duties were just what I was responsible for but I did much more than that as a team member.  I became proficient in budgeting, production, development, entertainment and all of the other elements needed for a successful event.
What were the most important takeaways from your experience working/planning events in Town Point Park?  
Just like any other job, I think how you treat others is what people will remember you by.  I strengthened some of our media relationships that had grown stale or dormant just by reaching out and introducing myself.  The food and retail partners relied on me to help them succeed.  They invested time and money in the events so I always made sure we listened and acted on ways to improve the food and retail programs.  Producing events is very stressful but you have to maintain your composure in the face of adversity, do what you say you're going to do and treat partners and guests with respect.  It sounds simple but those of us that have been successful in the events industry have a different DNA.
Can you share your thoughts on departing Festevents and launching your own company? 
It was a gut wrenching decision.  After 23 seasons, I felt like I had reached the point where it was now or never to begin my own legacy.  Of course, I was torn between leaving a family of coworkers I was very close with and following my heart.  My wife and kids were an important part of this decision and I'm happy to have become much more involved with their activities.
What trends have you taken note of regarding outdoor festivals and events?  
Food and beverage themed events are still the industry's most popular and I don't see that changing any time soon.  Fortunately, my network is filled with partners in this segment.
Your debut event is Winter Wine Celebration. What things did you learn in producing the Town Point Virginia Wine Festival (spring and fall) that will help you in successfully producing this new event?  
The main feature is the wine, of course, but you can't overlook the rest of your partners.  One of the keys is creating a guest traffic pattern that takes advantage of the interest in the wineries and gives everyone else an equal chance at success.  Of course, every event organizer also must provide their guests with everything they need, especially restrooms!
The "buy local" movement is strong. You're event features Virginia wines. Can you share your thoughts on the strength and popularity of wines made in Virginia?  
In 2014, USA Today named Virginia as one of the Top 10 best wine regions to visit in the WORLD!  Napa Valley and Oregon were the only other US wine regions named to the list.  The Virginia wine industry is comprised of small business owners, farmers and locals in their respective communities that collectively make a powerful impact on an international level.
What additional aspects of Winter Wine Celebration will patrons find? 
The Holiday season is one of the event characteristics that is most compelling.  Virginia wine is a great Holiday gift and we will make sure to feature additional one of a kind retail opportunities for guests to finish all of their Holiday shopping in one afternoon!  Guests will also appreciate the entertainment selection since this is a Celebration!  We'll announce the stage acts in the next few days but Winter Wine Celebration won't be your parents' wine festival!  Holiday Office Parties can be stressful for whomever organizes them but we'll make it fun and easy at Winter Wine Celebration.  We are also excited to introduce a ticket pricing system that allows guests to purchase their tickets at a deeper discount the earlier they buy.  As a pre-determined quantity is reached at each tier, the price increases.  This encourages guests to purchase their tickets and make plans to attend much earlier.  Tasting Tickets begin at a very affordable $30 and your choices also include a VIP Early Entry Tasting Ticket that allows guests to enter at 11 am.
What niche do you hope to fill with High Impakt Events?  
High Impakt Events will ultimately develop into whatever the market decides.  I have an open mind that High Impakt will serve more than an event production role.  We will also help corporate partners reach their marketing and sales goals through brand promotion campaigns that include media events and community marketing opportunities.  Event production is where we'll start and not knowing where we'll end up is the most exciting part of the journey!
What other events do you have planned?  
So far, I've expanded my network outside of Norfolk into Chesapeake, Virginia Beach and outside the region.  We hope to quickly reach other cities in Hampton Roads that I feel are under served with events.  We've had inquiries and are developing events outside of the region as well but need to expand carefully and strategically as we grow our staff.  High Impakt will be announcing at Winter Wine Celebration another national level food and beverage themed event.  We are developing a food and beverage themed series that will travel across Virginia and, eventually, the mid-Atlantic.  We've even met with some investors that want High Impakt to produce a national level music festival in 2018.  I've had a lot of fun researching event venues!
What tourism benefits do you see your events achieving?  
We've been able to partner Winter Wine Celebration with Gold Key|PHR properties at the Virginia Beach Oceanfront including Hilton Virginia Beach Oceanfront hotel and Hilton Garden Inn Virginia Beach Oceanfront.  These 2 premier hotels feature Winter Wine Celebration Hotel Packages that encourage visitors to stay in the region for the weekend and take advantage of all the activities going on that weekend including Virginia Beach's Holiday Parade at the Beach and Holiday Lights at the Beach.  We'll also utilize Virginia.org to promote Winter Wine Celebration to out of market visitors.  This same marketing and tourism model will be used often in promoting High Impakt events.  Visitors typically have a much greater economic impact on the region.
WANT TO GO?
Winter Wine Celebration
December 3
12 Noon to 5 PM
Virginia Beach Convention Center