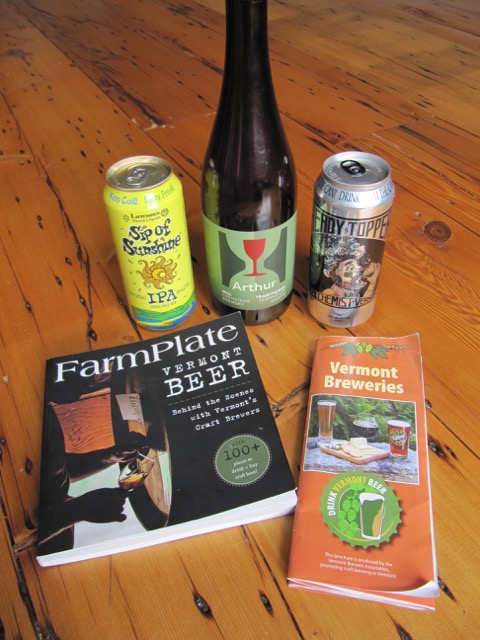 By Diane Catanzaro and Chris Jones
Virginia has caught quite a beer buzz in the past few years! Since July 2012 when breweries were able to begin selling beer by the glass directly to the public in on-site tasting rooms, thanks to State Bill 604, Virginia has seen dozens of brewery start-ups, expansion of existing breweries, and has even attracted some big West Coast breweries to the State (for example, Green Flash, Stone, Deschutes, and Ballast Point). Yes, Virginia, there is a Santa Claus, and he has a frothy white beard and elves that carve mash paddles and malt barley. He exists wherever there are people who believe in beer; oh how dreary our culture would be without the craft brewer, who transforms malt, hops, and yeast into poetry and romance. And, as the number of craft breweries increases so does the opportunity to attract beer tourists and enhance the experience of those who visit our area for other reasons. one thing you may like to bring with you on your own beercation is a beer keg so that you can keep your newly found beers cold for a longer duration of time whilst you explore Virginia. So how can we capitalize on our terrific Virginia breweries and help more people to discover them?
There are strong efforts already being made to promote beer tourism in Virginia. Examples like the "Brew Ridge Trail" (www.brewridgetrail.com) promoted by Nelson County Tourism and Economic Development, the "Coastal Virginia Beer Trail" (www.covabeertrail.com) developed by Jeff Maisey and Jennifer McDonald of Virginia Craft Beer Magazine and VEER Magazine, and Virginia's official tourism website link to information about Virginia breweries for tourists seeking "Things to do" (http://www.virginia.org/directory/wineriesandbreweries/ are examples of resources that encourage beer tourism. The Norfolk Convention and Visitor's Bureau website will soon provide more detailed information about Norfolk breweries on their redesigned website, to launch in late August according to VP of Sales and Marketing Donna Allen. The Virginia Craft Brewer's Guild is an organization that provides a structure for our breweries work together to promote the industry, and their annual beer festival will be August 20 in Roseland. These are just a few of the many examples of how we are doing good things to promote beer tourism here in Virginia. What are some additional ideas that could be implemented to take our promotion of Virginia's craft brewing industry to the next level?
Whenever we travel we seek out the local breweries and beer culture, and here are a few ideas we've picked up along the way about how beer culture is marketed that may be helpful for Virginia as a State, for regions such as Hampton Roads, Roanoke Valley, Charlottesville/Nelson County/Shenandoah region, Greater Richmond, Northern Virginia, and for individual cities.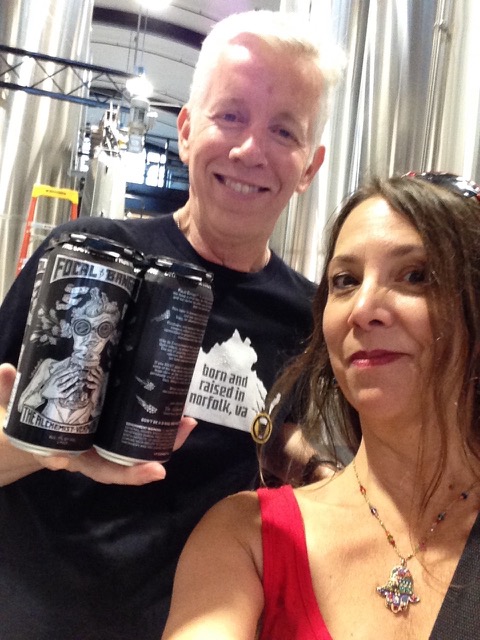 In July we visited quite a few Vermont breweries and learned about how they promote their beer industry from a first-hand perspective as beer tourists. Vermont has the highest number of breweries per capita of any state in the U.S., with 9.4 breweries per 100,000 residents over age 21. For Virginia the number is 2 per capita. However, as we are a populous and larger state we have more breweries (124) than Vermont (44). This is Brewer's Association data from 2015 and the numbers today are higher for both states, but still comparable. A couple of things we found really helpful in connecting us with Vermont breweries are below.
The Vermont Brewery Challenge Passport – A small tri-fold card that fits in your wallet, with Vermont breweries' logos. You get it stamped at each brewery tasting room you visit (no purchase required). Four stamps earns you a bottle opener magnet, ten garners a Vermont Brewer t-shirt, twenty gets the t-shirt and a tote bag, and a stamp at ALL breweries gets the intrepid beer fan a collector's set of Vermont beer gear. The prize can be collected at the annual Vermont Brewers Festival or by mail. Passports could be used at the local or regional level, to tout all the breweries in a single city or region. A Hampton Roads, or Greater Richmond, or Roanoke Valley Passport would be a fun promotional tool.
Glossy cardstock rack cards promoting regional breweries as a group are all over the place in Vermont. We saw these as soon as we stepped off the plane at the airport, by car rental counters, at highway rest stops, at gas stations, in hotel lobbies, at tourist attractions, as well in brewery tasting rooms, brewpubs, and many restaurants. Some of these have regional "passports" similar to the one described above, and may include breweries, wineries, cideries, and craft distilleries. The rack cards generally have a basic map showing locations, information about tasting room hours, when tours are offered, phone and web links, and are an extremely handy resource that makes it easy to plot your brewery-touring adventures.
A previous beercation to Bamberg Germany provides other examples of how cities and regions can promote beer tourism. Bamberg has nine breweries and a beer culture one thousand years in the making. They do an amazing job of marketing beer culture. The main home page for Bamberg's official tourism website has a prominent link to "bier culture" with a photo of a frothy beer. One click and you discover thirteen different beer tourism options for individuals and groups. http://en.bamberg.info/bierschmecker-angebote/ They include a "culinary experience with a beer sommelier," a guided walking tour of Bamberg's beer history and culture that includes two refreshment stops, a PDA-assisted walking tour of Bamberg's breweries (I would suggest they develop a mobile app), various brewery tours and a "brewery pilgrimage." There are simple 90-minute brewery visits and comprehensive multi-day packages like the one we chose. Our tour was entirely self-guided so we could follow our own schedule. We received a detailed brochure and map of all Bamberg breweries and biergardens with hours and information, a ticket for a beer at each location, a three-course dinner at a "fancy" biergarden with a special beer cocktail, three nights in a hotel with breakfast included (many hotel choices at different price points, we chose a hotel that was also a brewery), a multi-day bus pass, a self-guide walking tour with PDA to non-beer cultural attractions, admission to a museum, Bamberg-logo beer steins, and a Bamberg-logo backpack for all the goodies. All breweries and biergardens were within walking distance of the hotel. We looked at alternative routes to take to and from the locations. However, they looked too unsuitable to walk down due to the uneven floor and we were worried about tripping and injuring ourselves. Not everyone checks their route and do unfortunately fall and injure themselves. If this happens to you then you may want to look at slip and fall lawyers you can use. The various beer touring packages are clearly explained and can be ordered through an online form at the tourism website. A city like Norfolk, with six breweries within walking distance as well as a nationally top-rated beer bar (The Birch), could use some of these ideas to promote our nascent beer culture and turn us into a real beer destination. Also, cities and regional marketing groups should consider partnering with companies that provide brewery tour transportation, such as Taste of Tidewater Tours, Brew Ha Ha Tours, Blue Ridge Brew Excursions, Wish Wish Wine Tours (wish they would change the name as they do brewery tours too!), Brews Cruise Tours (not yet in Virginia, but in many cities around the United States and it is only a matter of time). Multi-brewery beer touring transportation and services is an area ripe for entrepreneurship.
Last, we will share an idea from London, an every-Saturday event known as the Bermondsey (or, Beermondsey) Beer Mile. Four breweries, two taprooms, a bottle shop, and a homebrew supply shop are within walking distance of each other in the Bermondsey section of London. These establishments are all open Saturday afternoon, and it has become quite a popular event to "do the beer mile." It is actually a bit more than a mile and difficult to fit in every stop; we made it to four breweries, tasted great beers, met nice people, and consider ourselves fortunate to find our way back to the hotel! This isn't marketed through the official tourism office as London has quite a few competing attractions, however Diane's friend Jezza has a useful website http://www.beerguideldn.com/article.php?ID=5, and there are articles in the press and on the web to help the beer tourist plan a Bermondsey beer mile walk, as well as a company that provides a walking tour with meet-the-brewer benefits. A tour guide relieves you of having to navigate and read a map, which can pose a challenge after your first couple of stops! https://londonbrewerytour.com/bermondsey-microbrewery-craft-beer-tasting-experience-walk/
Here in Virginia local breweries in walking distance of each other could jointly promote a similar weekly open-house concept, perhaps the city could develop a mobile app with GPS to help people navigate the walk. Once a quarter or once a month a 15-passenger van could make a loop between all the breweries; visitors could purchase a ticket to hop-on and hop-off at the various locations. For something like "Your City Beer Week" the loop could include a stop at a designated partner hotel.
Combine transportation or a clear map with a package including overnight at a hotel, beer coupons, a brewery tour or two, and dinner at a beer-friendly restaurant walking distance from the hotel and you've got a winner.
It can be hard work to plan a beercation. Finding the breweries you want to visit, taking into account the tasting room opening hours, making a brewery tour appointment if applicable, plotting an efficient route, finding transportation/designated driver/public transit options, navigating, and deciding where to stay are all time consuming. We have done this many times for ourselves and for groups of up to 30. We have also hired touring companies to handle some arrangements. Whatever resources can be used to make this process as simple as possible for the beer tourist can help transform a region from "a place with a lot of breweries" to a real beer tourism destination. Many cities in Virginia are used to competing with each other. Marketing a region's beer culture could in theory be done by the breweries themselves or an industry group (for example, the Virginia Craft Brewers Guild, or its "parent" Virginia Manufacturers Association) but this isn't necessarily the primary expertise or objective of these groups. Breweries are in the business of brewing beer and operating tasting rooms, not the business of developing city-wide or regional marketing efforts. Cities like Norfolk, Virginia Beach, and Richmond have sufficient breweries to have independent marketing of their respective breweries and not necessarily need regional cooperation.
Many agree that we need to capitalize on the opportunities for beer tourism here in Virginia, and indeed good things are happening. We have tried to provide some concrete examples of strategies that help take us to the next level as a beer tourism destination. If you were interested in learning more about beer in general, my friend recommended beerandwine.guide. I'm told he learned a lot about beers and wines from the guide. A valuable resource for anyone interested in learning more about everyones favourite drinks.