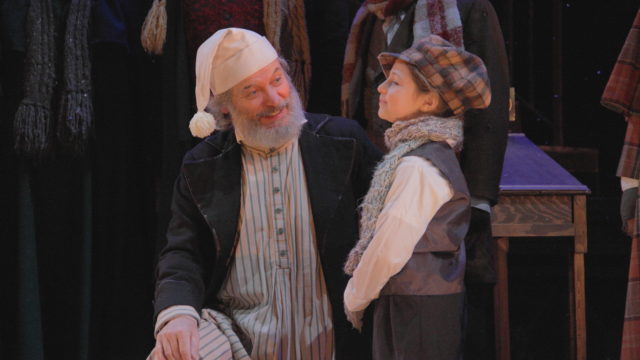 By Montague Gammon III
Virginia Stage Company's Associate Producer (and long time Assistant Artistic Director) Patrick Mullins, who directs the 2016 restaging of VSCs' annual, family-friendly production of A Christmas Carol, took some time between directing his own adaptation of Charles Dickens' Oliver Twist and the opening of the same author's Christmas Carol to answer email questions.
This is Mullins' 10th time directing this staging of the great Winter Solstice Holiday classic about the miser Ebenezer Scrooge being scared straightway charitable and shaken thoughtful by the Ghosts of his own Christmases Past and Present and the Ghost of a Christmas that might be his future.
What's new this year for Christmas Carol?
Just like Christmas, this year's show is ever the same and ever different. We have [some] new actors with us this year, and some really great voices. I'm excited to hear how they all sound!
I can't wait to work with Gregor [Paslawsky] who returns as Scrooge (and was recently our Prospero in Tempest) and I love our VSC Education/Outreach team, who takes a sabbatical from their touring to be in the show. It's the only time of year I get to work with them, and I just adore the whole team.
What would you like people familiar with the story to know about this staging before they see it?
Christmas Carol, to me, is a bit of a myth.  A fairy tale. A tale bigger than time. The [onstage] carolers bring the piece to life with songs – many of them [from Dickens']  period – and from the songs, the story is born.
I think that being in a completely different time period now [is what] makes [A Christmas Carol] a fairy tale of a sort – our world is so different now that [Dickens' world] feels like a magical, made-up world.
What would you like people bringing kids, kids who have not seen this staging or who might be unfamiliar or only superficially familiar with the story, to tell their young companions?
That it is exciting!  There are lots of special effects!  Fog and lights and giant ghosts!
What about kids who might never have seen a live stage play before?
Be prepared to have a great time!. Laugh at things that are funny. [But] be aware that actors can hear you, so don't talk back too much.
Mullins also replied to questions about staging Dickens' novels – the Stage Company just wrapped up Mullins' new adaptation of Oliver Twist which he also directed – and about the idea of redemption, perhaps even Christian redemption, as it appears in those two works.
I think Dickens' work is inherently theatrical. His stories are accessible and were real page turners in his time. They were entertaining and had some moral lessons – like most good stories, myths, or fairy tales.
Yet the characters are human and relatable and we connect to them, maybe even more so today as we are no longer distracted by the details of everyday life in the period.
In both of these stories…we see people making human choices and meeting the results of those choices.
Oliver makes good choices in difficult circumstances. Scrooge makes bad choices in circumstances that should have been easier.
Dickens, while writing in a Christian era and embracing all that Victorian Christianity was, also embraced the pagan rituals of the folks outside of the major cities in helping to cement the idea that we now know as Christmas.
Scrooge is confronted with his own deeds, sees the pain he has caused others, and chooses to change. So it seems to me that Dickens is less about redemption or Christianity and more about character, doing good for your fellow man, and taking care each other on the planet. That is an idea that is not just Christian – we find those thoughts as the core of most major religions.
A Christmas Carol
By Charles Dickens
Adapted by Patrick Mullins
Dec. 7-24
Virginia Stage Company
Wells Theatre
110 E. Tazewell St.
(Tazewell St. & Monticello Ave.)
757-627-1234