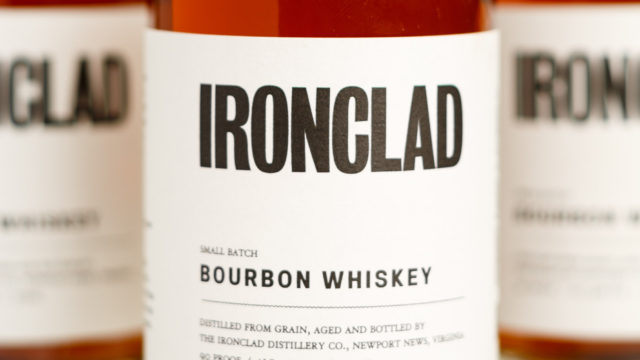 By Jim Roberts
Owen and Kara King delivered the first 60 cases of Ironclad Distillery Co.'s small-batch bourbon to Virginia's Department of Alcoholic Beverage Control in October.
"As we unloaded it and took it in to their big warehouse, we're both getting misty-eyed," Owen said during a recent tour of the family's Newport News-based distillery. "I had no idea I was going to get emotional. The whole drive back, I was just thinking, 'Wow, this is for real now.'"
The brother and sister trace their "bourbon gene" back to their paternal grandmother, who drank a little whiskey every day. Owen said it was usually Old Crow, but he hinted at Ironclad's quality—and competitive spirit—when he added: "We don't hold that against her."
Genealogy aside, Ironclad's story began in earnest when Owen and his dad, Stephen, read a how-to book called "Urban Moonshining." They were so inspired that they contacted the author, Colin Spoelman, and planned a trip to his award-winning Kings County Distillery in Brooklyn.
When they came home, they bought a still—the same set-up as Kings County—applied for a federal permit and set up in a 100-year-old building occupied by Stephen's Paul Davis restoration franchise. Then the practicing began.
Before long, Owen quit his full-time job. It wasn't a hard decision.
"When you throw the word 'bourbon' into it," he said, "it kind of makes it pretty easy. How bad of a day is it when you get to the end of the day, there's a barrel of bourbon, and you say, 'You know, I think that needs tasting today?'"
Stephen followed in his son's footsteps, eventually selling the Paul Davis business to focus his attention on Ironclad, but they remain in the building. In fact, Stephen said, they don't get to drink much of their own product, but they do blind taste tests of other bourbons at least once a month. "We find ours to be at least as good as anybody else's," he said. "It's rare that we find one that we like better."
(For what it's worth, whiskies earning high marks from the Kings include Breckenridge, Widow Jane and W.L. Weller. Empty bottles from these distilleries and many more are preserved on a shelf in their building affectionately labeled "Library.")
Kara also signed on after production began, leaving a full-time job in marketing. "The first time I tasted something from the barrel," she said, "I thought, 'Yep, this is worth quitting a job for.'
"Starting a business isn't easy," she added, "but bourbon brings out the best people. You promise them liquid gold in the end, and they'll do anything for you."
They all proudly describe Ironclad's bourbon as "a little briny."
"That's a different flavor that no other bourbon distillery or bourbon is going to have," Owen said. "Especially Kentucky, where you're land-locked."
The distinct flavor of Ironclad's 150-proof bourbon comes from its four-grain mash bill—corn, wheat, rye and malted barley, all sourced from Virginia farms—and from white oak barrels made in Minnesota and Missouri. "The amazing thing is," Owen said, "although they are both white oak—made in America—they have completely different flavors to them."
One barrel provides vanilla flavor; the other, caramel. "When you blend them together," he continued, "it just makes this really nice spirit that's really smooth. Nice sweetness. Then you're going to get a little pepperiness at the end. That's from the rye that we added in the mash bill."
The signature brininess comes from Newport News' salty air.
"There are no other distilleries I know of that are this close to saltwater," Owen said. "As it turns out, the brackish air … that's giving us this different flavor profile than any other bourbon distillery is going to have."
Kara said that the barrels love the temperature changes of Virginia's seasons. "This hot, hot summer was really good," she said. "It did some magical things to those barrels."
Noting that the barrels are the most expensive "ingredient" and can only be used once for bourbon, Kara devised a "barrel tag" program that encourages Ironclad's customers to register their unique bottle numbers online and track their source barrels as they are re-used by breweries and other distilleries. Ironclad's first eight barrels, for example, went to Hampton's Oozlefinch Craft Brewery, which is using them to age Ox Cart Imperial Porter.
"The flavor's still in there," she said of the barrels. "Whatever goes in next is going to pick up Ironclad flavor. I really wanted to follow the story and see where it goes."
Because it's a small-batch distillery, a bottle of Ironclad purchased now won't necessarily taste like a bottle of purchased in six months. "We don't want to be Jim Beam or Jack Daniels," Owen said. "We want to be a bourbon distillery that every batch is going to be slightly different—have a little bit of difference to it. That's the fun part of it."
He said their recipe hasn't changed, but they're still refining the process. "The main things we've changed are how we're distilling, how we're separating the grains, how we're cooking it," he said. We're just seeing where we can go with it, see what things we can do to maximize our yield, maximize everything that we're putting out."
One thing that won't change over time: the Ironclad brand.
The name is a reference to the Civil War battleships that fought in Hampton Roads in March of 1862. In fact, the front label on every bottle peels back to reveal a blueprint of the USS Monitor—reprinted with permission from Newport News' Mariners' Museum—and the inside of the necker label includes a newspaper illustration of the CSS Merrimac.
John V. Quarstein, director of the Mariners' Museum's USS Monitor Center, noted that Ironclad is located on land that was once part of Camp Butler, where 10,000 Union soldiers were staged and would have seen the entire battle first-hand. "Hampton Roads is like an amphitheater," he said. "They were tremendous witness to history."
He also noted that whiskey played a consequential role in the battle. "On the day the Merrimac fought the Monitor, the men basically were given two boiled eggs and two jiggers of whiskey," he said. "That's how they started their day."
Quarstein is an unabashed fan of Ironclad's "fabulous" brand, but he also likes the product. "I believe that they will have a fine future," he said. "It's great-tasting whiskey—I'll tell you that. You catch a taste of rye whiskey in it, and that really kind of makes it nice."
After the emotional delivery to ABC, there was the excitement of seeing Ironclad on the shelves just a few weeks later. (For reference, a 375 ml bottle sells for $38.69, putting Ironclad just below Reservoir Bourbon Whiskey and Hudson Four Grain Whiskey in price.)
Now the reviews are coming in. "Everyone seems to be enjoying it," Owen said. "It's been awesome so far. We think we put our best foot forward and put out a product we wanted to drink. It's nice to be validated. It's good that other people also like it."
While Ironclad debuted only the small-batch blended bourbon, Owen said future plans include a straight bourbon release in 2018 and a "bottle in bond" release in 2020. "There's a lot of different options of things to do," he said. "Yeah, we're limited to making bourbon, but we can make a whole bunch of different things that are called bourbon."
Spoelman, the Brooklyn distiller who inspired the Kings, recalled "a very lively discussion" when they visited. "I believe their approach is the right one," he said via email. "Very authentic and distillation-focused."
He still has a bottle of one of Ironclad's early runs. "I'm not sure that early product is comparable to what they are selling now," he said, "but it was certainly very well distilled, and I would expect great whiskeys from them now—but even more so in the years to come. Better whiskey going into the barrel is always better coming out—at any age—and I believe they have a really good foundation."
Ironclad Distillery is located at 124 23rd Street in Newport News. A tasting room will open in 2017. For more information, visit IroncladDistillery.com. Ironclad is also on Facebook, Twitter and Instagram.