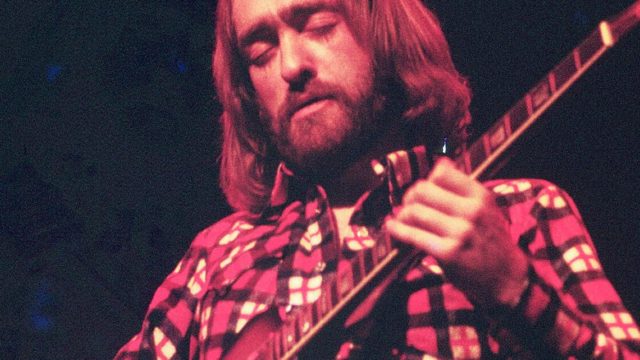 By Jeff Maisey
As Dave Mason tells it, classic rock artists today are essentially selling memories. This, in part, is why many recording artists ranging from Steely Dan to Yes have performed entire albums.
Mason is known for his virtuoso guitar work and songs such as "Feelin' Alright" from his days as a member of British rock group Traffic. He was also a highly sought after studio musician, having played the 12-string acoustic guitar on Jimi Hendrix's studio recording of "All Along the Watchtower." He also appeared on recordings by Paul McCartney, Eric Clapton, Fleetwood Mac and on George Harrison's 1970 album, "All things Must Pass."
It was also in 1970 that Dave Mason released his debut solo record, "Alone Together," which included the hit "Only You Know and I Know," and featured guest musicians Leon Russell, Rita Coolidge, Jim Keltner among others.  Thirty percent of the albums were released on marble vinyl.
Last year, Mason rerecorded the album and called it "Alone Together Again." I talked with him by phone to learn more about his November 19 concert at the Sandler Center, where he plans to perform the entire album plus some additional works from yesteryear.
Classic rock artists have on occasion been performing complete albums start to finish live in concert. How did you arrive at the decision to perform your album in its entirety?
Three years prior to this I thought it'd be a fun idea to go out and do some Traffic stuff. So I put together this show called "Traffic Jams," which the first part was me revisiting some old Traffic stuff and then the second half of the show was me going through my life in music in 45 minutes.
That (tour) kept going for about three years. It was longer than I thought.  I knew there were other acts out there doing their entire albums. I thought, you know, there are certain songs from "Alone Together" I've played as part of my show, like "Look at You Look at Me" and "Only You Know and I Know." Then there's the stuff I don't really perform that much.
For the most part people like me are in the business of selling memories. That's a big part of it for people.
Besides that I think the music holds up – the songs. There's a lot of timeless stuff on there. I consciously set out to write timeless songs.
I recorded the entire album. It sounds so much better than the original because I didn't really care for the original. I didn't like my voice. I couldn't really listen to it.
Some of the songs just came out so much better when I rerecorded them – it's ridiculous.
But essentially in the show it's memories. You're evoking memories in people.
Can you share with us the notion of recording your 1970 solo debut album?
We went in the studio and cut all the basic tracks in an afternoon. I was thinking about doing "Alone Together" as a show. I was able to redo those songs in a way I kind of always wanted to do. My voice has matured over the years. My guitar playing has gotten better. I'm as good as I'm ever going to be at this point in my life at 70 years of age.
Then I thought it'd be great to have a CD to sell at the show. Releasing a CD is not an option these days. There is no releasing a CD. The only place to sell a CD these days is at a show. That's it.
The CD will be multi-colored like the original with a straight, foldout cover. We'll make it a part of the show as a package. That's the way an artist like me has to deal with things. I always go out and sign for people after a show.
What do you want the audience to experience during the "Alone Together Again" show?
They spend money and come to a show and just want to be taken somewhere from the day-to-day grind. I want them leaving the show feeling better than when they walked in. I want young people to say, "Live music. Real. Wow. What a concept."
More than anything I strive just to be authentic. That relates to any age.
WANT TO GO?
Dave Mason
November 19
Sandler Center