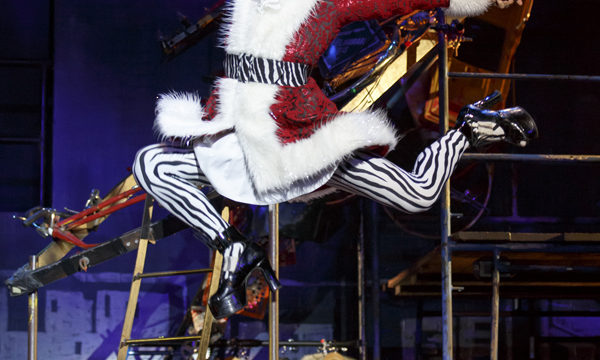 By Jerome Langston
It's pretty fascinating to witness the return of Rent into our current politically polarized and media obsessed Zeitgeist. The rock musical, a loose adaption of Puccini's La Bohème, was one of the defining theatrical phenomenons of the nineties, winning both a Pulitzer Prize and a Tony Award for Best Musical in 1996. The musical also ran on Broadway for an astonishing 12 years with over 5100 performances, beginning in April of 96 at the Nederlander Theatre. It is still one of the longest running Broadway shows in history.
Written and composed by playwright Jonathan Larson, who died unexpectedly on the very day that Rent was to premiere Off-Broadway, the rock opera has spawned countless adaptations, national tours, and even a moderately successful film in 2005 that starred many of the original Broadway cast members. Beyond those obvious successes though, Rent became a cultural phenomenon, the likes of which arguably hadn't been seen till the musical Hamilton, which began its cultural dominance last year. Rent's hugely popular soundtrack and its celebration of the bohemian lifestyle, has even spawned a subset of obsessed fans known as Rent-heads.
And though she was a little young at the time to be considered a legitimate Rent-head, actress/singer Skyler Volpe, a native New Yorker who plays Mimi Marquez in the current 20th anniversary tour of Rent, which plays the Ferguson Center for two nights later this month, was nevertheless deeply inspired by the soundtrack as well. "It's kind of a part of my DNA at this point, the music of Rent, I've listened to it my entire life," she says, during a recent tour stop in New Hampshire.
"My mom in particular totally fell in love with it, so she used to play the soundtrack for us non-stop," explains Skyler. "It was really the first time I'd encountered storytelling through music. At the time I was a little kid, but I still understood that there was something really visceral, exciting and important about this story."
Rent began as a collaboration between playwright Billy Aronson and little-known composer, the aforementioned Jonathan Larson, back in the late eighties. Eventually Aronson departed the project, which was always clearly inspired by La Bohème, the iconic opera about the lives of Parisian artists, and for much of the early nineties, Larson wrote a ton of music for the show and developed its story. The musical's first staged reading was at the New York Theatre Workshop in 1993, which led to additional readings and the eventual Off-Broadway launch of the show in early '96.
Focusing on the life of seven artists in the gritty East Village of NYC, over the course of a head-spinning year, Rent tackles a broad range of issues, including homelessness, the HIV/Aids epidemic, gay life and life as a struggling artist. Many of the lead characters are HIV-positive or have AIDS, including musician Roger Davis, professor Tom Collins, and the aforementioned Mimi. In the original Broadway production, Mimi is portrayed by actress/singer Daphne Rubin-Vega. Roger Davis was originated on Broadway by Adam Pascal. In this 20th anniversary production playing Hampton Roads, Roger is played by actor Kaleb Wells.
This current anniversary tour of Rent, which began in September, will keep Skyler and the rest of the cast on the road till June. Japan is on deck this December, which of course excites the New Yorker, as she's never been. This is also her very first national tour. The musical played a big part in Skyler's decision to choose acting and music as her vocations, and playing the role of Mimi Marquez was always a major desire of hers. Mimi is an erotic dancer and drug user, who crushes hard on Roger. "A lot of Mimi's character is contingent upon feeling wanted by Roger," the actress says. "A lot of their relationship starts, really just based on mutual desire, and kind of evolves into a more loving, caring but still very volatile relationship."
The two perform multiple duets together in the show, including "Light My Candle," but it's Mimi's solo number, "Out Tonight," that Skyler considers "a huge blast." That song, along with the epic cast number "Seasons of Love," are two of the most popular songs from the soundtrack. "It's so much fun. It's really risky with the choreography," notes Skyler. "And then I get to turn around and sing these really tender ballads like 'I Should Tell You' and 'Without You'. It's really remarkable to get to sing such a range of songs."
The music of Rent has clearly played a major role in its continued popularity, but credit is also due the story and interesting characters. "It's all of these characters who are flawed…who build their own family," says Skyler. "Being able to see people do that on stage, I think is a very powerful thing for a lot of folks."
WANT TO GO?
RENT
20th Anniversary Tour
Nov. 21-22
Ferguson Center for the Arts
757-594-8752
www.Fergusoncenter.org