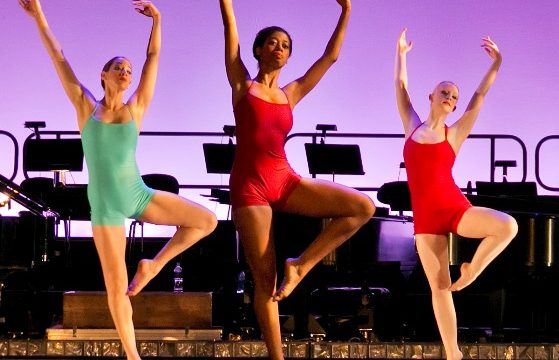 Compiled by Staff
Masterworks: Lily & the Gypsies
October 7-8
Sandler Center
This is a story ballet about a beautiful young girl who suffers the loss of her parents and is sent to live at fancy private girls' school only to be bullied into running away. Lost in the deep forest, she encounters a band of gypsies whose queen sees in Lily the potential for a leader in her occult band. Lily's introduction into the dark side of spirituality brings her face to face with the powers of good and evil and most important decision of her life.
Enra
October 9
Ferguson Center
Japanese performing arts company enra combines stunningly unique digital animation with live dance. The images used in their performances are attuned to the dancers, but interactively staged in a way never imagined. The members of enra are experts in the genres of martial arts, rhythmic gymnastics, ballet, animation dance, juggling and street dance. When the video art and choreography synchronize, the show frees the audiences' imaginations from the physical limitations of space and gravity.
Riddick Dance: One
October 15
American Theatre
Choreographed by David F. Riddick, ONE returns to The American Theatre stage with a fresh interpretation of the beauty found when two people capture the true essence of love through life's obstacles and trials. Through the struggle comes the ability to look beyond the layers of the person you love and see the inner depths of each other's soul. This is how a rare pearl of unconditional love is formed; hence the two become one.
TRDance: Studio Concert Series
November 4-6 and 11-13
Benjack Studio
Todd Rosenlieb Dance gives an artistic contemporary performance at its studio performance space.
Riddick Dance: CIARFOA
December 10
American Theatre
CIARFOA is a must see production combining multiple art forms in this unique performance concept designed to uplift our community. In addition to CIARFOA as a high-energy performance for all to enjoy, the evening also supports the Arts Save Lives campaign. Arts Save Lives was founded on the principle that the arts are important to the expressiveness of individuals and the overall health of communities. Through CIARFOA, Beauty for Ashes celebrates dance, music, poetry, visual arts, and performance media; showcasing the importance of the performing and visual arts in the lives of the individuals who experience them.
Top Fall Acrobatics
Compile by Staff
Cirque Mechanics: Pedal Punk
October 19
Ferguson Center
From the inventive Cirque Mechanics comes "Pedal Punk," an acrobatic whirlwind where cycling is the escape from technology-obsessed society. Experience the excitement, artistry and thrill that occurs when a zany bike shop mechanic interacts with cyclists, bikes and repairs more than broken pieces. He creates wondrous machines that come to life and inspires the cyclist in all of us to unite with our inner "Pedal Punk."
Shanghai Acrobats
November 6
Ferguson Center
Featuring 40 award-winning acrobats, "Shanghai Nights" is a new performance by the Shanghai Acrobats of the People's Republic of China. With stunning new interpretations of classic Chinese acrobatic feats including aerial silk, plate spinning, pole climbing, hoop diving, carpet spinning, juggling, contortion artists and trampoline drums, "Shanghai Nights" builds a storyline around a dreaming boy who enters a fantasy world. Set against gorgeous backdrops and clothed in colorful costumes, this performance is a breathtaking adventure for the entire family!