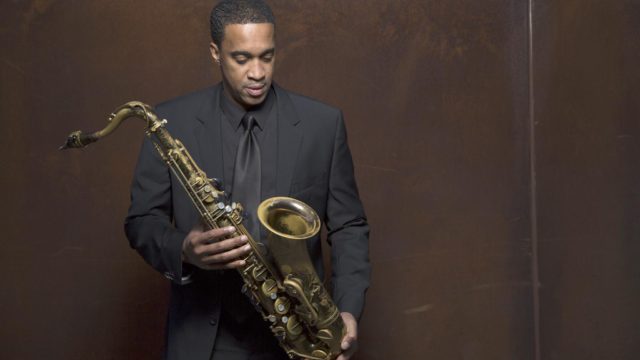 By Jerome Langston
It becomes quite clear early on in our recent phone conversation, that Tenor Saxophonist Javon Jackson, is passionate about a lot of different subjects. We're both Geminis, so I can definitely relate—as we tend to be all over the place, but Javon also seems to have a remarkable sense of discipline, drive and self-confidence. All of those qualities are needed to compete these days in the highly fractured world of contemporary music, and perhaps even more so in the smaller jazz lane.
Over the course of a nearly 30 year career, the Denver native, who was lucky enough to have parents who were musicians, has amassed a large discography as both a leader and sideman, with over a hundred recordings to his credit. And though he is still relatively young in jazz terms, Javon has worked with inarguable legends of jazz—acts like Betty Carter, Elvin Jones, Freddie Hubbard, Donald Byrd, and of course, his mentor, the iconic drummer and bandleader, Art Blakey.
"From the time I was 15, until I started playing with Art Blakey, that was the goal," he says. "The goal was to live in New York, travel all over the world, and play with Art Blakey." And indeed he did. He dropped out of Boston's prestigious Berklee College of Music in order to go on tour with Mr. Blakey, though to honor his commitment to his mother; Javon eventually went back and completed his degree. He's never regretted either of those decisions. "Art Blakey was the culmination of a vision."
Javon's upcoming intimate concert at Norfolk's Attucks Theatre kicks off the latest season of the Virginia Art Festival's Attucks Jazz Club series. He will be supported by the John Toomey Trio. Over the years now, the legendary theatre's jazz series has definitely become a semi-regular, affordable event to hear real quality jazz.
"I've got a lot of friends from that area that I've known for many years, so it will be good to come and play in that region, but I've never played much in Virginia," he says. As far as the actual songs being performed are concerned, Javon is mum on the specifics, but does say that "the audience will lend itself to some Broadway standards, some jazz standards, and recognizable ballads."
Besides his concert date here in VA, the jazz composer has been playing dates in support of his recent trio album, We'll Be Together Again, which features Javon with legendary bassist Ron Carter, and drummer Billy Drummond, who is from Newport News. The album was released on Chesky Records back in January, and features the trio's takes on "Danny Boy" and "But Beautiful." There is also new recorded work that is expected for next year. Over his career, Javon has released albums on prestige jazz labels like Blue Note Records.  Currently, he serves as the Director of the Jackie McLean Institute at the University of Hartford. And with school being back in, that has him really busy.
So when the subject turns to the current state of jazz music, Javon expresses an interesting perspective. He compares much of the music to diluted coffee, and is particularly critical of so-called jazz festivals, and their tendency towards relying on primarily non-jazz acts in order to bolster their lineups. He makes the valid point that you wouldn't expect to see Wayne Shorter headlining a country music show, or a country act playing a hip-hop concert.
As far as the music itself is concerned, he acknowledges that it is different strokes for different folks, and that the audience's tastes—whatever they are, are nevertheless valid. For Javon of course, he comes out of a jazz tradition that acknowledges Louis Armstrong, John Coltrane, and others, as the masters. He grew up listening to legends like Dexter Gordon, Sonny Rollins, and Charlie Parker.
Some of the younger generation has different influences though, and besides, they are often not getting the mentoring that Javon, and others of his generation, benefitted from. "You've got more musicians than ever, in some ways, but you have less places for them to play and hone their skill," he adds.
And then there's the issue of how jazz is now identified. "They're always relabeling or re-identifying our music without asking us (the artists)," he says, with a small, follow-up laugh. Regardless of its labeling, Javon Jackson finds a way to continue succeeding as a player of this indigenous American art-form.
"I find more than ever you have to be flexible," he asserts. "You don't have time to be a pessimist, because every time you're a pessimist, you've just lost a gig."
Javon Jackson
September 24
Attucks Theatre
664-6464, www.vafest.org