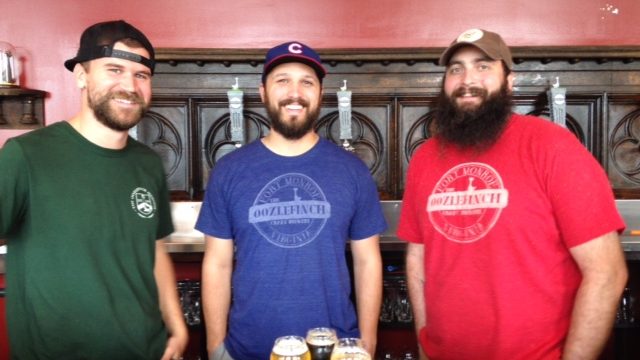 By Diane Catanzaro and Chris Jones
Photos by Diane Catanzaro
The long-awaited Oozlefinch Brewing Company has finally opened its doors to the public at historic Fort Monroe in Hampton, and it has been well worth the wait. While Wikipedia says the namesake "Oozlefinch" is a mythical flightless bird first sighted outside the Officer's Club at Fort Monroe in 1905 by a "possibly" inebriated Army Captain, and later the unofficial historic mascot of the U. S. Army Artillery Air Defense, this Oozlefinch is going to soar. And, because Fort Monroe is no longer an Army base, no one will shoot this Oozlefinch down. Once you sample the beers, meet the "Oozlefinch family," and enjoy the tasting room ambiance, you too may see the flightless big-eyed bird strolling the grounds of this former Army base. Their grand opening on September 3, in the middle of the rain, wind, and storm surge from almost-Tropical Storm Hermine, was a huge success, with a line out the door and standing room only in the tasting room.
Russ Tinsley is the affable owner and founder of the Oozlefinch. He was a homebrewer and Newport News police officer when he was bitten by the beer bug and decided to make a career change and start a brewery.  Austin Shawinsky, head brewer, honed his brewing chops for two years at St. George Brewing Company in Hampton and studied Brewing Science and Engineering at the American Brewers Guild in Vermont. Benjamin Baumann is cellar man. Spacemakers Inc. did the build out to transform this building, once a racquetball facility, into a working brewery. The 15-barrel brewing system is American-built in Nebraska.
A visit the week prior to Oozlefinch's official opening involved a sampling of six tasty beers; they will be expanding to offer fourteen taps before long. Each beer was delicious, and the curious drinker can also learn about the history of Fort Monroe as each beer's name relates to the storied past of this Army base. You can drink your way through a history lesson!
Sergeant Patches Grapefruit IPA, is named for a dog who, tethered to artillery, would fire the big guns on command. Delicious, refreshing, and you get your vitamin C for the day! The Short Fuse Session IPA is clean and balanced, unlike the bad-tempered Civil-War-era Monitor ironclad sailor who inspired the name by flying into drunken rages at the drop of a hat, or an anchor. The Lady in White Hefeweizen is a nice example of this style, with hints of bubblegum and banana in the nose and a cloudy golden-white appearance like the ephemeral ghostly lady said to haunt the vicinity since Jefferson Davis, President of the Confederacy, was imprisoned in the fort. She may be his long-suffering wife, but no one is exactly sure. Bet she'll be back once she discovers this beer! The Oxcart Imperial Porter has notes of chocolate, pecans, and a hint of roasted grain. We love that it is named for Charlotte White, an entrepreneurial African American woman from Phoebus who rose from slavery to become the "pie woman" selling her fresh baked goods on base from an oxcart. Pair this beer with a slice of pecan or sweet potato pie! The last beer tasted was the Moat Monster Stout, sort of a dry Irish stout but with less of the bitter roasted character of a Guinness so it is going to appeal to those who like a beer that is dark and flavorful but not too "burnt" tasting. And yes, there is supposedly a murky monster inhabiting the moat at Fort Monroe. Every beer was balanced, well-brewed, and tasty.  They also have an apricot saison that just became available, and you can expect more beers to enter into rotation with the flagships. You can try a flight to sample them at the brewery, of course, and do note the neat wooden serving tray.
The tasting room is directly adjacent to the brewing space, and has some very attractive touches, including a gorgeous bar countertop of polished black walnut from the Eastern Shore. The fourteen taps emerge from antique oak salvaged from the historic Boxwood Inn B&B in Lee Hall, Newport News. Step outside the tasting room and you have an unobstructed view of the bay, glimmering just a few hundred feet away. A planned outdoor seating area will instantly give Oozlefinch customers the most scenic view of any brewery tasting room in the region.
It took the Oozlefinch a while to be hatched as the Commonwealth of Virginia, National Park Service, and U. S. Army all had to approve various design plans, however this unique location on the park-like former Army base is an asset and recreation destination. Visit the brewery and while you are at Fort Monroe you can also take a stroll along a walking path on the bay or nature trails, ride your bike on miles of quiet low-traffic roads, have a picnic along the bay, dock at the marina, cast a line at the fishing pier, plop your beach chair on one of several beaches, or visit the Casemate Museum.  Fort Monroe also has a very good, casual, water-view restaurant, the Deadrise, where you can drink Oozlefinch beers to accompany your jumbo lump crabcake, oyster po'boy, cubano, or Doughty's BBQ sandwich. Other draft accounts are all over the Peninsula, including Country Grill, Conch & Bucket, Smoke, Bar Louis, Marker 20, Kismet, Harpoon Larry's, Schooners, Stillwater Tavern, The Point at Phoebus, and Longboard's Newport News. Oozlefinch is located at 81 Patch Road, Fort Monroe, Hampton. Google maps will take you there flawlessly. Check the website, Facebook page, or call to get the tasting room hours, currently Thursday-Sunday.
Speaking of beer and birds brings to mind another new brewery, The Bearded Bird in Norfolk's Neon District, on Granby Street between Bress Pawn Shop and Fuzion Ink Tattoo. Do you or a friend make homebrew so good you think it could be brewed commercially? Here is your chance to enter your homebrew into a competition where at least four winners will be chosen to have their beers brewed at Bearded Bird and served on tap at the brewery. Categories are Stouts, Belgian Strong Dark Ales, Winter Saisons, and "mix it up" open category. It costs $30 to enter your 5-10 gallons of kegged beer (waived for Bearded Bird members), and the "Homebrew Off" competition is October 15. The public is invited, tickets are $20, and the beers will be judged and voted on and the winner announced! See details at   http://beardedbirdbrewing.com/brew-crew-home-brew-off-rules/
Another gem of Hampton Roads is the Virginia Zoo, on Granby Street in Norfolk. Their GROWL FEST 2016 will be held Saturday, September 24, from 5:30-9 pm. All five Norfolk breweries (Bold Mariner, Coelacanth, O'Connor, Rip Rap, and Smartmouth) and two Virginia Beach breweries (Young Veterans and Wasserhund) will provide beer, and your $25 in advance ($35 day-of) admission gets you two beers and a commemorative growler (empty, alas, but you can find someplace to fill it the next day)! Beer and wild animals, what could go wrong? Most importantly, this is a good-cause fundraiser that benefits the Virginia Zoo and your local Rotary Clubs. There will be food trucks, Pokemon hunting, and the animal exhibits will be open, just for event attendees, until 7:30. AND YES it is KID-FRIENDLY, with kids under age 2 free, and ages 2 – 20 as well as designated drivers/nondrinking admission only $10. Check out the website at http://virginiazoo.org/events/growlfest/ or the Growl Fest 2016 Facebook page to order your tickets in advance.
One last bit of news to share with you. A brewpub (brewery-restaurant, full food menu) is coming to a Hampton Roads city near you! The details are still being worked out and we're sworn to secrecy until the official announcement. However what we can tell you is that this will be the second location of an established, independent brewery and brewpub located elsewhere in Virginia, they make excellent beer that you already have likely had and enjoyed, and the new brewpub will have a water view.  We only have four brewpubs in Hampton Roads currently (Gordon Biersch, Home Republic, Wharf Hill, and Wasserhund). This will be a great addition to our local beer scene, and the new brewpub will be in a city that does not currently have one. Sorry we can't tell you more but we don't want to steal the thunder from those working to make this deal happen!
Got a tip or idea for our column? Drop us an email at brewsclues2@verizon.net.
Grain & Hop Garden
Norfolk Botanical Garden and O'Connor Brewing Company have created – and planted – the first Grain & Hop Garden. Hops from the garden will be used in future O'Connor beers. Spacemakers and Copper Fox Distillery also contributed materials to the garden.
The grand opening of the garden is planned for Saturday, October 15. It will feature live music, food trucks, lawn games, educational tents and OBC beers. One of the beers that we will feature at the event is Susan Constant Wheatwine–a Virginia Vintage series beer that's brewed with malts from Copper Fox. It is being released on that date simultaneously at the Norfolk Botanical Garden and at O'Connor Brewing.
Green Flash Brewing Co Sets Opening Date
San Diego-based Green Flash Brewing Company will open its tasting room doors in Virginia Beach on Sunday, November 13, the day after it hosts its third annual Treasure Chest Fest on the site.
Upon completion, the production facility will provide freight efficiencies that will supply fresh Green Flash beer to the east coast, immediately passing the savings from regionalized shipping on to the consumer. The expansive public tasting room and outdoor beer garden will provide customers with an east coast opportunity to experience the Green Flash brand first-hand. The grand opening marks the next chapter for Green Flash, the 45th largest craft brewery in the US, poising the brewery for continued national growth. The brewery opening is generating excitement among locals, who are eager to welcome Green Flash to their growing craft beer community.
"We are so excited to be a part of the amazing Virginia Beach community as we plan to officially celebrate our opening in November," says Mike Hinkley Co-Founder and CEO of Green Flash. "The new brewery will allow us to offer East Coast consumers fresh Green Flash beers at West Coast pricing starting January 1st 2017. We are also looking forward to connecting with our customers face-to-face in Virginia Beach – allowing them to experience Green Flash beers at the source."
While the brewery will continue to be headquartered with corporate offices in San Diego, the Virginia Beach facility will serve as the East Coast hub for Green Flash. The tasting room will be family-friendly and feature as many as 30 Green Flash beers on tap, a vast beer garden, food trucks, retail store, extensive brewery tour program and large private-event room and garden. The events taking place during their grand opening weekend will offer visitors a taste of things to come, as Green Flash plans to host a robust brewery events program, planning ongoing activities designed to engage with the Virginia Beach community year-round.