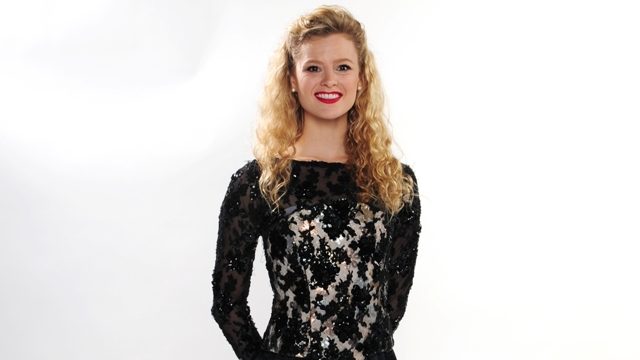 By Jim Roberts
It's no secret that Busch Gardens' "Celtic Fyre" show was inspired by "Riverdance," which debuted in 1995 and popularized Irish stepdancing all over the world. Lesser known is the fact that Maggie Darlington, who danced lead in the original "Celtic Fyre" show in 2010, is now the lead in the 20th anniversary world tour of "Riverdance."
"It's just amazing to be a part of such a legacy, and it's amazing that it's still around," she said in a recent interview with Veer Magazine. "I was 5 when it came out, and the fact that's it's still here for me to be able to do and it's my job now—it's just incredible, really."
Darlington may have been 5 when "Riverdance" debuted, but she already had two years of stepdancing experience, having followed her two older sisters to lessons at the Claddagh Dance Company in California. She went on to win four North American Championships, two All‐Ireland Championships and, in 2007, the World Irish Dancing Championship.
"Surreal is the best word," she said of her world title. "It was one of those moments … it was almost in slow motion. All the work and everything just actually came together at the right time."
Darlington is humble when she talks about her success. "It's like any job," she said. "Every day you have to prove yourself. I never specifically auditioned to become a lead, but I went in every day and I tried my hardest, and eventually it paid off."
Surprisingly, her biggest challenge has been the transition from competitive dancing to performing. "When you go up on stage in a competition, you're just trying to hit all the moves and put it out there," she said. "You might feel it emotionally, but that's not what I ever grew up training trying to do.
"Being on stage when you have thousands of people," she continued, "your whole spirit has to try and go out. It's just very different. Rather than putting that energy directly into your body, you're trying to put it all out there emotionally and get them to come with you."
Aside from the addition of one scene—a hard-shoe dance featuring the female dancers—Darlington said the show has changed very little over the last 20 years. "A lot of the tradition is still there," she said. "The steps themselves haven't actually changed, but the way we do them has. Even though the step is the same, we lift a little bit more. It's a little bit more athletic, and that's just because that's the way Irish dancing has moved."
The anniversary show has received some great reviews. After attending a Las Vegas performance in January, Robin Leach wrote: "Big-time bravo to principal dancers Maggie Darlington, Ciara Sexton, Emma Warren, James Greenan, Bobby Hodges and Jason O'Neill, who tap dance with tangled legs in unfathomable movements. I kept wondering how their ankles and knees stand up to tackle those skills nightly."
So what's next for Darlington?
"I'd like to challenge myself to be more creative," she said. "I've always done other people's steps. I've never really done my own. That's something I want to work on."
Regardless of where her career takes her, she'll never forget the summer she spent in Williamsburg. "It was really fun," she said. "I literally turned 21 the day I got there, so the whole cast took me out to celebrate. Everyone was very welcoming. I just had a ball."
She also has fond memories of College Creek, day trips with her castmates and, of course, riding Busch Gardens' roller coasters. "I always wish they were longer," she said. "I like the Griffin a lot, but that one's really short."
Christopher Newport University's Ferguson Center for the Arts will host a performance of "Riverdance" at 7:30 p.m. June 22. Ticket prices start at $39. For more information, visit fergusoncenter.org.