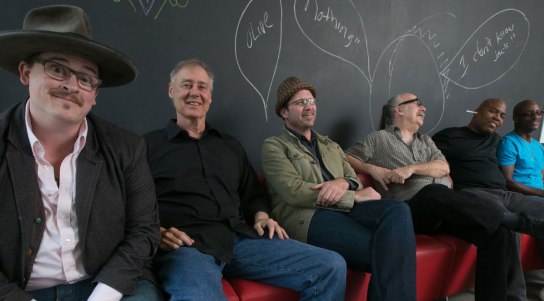 By Jim Newsom
Bruce Hornsby's got a brand new album and there's not a single note played on piano. Hornsby, who lights up the Virginia Arts Festival with a three-day "Funhouse Fest" in Williamsburg this month, has built a 30-year recording career around his remarkable keyboard stylings. But with Rehab Reunion, he's sticking with one of the simplest and most American of instruments, a metal- strung wooden box from the Appalachian Mountains, the dulcimer.
"I bought a dulcimer in '96 at the Galax Old Time Fiddlers Convention," he told me recently, "because I loved the ringing sound of it. I've always had sort of a pension for old time music, for folk music, since our first record when we were using fiddles and mandolins and hammered dulcimers and accordions. It's always been around. In 2009 I wrote a song called 'Prairie Dog Town' on the dulcimer—a Snoop Dog groove with a dulcimer, Appalachia meets the Hood.
"Because of that, we started having an acoustic dulcimer based mini-set in the middle of our concerts. Increasingly it became a really popular part of our concerts. The more time I spent with it, the more it felt like a place I could write songs, on the dulcimer. Then two years ago, I had this epiphanal month, mid-May to mid-June, where my SCKBSTD songwriting partner Chip DeMatteo and I wrote three songs together, and I wrote one on my own. So we wrote four in this really fertile month. And all of a sudden, it was screaming at me that this record needs to be made. I loved what we were writing and it was all dulcimer music.
"It was a natural progression of inspiration, realizing that this was a place where I could write a different kind of song than I would on the piano. My piano writing has gotten more dissonant, more chromatic, more dodecaphonic, twelve-tone, atonal, as evidenced by some of the songs in our play…that we're still working on, the eternally evolving play. It's changed a lot since the Wells Theatre. It's something we work on about a month a year, a total sideline project.
"But I continue to like the songs that come out of working in this milieu. I'm not so much of a triad guy on the piano anymore. My piano writing has become much more complex. But the dulcimer, because of its limitations—it's basically a diatonic instrument—your palette to paint with is limited. I like that limitation because it forces me to write simple songs. And there's never anything wrong with writing simple songs!
"Interestingly enough, this record, even though it has no piano on it, is the most like my early music of anything I've done since then. It's so much about folk instruments, acoustic instruments. Aesthetically it's coming from a similar place."
With Funhouse Fest, Hornsby has the opportunity to showcase his wide range of interests and talents, while bringing in some of his favorite musical pals. It's an idea he'd been kicking around for a while.
"We originally thought about doing it in Asheville," he said, "because that's always been a hotbed for our music. But we never got around to doing it. Then we got approached by the Virginia Arts Festival. They said, 'It's our twentieth anniversary. Would you consider creating something special for us?' We thought, wow, they're going to do a lot of the heavy lifting on a promotional and logistical level. I can walk to the gig and walk home, it's so close in Colonial Williamsburg.
"The next challenge was to find a great lineup, so I called a bunch of my friends and came up with this stylistically disparate but exciting lineup of some great legends and some younger bands."
It's quite a lineup indeed, with styles ranging from bluegrass to jazz to blues to Irish music. And a list of performers ranging from young folkie Aoife O'Donovan to 74-year old bluesman Taj Mahal and jazz legend Jack DeJohnette, whose trio includes Ravi Coltrane and Matt Garrison, offspring of jazz giants John Coltrane and Jimmy Garrison. Veteran singer-songwriters Shawn Colvin and Steve Earle join forces to present songs from their just released duo album.
Bruce will put himself in totally different settings each night. The sold out Thursday night prequel is solo, Bruce alone at the piano. On Friday night, he teams up with his "old country soul brother" Ricky Skaggs for a night of bluegrass and acoustic music. On Saturday, he and his band The Noisemakers will close the night with two separate sets highlighting the old and the new—playing his 1986 debut The Way It Is in its entirety, then coming back to play the new record, Rehab Reunion, all the way through. He and the guys will wrap things up on Sunday as only they can:
"My band will play at the end and just do our standard, wide open devil-may-care loose spontaneous set. We figured we had to do one night doing what we do!"
Funhouse Fest
Lawn of the Art Museums of Colonial Williamsburg
June 24: Ricky Skaggs & Bruce Hornsby with Kentucky Thunder, Greensky Bluegrass
June 25 : Bruce Hornsby & the Noisemakers perform The Way It Is and Rehab Reunion
Colvin & Earle, Railroad Earth, DeJohnette – Coltrane – Garrison
June 26: Bruce Hornsby & the Noisemakers, The Taj Mahal Trio, Aoife O'Donovan, ChessBoxer