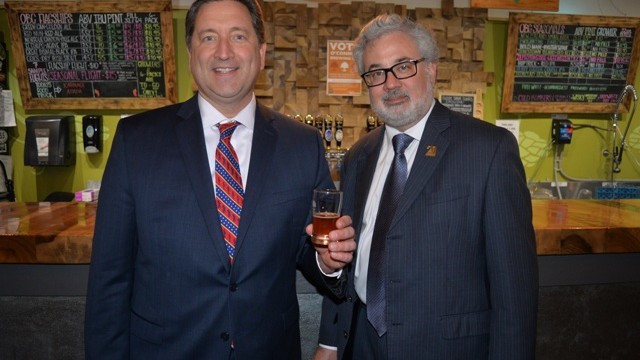 By Jeff Maisey
The Virginia International Tattoo is a vital component to the Norfolk-based Virginia Arts Festival. Both got their start 20 years ago. To commemorate the occasion, Festival organizers Scott Jackson, Rob Cross and Board member Jim Hixon (Executive Vice President of Law & Corporate Relations with Norfolk Southern Corporation) felt a special Tattoo brew was in order. And who better than neighborhood brewer Kevin O'Connor and his team to enlist in such a liquid endeavor?
The Virginia Arts Festival is a multi-week, multi-venue performing arts festival bringing an array of top notched international talent to the Hampton Roads region. This season performers include famed cellist Yo-Yo Ma in recital with pianist Emanuel Ax, Afro-Cuban All-Stars, and a dance gala featuring members from Birmingham Royal Ballet, Mark Morris Dance and Tokyo Ballet. An edgy Fringe Fest is scheduled in Norfolk's Arts District. Grammy-winning Williamsburg resident Bruce Hornsby handpicked musician friends for the Funhouse Fest portion of the Festival in late June.
Much of the inspiration for the Virginia Arts Festival has its roots in Edinburgh, Scotland.
"Edinburgh during festival season is a special place," said Hixon. "You have all these performers there with shows going on for 30 days."
Jackson, Hixon and Cross visit Edinburgh every other year to stay in touch with what's happening. A couple of years ago they came up with a Festival tartan.
"We thought it would be nice as part of the Tattoo," Hixon said.
The tartan colors are representative of the Virginia Arts Festival by incorporating the city of Norfolk blue; the Arts Festival blue; and the gray is a nod to the US Navy.
So how does beer enter into this equation?
"There was such a tradition," said Cross. "The word tattoo means taps off. It seems like such a natural for a vibrant beer community."
Hixon agreed:  "We think a Festival beer is the next step and it had to be a Scotch ale."
And so Music & Might Scotch Ale was born.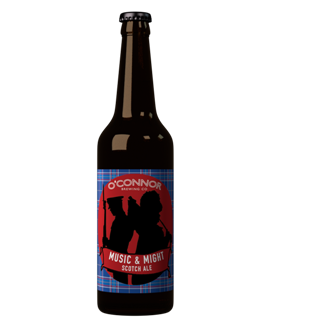 Johannes Speckheuer, cellarman and brewer at O'Connor Brewing Company, admitted the style was more British than the Norfolk brewery typically does.
"It's very traditional, although we used American ingredients," said Speckheuer. "There's a little bit of smoked malt in there. On a Scotch ale rating scale it's probably a 60 shilling, where everyone else is probably more used to a 90 or 120 shilling, which would be a higher ABV. We used our house yeast strain."
In fact, Music & Might Scotch Ale tastes very traditional, and is very similar to many English ales found on drought in London pubs these days. And like the most British brews it is low in alcohol – 5%.
"For newcomers familiar with Newcastle Brown Ale, they will definitely be a fan of this," Speckheuer said. "That's what a festival beer should be – a great drinking beer for a warm day."
Music & Might Scotch Ale makes its debut on Wednesday, April 6 (National Tartan Day) at 4 PM in the O'Connor brewery tasting room.  It will also be available at the Virginia International Tattoo (April 21-24, Norfolk Scope).