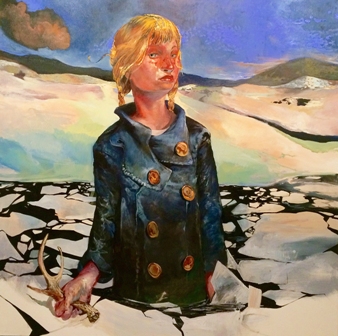 By Jeff Maisey
Sometimes a painting will catch your eye from a distance and hook the viewer by the ribcage.
Such is the work of painter Kent Knowles, whose new exhibition "Passage" is on display through June 11 at Linda Matney Gallery in Williamsburg.
The paintings of Kent Knowles, an Associate Dean of Fine Arts and Foundation Studies at the Savannah College of Art and Design, feature women in dark, uneasy settings. That doesn't mean they're gothic in design, just unnervingly odd at times, but always fascinating.
To learn more about his process I posed a few questions to Knowles. Here's our chat.
Your prime characters are women in perilous situations. Why?
Women have been at the center of my work for many years now, beginning in the early 2000s when I was exploring content as a graduate student.  I have found in the female figure the perfect vehicle to express an idea.  They are simultaneously vulnerable and powerful, and I can identify with that.  In recent years, I have placed myself in a position that is all but comfortable – trying new techniques in my work and taking on new challenges in my career as an educator and administrator at SCAD/Atlanta.  I also became a father about six years ago, and that truly altered the way I interpret my surroundings.  When you have a small child navigating the world, everything becomes dangerous.  I think these recent paintings are a reflection of the changes I have been experiencing, and that uneasiness has manifested in paintings of a figure (me) in an environment that is uncertain.
The women in your paintings sometimes have odd, distorted qualities. What are you communicating? 
I have never truly embraced the importance of anatomical accuracy when painting the figure.  In fact, I have seen many artists who struggle to do so, and their figures end up going cold and lifeless.  My approach to a painting begins with overlapping marks and lines, with Design driving the bus.  Inevitably, a figure emerges from the overlapping lines and I will take that cue to begin fleshing out the composition.  If I put content first, it very rarely works out.  That is why I am a lousy portrait artist.  I have found this technique endows my figures with a type of compressed strength, but also a level of distortion that captures the energy of the process.  It's funny.  I am so close to these paintings that the distortion doesn't register.  It's like someone telling you your children are ugly – you just can't see it.
Often, your work includes a scenic, yet troubling landscape in the background. What do you hope the viewer sees in the background?
There is such freedom in the landscape that it often serves as an area of rest for my mind.  Most often, I will work on the figure first and create a landscape that compliments the features of the subject.  So much time and editing goes into the form, that I am often exhausted by the time it gets resolved.  However, I am beginning to realize just how much personality the environment has and how it can be just as relatable as any face or character.  Recently, I have been exploring the landscape to create work that gives back to me.  In all honesty, the figurative paintings are like wrestling with a clone – equal to you in all ways and able to anticipate your every move.  The landscapes operate on a grander scale and feel beyond my control.
Your work has been described as quirky. Is that a fair assessment? 
As a painter, I think you have to be prepared for the inevitable fact that your work will have to take a few scrapes and bruises as it makes its way in the world.  If someone wants to categorize my work as quirky, that's cool.  I personally find my paintings terrifying, self-revealing and downright dark.  I think any type of levity is a defense mechanism to make people feel better, even if it inappropriate to the situation.  You see this in movies a lot, especially during a moment when a character is particularly tender or taking an emotional risk.  People laugh when they should be crying.
Are you influenced by the works of Flemish painters of the 1600s? 
I can see the connection, but it is not the first place I go regarding influences.  My heavy-hitters are Stanley Spencer, Paula Rego and Thomas Hart Benton.  Also, Aron Weisenfeld, whom I think is a genius.  The figures in their work are all monolithic and powerful.  They also possess a sense of regional allegiance, which I find intoxicating.  I suspect that painters will start embracing their regions more and more in the coming years.  The world has gotten so big, and with artists expected to operate in a global market, I think it is very logical that we will see more and more creatives hunkering down and linking their work to specific places.  I will admit that I am interested in exploring that idea.
What can you share about the work being shown in your upcoming exhibit at Linda Matney Gallery? 
Lee Matney has been so gracious to allow me to show pieces that are not only from this year, but also from my beginning days as a painter.  I was in NY recently and attended a show at the newly opened Met Breuer.  It was titled Unfinished: Thoughts Left Visible, and it was AWESOME!  Master works from the Met collection that were incomplete, showing the process of these incredible painters.  It blew me away and got me thinking about my process and how it has changed over the years.  With Passage, you will get to glance behind the curtain, with paintings and drawings that show how my technique, scale, materials and subject matter have evolved over the last two decades.
You often create work for an exhibit by painting several works within a short time frame. Is this to maintain a similar theme?
Yes.  As my time in the studio becomes more compressed, I have enjoyed working on multiple surfaces at one time, working constantly towards or within a single theme.  This is both an efficient way to use materials, but it also affords me the luxury of consistency.  There is so much information to process in any given day, and so many forms of stimulation, that the neuroplasticity of the modern mind is really being put to the test.  If I don't focus on a single idea in the studio, or if a great deal of time has passed between paintings, the cohesiveness goes out the window and I am a blubbering, wayward mess.
WANT TO SEE?
Kent Knowles: Passage
April 17 through June 11
Linda Matney Gallery