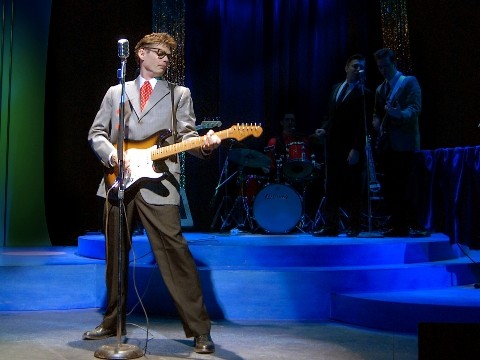 By Jim Roberts
Charles Hardin "Buddy" Holly had a legendary run of hit songs before his untimely death on Feb. 3, 1959—from "That'll Be The Day" and "Peggy Sue" to "Maybe Baby" and "Rave On." But it was the song "It's So Easy!" that got Robbie Limon most excited during a recent interview to promote his show, "An Evening With Buddy Holly," which will visit Hampton's American Theatre on April 9.
"Another song that's just stood the test of time," Limon said. "Everyone still knows and sings along, no matter what age—almost like we were born knowing these songs. Kids now are just born knowing this stuff."
Limon, a singer-songwriter who's made a living the last 10 years portraying Buddy and Hank Williams, says Hank's music is the same way. "I mean, you play, 'Hey, Good Lookin',' all of a sudden, you hear everyone sing the rest of it: 'Whatcha got cookin'?'" he said. "It's really amazing."
Limon's relationship with Buddy's music began after he starred as Hank in "Lost Highway" at the Wayside Theatre in Middletown, about halfway between Front Royal and Winchester. After the show closed, he suggested they do the off-Broadway version of "The Buddy Holly Story." The show sold out for eight weeks and was the largest-grossing production in the theater's history.
"People returned to see the show five, six, even seven times," Warner Crocker, Wayside's artistic director, told The Free Lance-Star last year. "First, it was mostly older people—ones that grew up during the time Holly lived. But then we started seeing ages all over the map."
Limon didn't want to abandon the role when the show ended, "so we sat down, and we wrote our own show."
Unlike "The Buddy Holly Story," which has a cast and a plot, Limon's touring show centers on Buddy rehearsing a back-up band—not the Crickets—before they embarked on the fateful Winter Dance Party Tour. "Our show is not as theatrical or dramatized," Limon explained. "Really, it's almost more like a little history lesson in the Buddy Holly music."
Before the show starts, the band will mingle with the audience and collect questions to ask Buddy in the staged rehearsal. "It's a very interactive show," Limon said. "I answer them, then I continue with the example of the song or whatever the question was about."
In addition to all the songs mentioned already, the show includes "Words Of Love," "Not Fade Away," "Heartbeat" and "True Love Ways." That said, it isn't just an endless string of Buddy's hits. "We also play his influences," Limon said. "We'll do some Everly Brothers, who he loved and was hugely influenced by. And Elvis Presley [and] Little Richard, who were all big, big people in his life."
The show demonstrates Buddy's enduring influence on music—even after more than 50 years. "His music was huge," Limon said. "I mean huge. Look who it influenced the most: the Beatles. … They admit a lot of their big, first pop hits were a direct result of being influenced by Buddy Holly. Buddy's music really did guide us where we are today."
Crocker has high praise for Limon's portrayals of Buddy and Hank: "Robbie is an uncanny performer who has the ability to inhabit a person onstage and is able to capture the sound of the music that is truly magical to watch."
Any advice for those planning to attend the show? "I would like to encourage people to participate," Limon said. "Ask questions and feel free to dance in the aisles and come down front to dance. The more participation and clapping and singing along sure gives the show a lot of energy."
At a minimum, brush up on the words for "It's So Easy!"
WANT TO GO?
An Evening with Buddy Holly
April 9
American Theatre