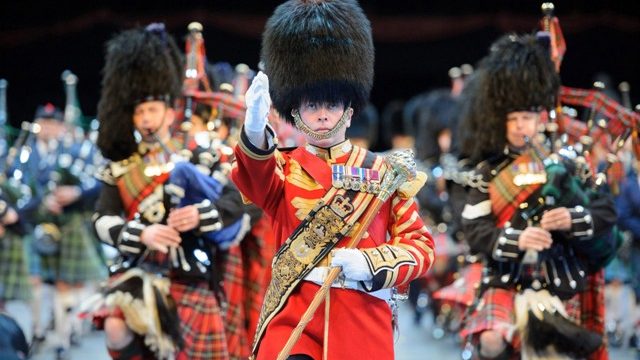 By Jim Roberts
The Virginia International Tattoo, like the Virginia Arts Festival, is celebrating its 20th year in 2016. Scott Jackson, a percussionist in the Virginia Symphony Orchestra, has produced and directed the show since 2003. In an interview with Veer Magazine, he talked about what he's learned over the last 14 years and how that has led to changes in the show. More than anything, though, he just exuded excitement about this year's show. So in honor of the tattoo's 20th year, here are 20 things you need to know about this year's show, as told by Jackson.
This year's theme is "A Time To Celebrate 20 Years Of Spectacular Performances. A Time To Remember 20 Years Of Service And Sacrifice." "Probably my most meaningful experience professionally was honoring Vietnam veterans in 2014. The feedback was 100 percent positive. The one caveat was: A number of people said, 'I served recently. When are you going to honor us? Is it going to take 50 years?' That's a really good point. Why do we wait 50 years? So when the 20th came up, it just seemed like an 'a-ha' moment. It seemed like a perfect time to remember the service of the Armed Forces the last 20 years."
The show is designed to engage newcomers and tattoo veterans. "The Holy Grail for me is someone that's coming for the very first time leaves getting what a tattoo is and what the Virginia International Tattoo is. I wonder what kind of tattoo shop insurance these guys have in their stores but I digress. They have those iconic experiences of hearing the national anthem performed spectacularly well and respectfully, hearing 'Amazing Grace' played very musically with massed pipes, hearing a great Sousa march. But then also someone that's been coming for 15 years saying, 'They surprised me again.' How do you maintain those really iconic elements that never get old, but how do you continue to insert things that are exciting and new? That's really important to me and to the tattoo."
Plan to be there for two hours. "When I took the show over, it was around a two and half hours with an intermission. I felt like the tattoo is really an experience. Think of your favorite movie. Would you really want to stop in the middle? I want people to have that experience at the tattoo, so the first thing was make it shorter and more intense."
The show is unapologetically patriotic. "There's no other show in the world that's as patriotic as ours. There's just nothing like it. It's really extraordinary. It's the first thing I miss when I go to other shows. Last year, some Highland dancers from Australia said: 'You make us feel proud to be Australian.' Normally that's not a key element in other shows."
That said, the show features a broad range of music. "I think we have some really beautiful music in the tattoo. We try to make sure we stretch beyond not only putting traditional tattoo music—like marches and traditional bagpipe tunes—but lots of broader types of music. I think that's a hallmark of the show."
This year's show will feature two of the top 10 pipe bands in the world—Inveraray & District and Police Scotland Fife—and they will compete on April 23. "Generally speaking, Grade 1 and 2 bands exist to compete. That's their main mission. It was virtually impossible to find a Grade 1 or 2 band, so I kind of let it go for a couple years. And then I felt like for the 20th, why can't we make a win-win scenario here? How awesome would it be to have a pipe band competition, invite bands from around the world, and then see if we can get a couple of them to also play in the Tattoo? So that opened up an incredible opportunity. I can't even imagine how good that's going to sound."
The show will also feature Switzerland's world famous Top Secret Drum Corps. "Their break-out event was the 2003 Edinburgh Tattoo. No one had really heard of them, and they took Edinburgh by storm. It was an incredible success, and they became worldwide sensations. It's a mix of traditional drumming with really high-energy entertainment. They use snare drums, bass drums and flags. They do a six-minute routine. It's very fast moving. I think it will be a huge highlight. It's all done with Swiss dignity and precision. It should be pretty terrific."
The Band of the Netherlands is returning for a third time and will perform on bikes. "They are one of my all-time favorite acts. The cool thing is, they were essentially the Dutch equivalent of a cavalry; they actually used bicycles to get around in World War I. When they perform on their bikes, it's more of a comedy routine with limited instrumentation. The snare drummer essentially has handcuffs on his handlebars, and he's playing the snare drum, which is mounted in the middle, and steering. I think that's hilarious."
Army Band Kassell will perform traditional German music. "Another great band. They are a traditional band. They almost sound like an orchestra. For example, they have two bassoons that they march with, which we wouldn't normally have. U.S. bands tend to be more on the brassy side. A very warm, orchestral sound. They're going to play a show of traditional German music, which I think people will really like."
Craig Jessup will lead a massed choir of more than 700. "I asked Dr. Craig Jessup to come see the show last year. He was 21 years an Air Force band conductor and then eight years the music director of the Mormon Tabernacle Choir. He really liked it, and I said, 'Would you consider leading a massed choir?' He said yes, so we put word out. … We have 14 choirs. We'll have between 700 and 800 voices. Just in context: I think my first year, the tattoo cast as a whole was around 450. We'll have almost twice that number just in the choir this year."
Colin Powell will play a part in the military tribute. "I very sheepishly asked Joe Galloway, a New York Times best-selling author: 'What would you think about writing an essay for our playbill?' I felt like he should have probably just kicked me out the door. He said: 'OK, I'll do that.' Then I asked him: 'Would you be willing to help us find a narrator?' Turns out he worked for Colin Powell as a speechwriter. Sure enough, within about two days, he got him to agree to do it. So Joe wrote an essay for the playbill, and during the show, you'll have an opportunity to hear that narrated by Colin Powell."
Did he mention there will be two Grade 1 pipe bands in the show? "These are volunteer groups, but they're playing at the highest level—what you would associate with the highest level professional group of any other performing discipline. It's something special because it's professional quality with amateur spirit. It's what the Olympics are supposed to be. I have never seen a Tattoo with a Grade 1 band. We're going to have two. It's just awesome."
The pre-show "Hullabaloo" has been extended to three hours. "I always feel like by the time I sit in my seat at the Edinburgh Tattoo, I've already had a great time, and I felt like we needed something like that here so you're not sitting down having just fought traffic and paid for parking and had a near fender-bender. I wanted to give people that experience that really puts you in a great frame of mind before the show. It's a great chance for the audience to enjoy the performing and meet some cast members."
Thousands of students attend educational matinee performances. "Since 2006, every sixth-grader in Norfolk Public Schools attends the tattoo as part of their school curriculum. Over time, every single person that attends Norfolk Public Schools will not only know what the tattoo is, they will have experienced it. We have similar relationships with Virginia Beach Public Schools and Portsmouth and Williamsburg/James City County. What an awesome investment in the show."
Every performance starts with a countdown clock. "The first year we did the countdown clocks was 2014. We wondered how it was going to work. And of course the dress rehearsal is just deadly silence. We had a protocol that when it gets down to one minute, we dim the lights. And we just sat in utter silence for 60 seconds. I remember thinking, 'Well, this is probably one of my worst ideas.' And then the very next morning, we get to a student matinee, and the kids are screaming from like 30 seconds. It was awesome. It was a great feeling to see it come together."
Video screens ensure there isn't a bad seat in the house. "Tattoos by nature are spectacles. You wouldn't want to see a tattoo with 100 people in the audience; it wouldn't be the same. You want 6,000. But that means a lot of people are a long way from the action. So a few years ago, we added live video. I really think that video element has brought a closeness and intimacy to the show that really beautifully complements the overall sense of spectacle. People really are connected when they can see the face of the performers."
The tattoo has a connection to "The Late Show with Stephen Colbert." "One of the single most important people that no one's ever met or heard of is our lighting director: a guy named Justin Cheatham. He works for the Colbert show. He's a fantastically talented lighting director. I got him on board with the tattoo before he got the big TV gig. He really loves it. He's got family in the area, so he's willing to block out this week. He's so talented, and he knows the show well enough that he can really make an impact on the show."
The show's final rehearsal is also "Special Audience Night." "My wife and I have three kids, and our daughter Samantha has autism. She can't come to the public shows; it's way too overwhelming for her to be in an arena with 6,000 people. So my wife used to bring her to the dress rehearsal, and it was a really good experience. She said we should make this available to other people. So in 2011, we created what we call Special Audience Night where people with special needs and their families can come in a very accommodating atmosphere to the dress rehearsal. That's something I look forward to throughout the year. It's a special night."
One more thing about those Grade 1 pipe bands. "Whether or not you're a pipe band aficionado, or whether or not you're a musician, I guarantee the second a Grade 1 pipe and drum ensemble strikes up, you will know you are seeing and hearing something extraordinary. You will absolutely know. There's nothing like it."
The team's vision is to produce the best tattoo ever. "A lot of times people will say, 'You topped yourself. I don't know how you did it.' For the first 10 or 12 years, there was nothing better than hearing someone say that. A couple years ago, my team got together and said: What's the vision for the future? The vision for us is: One day, we're going to do a show here, and it's not only going to be the best show we ever did, but it will be the best tattoo that's ever been put on. That was a pipe dream 10 years ago. That's in our future. Our near future, the way the show is growing, and that's an awesome feeling."
There are four public performances of the 2016 Virginia International Tattoo: at 7:30 p.m. April 21, 22 and 23 and at 2:30 p.m. April 24. Performances are at Norfolk Scope. Ticket prices start at $20. Students under 25 receive a 50 percent discount. For more information, visit: www.vafest.org/tattoo-home.