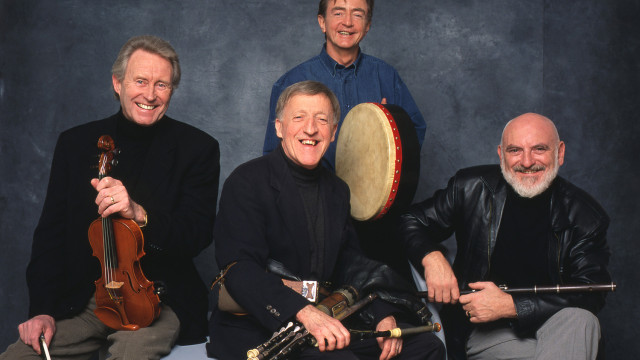 By Jeff Maisey
EDITOR'S NOTE: Due to an injury, The Chieftains concert has been cancelled.
The Virginia Arts Festival has helped make Norfolk front-and-center during a week-long celebration of St. Patrick's Day by scheduling the legendary traditional Irish music group The Chieftains on March 15 at Chrysler Hall. On the plaza before the concert a pre-party with beer and music will set the stage.
Not long ago I received a phone call from founding Chieftains member Paddy Maloney, who basically created the style of music we today consider traditional Irish music. The group is continuing to celebrate its 50-plus years and another album of collaborations titled "Voice of Ages."
Here's what Paddy Maloney had to say.
When you formed The Chieftains back in 1962 what were those early rehearsals like at your home?
Even long before that, Jeff, going back to '58 and putting the band and sounds together and these arrangements of what I felt was what traditional music needed. So I carefully selected from the huge repertoire of traditional Irish music and the different rhythms and jigs, reels and everything. I selected tunes that I felt would almost make a composition that had been cobbled together.
I still have the original notes of songs and arrangements written out. We enjoyed getting together and rehearsing because there wasn't anything much going in those days. Perhaps six months of rehearsals at twice or three times a week.
Even in the earlier days, The Dubliners back home, the banjo player was Barney McKenna, who passed away six months ago, he was in our band back then. Barney grew the beard and off he went with The Dubliners. But he did do one track for our 40th album for us with some of the tunes from those days when we rehearsed at my mother's house.
Did you have a goal early on such as touring Dublin and throughout Ireland? Or did you have bigger plans?
I did have bigger plans but not the way it turned out. In the early days first of all I wanted to conquer Ireland, our own country, and Belfast, Cork and Limerick. We started to be invited on television programs. We had a weekly program at one stage where we had some singers with The Chieftains, you know?
We received an invitation in 1968 to play the Edinburgh Festival and we spent a week there. Our music on that first album was played continuously by the great John Peel on the BBC. He was playing us amongst The Beatles and Rolling Stones. Talk about the world gone mad. We started getting a large following amongst our musical friends from Beatles to Rolling Stones and a lot of other fans. They were making the millions, of course, and we were making the pennies. But we were doing what we did best – traditional Irish music, which is what we do to this day, no matter what collaborations we do with different groups. A Chieftains concert is still very much traditional Irish music song and dance. We have a strong show for you this year.
Are you encouraged by the number of musicians today doing traditional music in Ireland?
It's unbelievable now. I only wish I could bring everybody on tour with me. Some of them have been very successful. I do encourage them as much as possible but I wouldn't want to go in competition too much. The standard of piping going on is frightening.
There's a little girl that joins us for a few tunes in Princeton every year. She plays the fiddle and she's only nine. She tears the house down. My grandson turned 17 and is very much into what was going on and the guitar, and all of a sudden he had the whistle going and I thought it was me-self. Just recently he asked me for an old set of pipes I had. So he's starting on that.
The Chieftains have collaborated often with a wide array of musicians over the years. What is it about collaborations, Paddy, that you enjoy?
I'm always fascinated by it. We continue to get asked to be part of other people's albums. I love the challenge, for a start. There is something wonderful about "Voice of Ages" that having done this anchor track called "The Chieftains Reunion" where I called on my retired members of The Chieftains who are in their 80s now. We had this great track, told stories and reminisced a bit and then I pressed the (record) button and everybody took a solo. I reenact that on stage.
I've not been very happy with the music I've been hearing over the past 20 years. Some of it is dreadful all together. But I was introduced to the musicians that appeared on the new record so it made it easy for me to connect and pitch it to them. I also got some help from my friend T Bone Burnett, who knew a lot of these musicians. He sat-in on a number of tracks and played guitar.
I wanted to prove good music can be of any kind. Our music is also tremendous. The mix and do a fusion of it was great.
Who is the one musician you've yet to collaborate with that is top on your list?
I came close to it this time on the album with a song written by Bob Dylan. He wrote it for his very good friend Tommy Makem of the Clancy Brothers. They did that great revival thing in the '50s.
Dylan was a friend of theirs in those early days and they used to have him on as a guest at some of their concerts. He wrote a song for Tommy Makem called "When the Ship Comes In," and I used that song for The Decemberists.  It has that great Irish touch to it, which made it easy for me to put my stamp on it.
We had planned to do a song together for some time. "For the Long Journey Home" is where I wanted Bob to sing a song. It would have been great.
Joe Biden, the vice president, you know, was quoted on the internet when asked who is your favorite musician? And he said Bruce Springsteen and The Chieftains. He said he would love to sing "Shenandoah" with The Chieftains.
St. Paddy's Week Events
Friday, March 11: Shamrockin' in Ghent, Colley Avenue
Friday, March 11: Flogging Molly at The NorVa
Tuesday, March 15: The Chieftains, Chrysler Hall
Thursday, March 17: City Center Shamrock, Fighting Jamesons, Newport News Fountain Park
Thursday, March 17: Glasgow Kiss at O'Connor Brewing Company
Thursday, March 17: St. Pat's Party at Belmont House of Smoke
Friday, March 18: Celtic Nights at Ferguson Center
Saturday, March 19: Ocean View St. Patrick's Parade
Saturday, March 19: O'Connor Brewing Company 6th Anniversary Bash