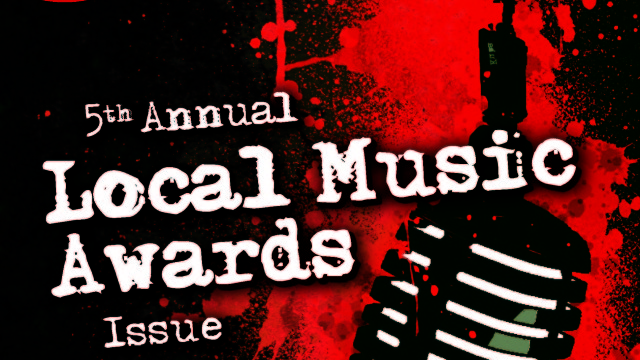 By Jeff Maisey
Veer Magazine presented its 5th annual music awards program recognizing the vast, diverse array of local bands and musicians on February 10 at the crowded Naro Expanded Cinema.
The awards were determined based upon what a band had accomplished in the previous year much as the recognition given at the Grammys. In an effort to make things fair and balanced, 50-percent of the vote was taken from an online poll and the other half of the tally taking into account the picks from local media, promoters and the like championing local music.
Among the memorable live performances receiving standing ovations were folk artist Skye Zentz and men's vocal gospel quintet The Chose Few performing a medley of Zentz's "The Tide" and the spiritual "Swing Low Sweet Chariot," Virginia Symphony cellist Jacob Fowler and pop-rock musician Nate Sacks paying tribute to David Bowie with an emotionally somber version of "Life on Mars," and a reunited Snuff performing "Heaven."
And the winners are….
Album of the Year
"Major & the Monbacks"
EP of the Year
"Oh, My My," Little Pants
Song of the Year
"HRBT Blues," Bobby Blackhat Walters
Music Video of the Year
"The Tide," Skye Zentz, Directed by Jon Abrahams
Producer of the Year
Matt Katherman
Themed
Esoteric Ramblers
IndiePop
The Dahus
Metal
Funhouse
Rock 
710 Oil
Garage/Punk
The Real Tears
Jam/Psychedelic Band
Octopus
Jazz
Jae Sinnett
R&B
Myra Smith
Hip Hop
DRAM
Americana
Big Virginia Sky
Country
Gina Dalmas & the Cowtippin' Playboys
Acoustic/Folk 
Karl Werne
Blues
Bobby "Black Hat" Walters
Experimental
Pain in the Yeahs
Cover Band
Deja
World Music
The Dharma Initiative
Gospel
Hope Askew
Emerging Artist
Who We Are Not
National
The Last Bison.
Open Mic Night 
Victorian Station w/ Vaughn & Sueanne
Live Performer 
Seth Stainback & Roosterfoot
Online Source
HardcoreNorfolk.com
Media Program (TV/Radio)
Out of the Box, WHRV-FM
Local Music Venue
Charlie's American Café
Outdoor Festival featuring Local Music
Norfolk Harborfest
Music Instrument Retailer 
Russell's Music World
Local Music Photographer
Sherry Boylan