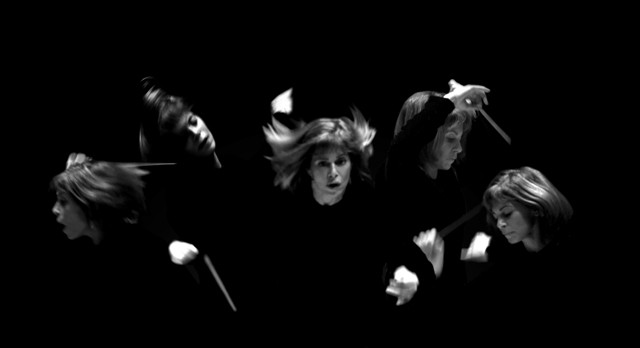 (February 25 marks JoAnn Falletta's 25th anniversary with the Virginia Symphony Orchestra)
By Montague Gammon III
A coal miner's granddaughter has led the Virginia Symphony for 25 years.
In that time JoAnn Falletta – or Dr. Falletta, to give her the earned honorific that she never uses but to which her Juilliard Doctorate of Musical Arts entitles her – has taken the former Norfolk Symphony to Carnegie Hall and Kennedy Center, built a most loyal following in the communities of Hampton Roads' musicians and audiences, and has even been named the World's Favorite Conductor by a British website.
She's built an international career as a resident conductor and music director, including Grammy and ASCAP Awards, worked with students locally and across the country, accumulated a page long list of awards and honors plus a full page discography, and built yet another page-filling (double-column) list of guest conducting gigs. Now and again she even gets to play classical guitar, which was her first, childhood, musical love. (Tucked away near the end of her resume is the information that she played guitar, lute and mandolin for institutions such as the Metropolitan Opera and the New York Philharmonic. "That's when I was a student in New York," she remarked.)
Falletta's paternal grandfather, whom she never knew because he died when she was 2 years old, was a Sicilian sulphur miner who came to Pennsylvania, where he labored in the coal mines.
"He moved to New York City [but] missed Sicily," she said in one of several phone and email conversations about her family and her work. "He bought one acre of land on Long Island. He and his sons built a tiny little house there … he had grass and a vegetable garden and trees."
Her maternal grandfather "was a farmer who came in around the same time. They were two young couples at the turn of the century [for whom as] poor people … there had been no possibilities" in their homeland. "It was easier for their children."
She traces her musical abilities to one of those children. "My father was very musical. He always wanted  to play the clarinet. Benny Goodman was very popular then. He never got to study so he made sure that my sister and I had that chance…Every Sunday was a musical day in our house."
Her dad never got to study clarinet, but he did study guitar. JoAnn Falletta taught him.
Times when she and her father would join to play her own guitar arrangement of The Third Man Theme, from the Orson Welles 1949 movie of the same name, are among "the things I remember most warmly," she said.
"I suspect he wanted me to have the experience of teaching…what a privilege it was for me to try to teach him."
She says that playing guitar still "makes me feel like a kid again."
Even as the Music Director of VSO, and of the Buffalo Philharmonic Orchestra as well, racking up some 100,000 miles per year of airline travel, she's still eager to work with students.
"Every summer I set several weeks aside to work with young orchestras – like Interlochen." Her guest conducting appearances include not only concerts with prestigious and wide spread orchestras in London, Philadelphia, Mannheim, Beijing, Seoul, Jerusalem, Bogata and Cape Town, but rehearsals with student companies such as our regional Bay Youth Orchestras of Virginia.( After which she will take innumerable questions from students and converse at length with parents.)
The gift of a guitar first prompted her interest in music, which she began to study, she has said elsewhere, at the age of 7.
By the time she was "10 or 11," the concerts to which her parents took the family had prompted her interest in conducting, and by the age of 15, she knew that was what she wanted to do.
"I was amazed by the sound of the orchestra and I wanted to be in the middle of that."
Which is where she has been, from the time she became Music Director of the Queens Philharmonic for a dozen years, starting in 1978. In the '80's and early '90s she was variously, and often simultaneously, Associate Conductor of the Milwaukee Symphony Orchestra and Music Director of the Denver Chamber Orchestra, the Long Beach Symphony Orchestra and the Women's Philharmonic in San Francisco.
She will chuckle as she tells students the self-effacing story of her own first, far from successful, student conducting experience. Standing on her first podium she became so enraptured by the music that she stopped using her baton and stood still, bathing in the wonderful sounds, until those sounds slowed, faltered and then stopped altogether.
She summarizes her current conducting duties as "providing a situation where excellence can flourish… where musicians can play at the highest level."
That's something at which she excels, according to Karen Philion, the CEO of the Symphony. Ms. Philion has worked in administration and fundraising with JoAnn, in Buffalo and here, since the early 1990's. "I have learned a lot from JoAnn in terms of creating an environment where people can do what they do best." By being "open and trustworthy," Phillion says, Falletta "sets a tone for the whole organization."
"It goes back to her personality," Phillion says. "she values people and she lets them be seen and heard."
Falletta noted a profound commitment to excellence on the part of the Virginia Symphony on her first encounter with them.
Asked about her audition here, she said, "I just remember the orchestra being so anxious to excel! They were determined to be the best orchestra possible and for a conductor that's a wonderful thing."
Her very first impression of the region was, however, confusion. Knowing she was expected in a city named Norfolk, she arrived in the airport to see a sign that read, not "Norfolk," but  "Welcome to Hampton Roads."
"Where am I?" she recalled thinking. "Did I get on the wrong plane?"
She's become way more familiar with ORF since then. That 100,000 miles estimate of her annual travel distance came from her husband of 30 years – clarinettist, IBM employed computer whiz and personal travel manager Robert Alemany. She added that she's a member of the million-mile clubs of "several airlines."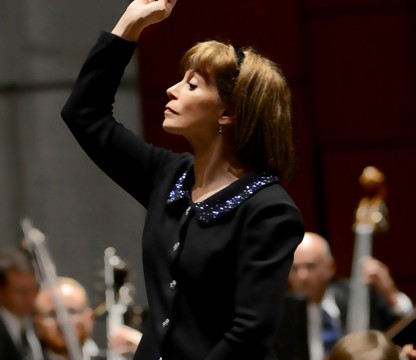 Folks who talk about Falletta almost invariably wonder how she accomplishes all she does. A passing remark she made about travel does a lot to clarify that.
Time on an airplane, she said, "is a wonderful, very private time, to just sit and be completely insulated and study scores." Since "Ninety five percent" of her preparation for orchestra rehearsals and concerts "is studying the scores and hearing in my head … how the orchestra will sound."
Once Falletta had the not-unusual problem of Metropolitan Tidewater, Southeast Coastal Virginia, nomenclature sussed out, she fell for Norfolk, especially downtown Norfolk.
"I remember it as being very welcoming, I absolutely loved it from the beginning." Since she was hired as VSO Music Director she and her husband "have lived in the same building downtown."
Living there, and remembering her native New York City, she liked from the first that Norfolk is "a place where you could walk to the Chrysler Museum and to Chrysler Hall and to wonderful restaurants." She found that "it was just a very wonderful place to walk around and right on the water," where she could "watch those huge ships go by half a block away!'
From the outset, she says, she found, "people are gentle and welcoming." Twenty five years later, "I've gotten to explore Southeast Virginia and I feel exactly the same way."
"That's why we are able to keep our musicians. They fall in love with all of it and they stay."
WANT TO GO?
Virginia Symphony Orchestra
Conierto en Tango, February 25, Crosswalk Community Church
Conierto en Tango, February 26, Regent University
Cameron Carpenter plays Saint-Saëns, March 12, Wilder Center at Norfolk State University
Cameron Carpenter plays Saint-Saëns, March 13, Sandler Center
Cameron Carpenter plays Saint-Saëns, March 14, Ferguson Center