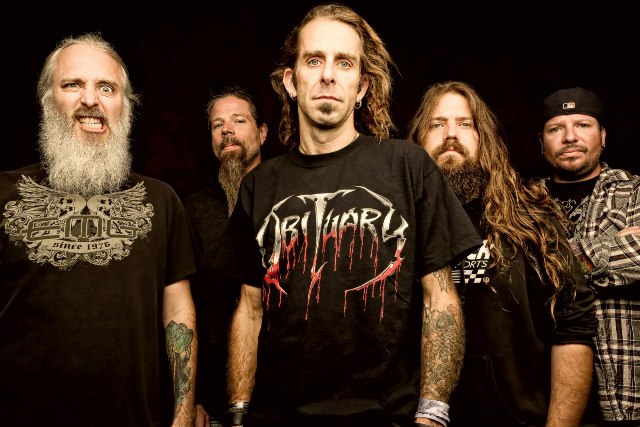 By Jeff Maisey
World renown metal band Lamb of God returns to Hampton Roads in support of its latest album, "VII: Sturm Und Drang," which debuted at #2 on Billboard's US Top Current Albums chart. The Richmond-based group also received a Grammy nomination in the Best Metal Performance category for the tune "512."
These successes come on the heels of singer Randy Blythe's memoir titled "Dark Days," a 496-page book detailing his incarceration in a Prague jail awaiting a manslaughter charge resulting from a fan being pushed off the stage during a 2012 concert. The fan died of his injury. Blythe was eventually acquitted.
Randy Blythe has ties to Hampton Roads. A Class of '89 graduate of Western Branch High School in Chesapeake, he was also enrolled in the Governor's School for the Arts.
Lam of God formed in 1994 as Burn the Priest before changing its name in 2000 with the debut, "New American Gospel."
I recently caught up with Blythe to get his views on fans and more. Here's an excerpt from our conversation.
Was important for you to have the creative outlets of being in a band and writing a book in reflecting on your experience in a Prague jail?
I don't really think that really puts any change in the level of importance and a creative outlet for me. It's what I do, you know? It's my job. It wouldn't matter whether or not I had gone to prison or whether or not I had won a million dollars and didn't have to work ever again I would still be writing music. It's just a part of what I am.
I've been involved in the arts in one way or another since high school. I don't really know anything else. I'm kind of a one trick pony that way. It's not like I can change my mind and suddenly go back to school to become an accountant.
As a touring member of a rock band the stage is your "work space" just as a field is to a player in the NFL. Do fans need to bear responsibility when they enter that space?
Absolutely they do. I must say it is the responsibility of the artist and the venue and the promoter to provide security in as safe an environment as possible.
We as a band have always had contractual requirements. Regrettably with the way it happened in Prague those contractual security requirements were not met even though they were promised.
So, yes, there is a huge responsibility. In fact, the largest responsibility is on the fan. You have to take responsibility for your actions. Nobody seems to want to do that these days. If you do something you have to live with the repercussions.
Fans…I see it all the time, when they get hurt we stop shows. People are crowd surfing and all that stuff. You get hurt doing that kind of stuff. It's not like if you go out on your motorcycle and wreck it you blame Suzuki. If you engage in something that could hurt you then you should accept responsibility for that.
The primary responsibility lies with the fans.
A football player will put himself in a certain frame of mind before taking the field for battle – the game face. As a singer, do you also prepare yourself mentally before taking the stage, and if someone unexpectedly enters that space from the corner of your eye is it a natural reaction to push them off the stage?
Well, what happened with Prague – I wrote a whole book about this explaining the whole deal – there wasn't just one person on stage that evening. You can Google people bum-rushing the stage and see thousands of videos of people running up on someone while they're playing. And, yeah, you're going to push 'em away. And, no, you can't be expected to be a security guard, entertainer and someone's therapist all at the same time while you're on stage. You're there to do a job – to play music. The stage can be a dangerous environment. There's a lot of equipment up there.
If someone was working as a machinist in a machine shop and someone decided to just run into the shop in the middle of all the heavy equipment someone would probably push him away from them. It's the same sort of thing.
It is very startling when you're performing a show you're used to you and four guys. That's your work environment. When someone else who is not supposed to be there shows up it's very different. Sometimes the crew has to come on stage because the cymbal is falling over, and you always notice it when it's someone not in the band on stage. So mentally it kind of throws you off. Even if it's someone you employ.
Not to sound elitist, but when you reach a certain point when you aren't playing in a garage anymore and there are thousands of people in a venue the stage is not an open place. It's not a free-for-all. That's unsafe.
And furthermore, people who have saved their money to come to a show and have been looking forward to it they want to see the performers. Not some dude running around of stage with his cell phone trying to take a picture of himself so he can put it on Facebook and say look what a jackass I was. People don't pay their money to see that; they pay to see the band.
So stay off the stage for Pete's sake.
Have you thought about how you'd react had Lamb of God been on the stage that deadly night in Paris instead of Eagles of Death Metal?
Sure. We played that club. When that was going on we were in the UK in London right beside Wembley arena watching it as it unfolded. The guys in my band and myself were sitting there watching. It was just horrifying to me because I know that venue well.
What I thought when that went down was that's a really bad place for that to happen because it's a front load-in venue and there's one exit out the back. It's not like there are a lot of exits.
When someone comes in with AK-47s and starts shooting, I would think you're instinct would be to get out the backdoor as soon as possible.
That venue is perfect for what happened there, and that's, of course, why they chose it. I was praying for the people in there, knowing it was not going to turn out well.
Terrorist attacks aren't the only thing that can screw up venues. A fire could break out. There are a lot of people in a confined area. I generally know where the back door is.
Lamb of God
With Anthrax
January 22
Ted Constant Center