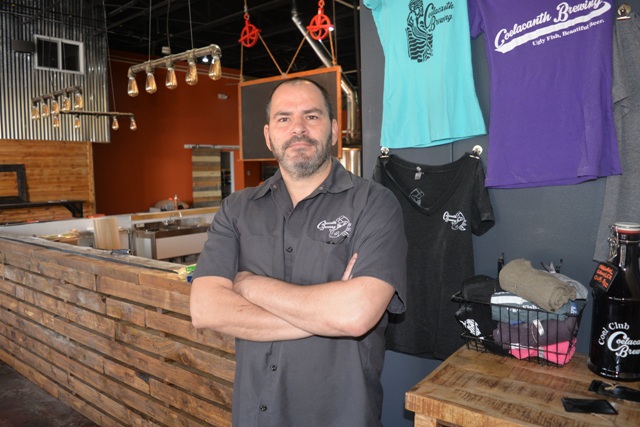 By Jeff Maisey
At age 49, Kevin Erskine has decided to take the craft beer plunge, and he's jumping in with both feet.
Erskine was raised in New York City before departing at age 18 to attend college at Syracuse. He then went on to graduate school in Baltimore. After graduation, he spent time in Richmond and California working on the IT/consultant side of the health insurance industry. In 2010, he moved to Virginia Beach to work for Amerigroup, which was then bought by a larger insurance company. Kevin was not a happy camper and wanted to make a change.
"As my wife could see I was getting more frustrated with my job, she said, 'Why don't you just go and do the brewing thing?'" explained Erskine.
As it turned out, Kevin had a secondary career. In 2005, Erskine, who is of Scottish ancestry, started writing about Scotch whiskey. His blog and book on Scotch led to consulting opportunities. He also was asked to be a judge in an international wine and spirits competition.
Combining his experience in corporate consulting and his passion for alcohol, Erskine decided the time was right to start a craft brewery in Norfolk.
The Erskines talked it over after SB604 passed in 2012 to allow breweries in Virginia to sell pints to customers in their tasting rooms as the Commonwealth's wineries had done. In June of 2014, Kevin Erskine started working on a business plan, cashed out his 401K savings and committed to going all-in on a craft brewery. Coelacanth Brewing Company was born.
In preparation, Erskine attended the American Brewers Guild's brewing school to learn how to upgrade from home brewing to commercial level brewing.
The name Coelacanth – with the tagline "Ugly Fish, Beautiful Beer" – reflects Erskine's vision for the brewery.
"I wanted it to be a little bit off-key," he said. "We're trying to go for the unusual and I thought Coelacanth represented that. Nobody can pronounce it."
As most new breweries are learning finding a name that hasn't been taken and trademarked is a challenging task. Coelacanth was a name Erskine selected early in the planning processes. He had always been fascinated by the tale of the prehistoric fish that was thought to be long extinct before it resurfaced in 1938 when fishermen in Madagascar pulled one out of the ocean.
While Erskine tends to the business side of the brewery and is instrumental in the development of recipes, Matt Topping is Coelacanth's head brewer. Topping is from Charlottesville and has worked at Bells Brewing and Maui Brewing Company.
Coelacanth is operating a 15-barrel system. So far, 20 beer recipes have been developed in advance of the brewery's December 12 official opening.
"Our little shtick is 'Unique twists on classic styles,'" said Erskine.
One such beer will be a simple, traditional German-style bock with a slight variation. Erskine notes several breweries make double-bocks (dopplebock), but few produce the more original version.
Noting "it's getting really, really hard to be different in the brewing industry," Erskine's other beers on tap will include a rosemary-lemon wheat beer, India Pale Lager (IPL) and Coelacanth Brewing Great Britain (CBGB, an English best bitter style). Overall, Coelacanth will focus on flavorful, mid-level alcohol beers that are more malt-forward than overly hopped with extreme bitterness.
"I know that a lot of people don't like IPAs, as hard as that is for most beer geeks to find," he said. "We don't want to completely leave IPAs behind, but hops are getting really expensive and with the growth of all of these breweries they are getting tough to get. I think the industry will see people moving away from the IPAs. IPAs are not becoming $7 and $8 a pint."
From his experience traveling through Scotland and writing about Scotch whiskey, Erskine will use casks from Scotch and Irish whiskey distilleries to wood-age beers. Erskine has a friend in Jack Teeling of Teeling Whiskey Distillery in Dublin. It is Ireland's only independent whiskey producer. Teeling suggested Erskine use ex-rum casks that Teeling uses for aging Irish whiskey.  Erskine believes the beer will take-on both run and whiskey flavor characteristics for a unique brew.
Erskine also plans to use a pinot noir oak barrel from nearby Mermaid Winery.
Erskine brings with him a knowledge and insight as to how wood works and the flavor possibilities before using just bourbon barrels to produce cask conditioned craft beer.
Coelacanth Brewing Company combines its production facility and tasting room in one warehouse-size space for a fashionably vintage industrial vibe. Large windowed garage doors allow natural light into the tasting room where repurposed wood is used for picnic tables. A small lounge-like area has comfortable, cushy chairs and a long church pew bench. The lounge zone will also be used for parents and children who may want to sit rather that stand at the bar. The wood for the serving bar comes from the crates used to ship the brewing equipment from Italy.
The plan for Coelacanth's beers is to supply the tasting room with up to ten different beers before making beer available to restaurants as draft. The brewery will seek to package its most popular beer eventually in cans via a mobile canning service, and big 22-ounce bottles for special edition beers.
Which beer emerges as Coelacanth's flagship or core is to be determined.
"One thing I learned in my years of consulting is that you don't pick your flagship, the public picks your flagship. We think our IPL might be popular, but the people will decide."
Coelacanth Brewing Company
760 West 22nd Street, Norfolk
Wednesday & Thursday: 3pm – 7 pm
Friday: 3pm – 10 pm
Saturday: 12 pm – 10 pm
Sunday: 12 pm – 6 pm