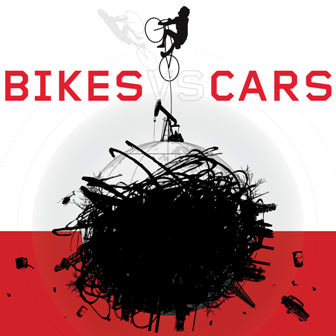 By Tench Phillips
It was recently announced that the American Planning Association (APA) has designated our very own Colley Avenue as the winner of the "People's Choice" award as one of the Great Places in America in 2015. This recognition vindicates a lifetime commitment by Naro Cinema and Naro Video to the prosperity and vitality of the Ghent community. Over the years we have tried to put into practice our vision of progressive values by programming quality art films and by producing grassroots live events. Of course our business efforts have been reciprocated by the loyalty of our patrons. We hope that our community's mutual commitment will continue well into the future as we all try to navigate the uncharted waters created by the web and media platform change.
Although the Colley Ave corridor has now been nationally recognized for having accommodated pedestrians, outdoor cafes, and a vibrant street life – the city has not implemented the infrastructure and lane designations necessary for the safety of commuter bicycling on Colley Ave. Even though Norfolk's older street grid system and sidewalk design has served pedestrians well, bicycling through the city against heavy car traffic can be risky business. Too many cyclists are being injured in accidents on our city streets.
It's not as if our city fathers haven't heard about this from their constituents. They have been lobbied for years by grassroots groups and activists. A leading bicycle enthusiast and local organizer is Jonathan Nye, founder of ecocycling.com, a volunteer organization he directs that offers cycling excursions, group rides, and ecological trainings. For years Jonathan and others have attempted to make our streets more bicycle-friendly.
And now it looks like the persistent efforts of Norfolk's eco-activists have finally paid off. The city has funded an urban design firm to research and create a plan that draws upon successful projects in various bike-friendly cities. The Norfolk Bicycle and Pedestrian Strategic Plan offers recommendations to improve 12 key corridors identified as critical to developing an interlocking city bicycle network. These corridors connect important destinations throughout the city and include: Granby Street, Ocean View Avenue, Azalea Garden Road, Chesapeake Boulevard, Cape Henry Avenue and Colley Avenue.
The comprehensive plan is quite impressive and can be viewed online. It includes bike lanes and two-way paths that run parallel to roadways. It is now in its final stage of approval and is being submitted to City Planning and then to the City Council for a vote on Tuesday, Dec 8. All are invited to attend the meeting and show their support.
The infrastructure for bicycle commuting will come none too soon for our area. Most of the urban centers of the world are way ahead of us.  We will see just how much so in the new documentary 'Bicycles vs Cars' showing on Wed, Dec 9 in our 'New Non-Fiction Film' series. This multi-national production was directed by Fredrik Gertten who was born in Copenhagen. He has used his hometown as a model city where forty percent of the population commutes by bike. In fact more people commute by bike in Copenhagen than all of the U.S.!
We know that the obstacles blocking the transformation of our cities in this country are huge. The auto industry is at the epicenter of our economic system and the forces-that-be don't want the disruption of structural change. And yet all of us are complicit in perpetuating the culture of cars, and we are invested in our lifestyle. It's when we're sitting in traffic gridlock and we get time to reflect on our predicament that we realize just how destructive our cars are for the environment, for our own health, and for our pocketbooks.
Filmmaker Gertten cites his passion for a radical shift in consciousness as the impetus for making 'Bicycles vs Cars' and offers this explanation: "In a way, I made this film for people who started to bike and then got politicized. You had, I think, nine deaths in one month in London. These non-political people start to bike and then start to ask themselves, 'Why is this so poorly designed? Why aren't cities designed for me?'"
'Bicycles vs Cars' makes it plain that there's a war going on daily on our city streets. Cars are hostile to bikes – and that's bad news for the people who ride them. It's now only a matter of time before Norfolk makes the necessary quantum leap forward. If the city fathers do not willingly act on the proposed street improvements in a timely manner, it will soon become an issue that will be forced upon them by the growing legends of bicycle advocates.
Cities have been designed for cars. But cars are not designed for life. Bicycles are a sustainable mode of transportation that enriches our relationship with nature and with our city. After viewing the film we will hear from planners and innovators in our area who will lead a discussion.
Upcoming Film Events at Naro Cinema
BABETTE'S FEAST
Adapted by director Gabriel Axel from Isak Dinesen's short novel, this has become a perennial Naro favorite at Thanksgiving. The beautiful but pious sisters Martine and Philippa grow to spinsterhood under the wrathful eye of their strict pastor father on the forbidding and desolate coast of Jutland, until one day, Philippa's former suitor sends a Parisian refugee named Babette (Stéphane Audran) to serve as the family cook. Babette's lavish celebratory banquet tempts the family's dwindling congregation, who abjure such fleshly pleasures as fine foods and wines. (1988) 'Faith In Film' is hosted by Scott Hennessy, a film buff and teacher, and the spiritual leader of St. Paul's Episcopal Church. Shows Tuesday, Nov 24.
TRUMBO
The successful career of 1940s screenwriter Dalton Trumbo (played by Bryan Cranston) comes to a crushing end when he and other Hollywood figures are blacklisted for their socialist beliefs and for their activism in defending the rights of union workers. Trumbo (directed by Jay Roach) tells the story of his fight against the U.S. government and studio bosses in a war over words and freedom. Trumbo refused to testify before the House Un-American Activities Committee. He emerged from prison blacklisted as a Communist. But he fought back by continuing to write screenplays under false names, winning Oscars for Spartacus and Exodus in the process. His intellectual life entangled everyone in Hollywood from Hedda Hopper (played by Helen Mirren) and John Wayne to Kirk Douglas and Otto Preminger. Opens Wed, Nov 25.
BIKES VS CARS
In a world of ever-growing pollution and traffic chaos, urban biking offers a sustainable option for change. But entrenched city planning contributes to daily death among our urban bicyclists. Although safe lanes are demanded, it's's an uneven fight. Activists working for change face the power of transnational auto, oil, and construction industries that spend billions lobbying Congress and advertising to consumers so as to keep us all car dependent. We know that the world needs radical change to save the climate and the environment, but the car industry is selling more cars than ever. Today there are one billion cars in the world. By 2020, that number will double. This European documentary features bike activists in Sao Paulo and Los Angeles who are fighting for the rights of bicyclists. The filmmakers travel the world for solutions, and find real progress in Copenhagen, where forty percent of the citizens commute by bike daily. With speakers and discussion. Shows Wed, Dec 9.
Premiere of the 6th Season of Downton Abbey
Join WHRO to view the first hour of the beloved PBS series. Come dressed as your favorite Downton character! This is a free event but to get tickets go to WHRO.org/events to reserve your seat. Doors open at 6:30pm with an introduction by the top brass of WHRO at 7:00pm. Shows Tuesday, Dec 15.
ROSENWALD
Chicago philanthropist Julius Rosenwald, the son of an immigrant peddler, rose to head Sears, partnered with Booker T. Washington to build 5,400 Southern schools in African American communities in the early 1900s during the Jim Crow era. Rosenwald also built YMCAs and housing for African Americans to address the pressing needs of the Great Migration. The Rosenwald Fund supported great artists like Marian Anderson, Woody Guthrie, Langston Hughes, Gordon Parks, and Jacob Lawrence. Among those interviewed are civil rights leaders Julian Bond, Ben Jealous and Congressman John Lewis, columnists Eugene Robinson and Clarence Page, Cokie Roberts, Rabbi David Saperstein, Rosenwald school alumni writer Maya Angelou and director George C. Wolfe and Rosenwald relatives. Filmmaker Aviva Kempner will be in attendance to introduce her film and lead discussion. Shows on Wed, Dec 16.
ALL THINGS MUST PASS
Established in 1960, Tower Records was once a retail powerhouse with two hundred stores, in thirty countries, on five continents. From humble beginnings in a small-town drugstore, Tower Records eventually became the heart and soul of the music world, and a powerful force in the music industry. In 1999, Tower Records made $1 billion. In 2006, the company filed for bankruptcy. What went wrong? Everyone thinks they know what killed Tower Records: The Internet. But that's not the whole story. The film explores the iconic company's explosive trajectory, tragic demise, and legacy forged by its rebellious founder Russ Solomon. Date to be announced.