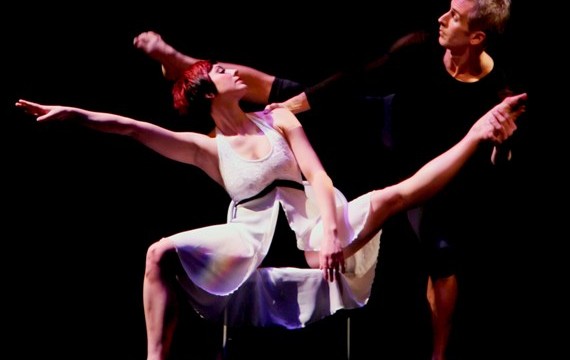 By Jeff Maisey
When Todd Rosenlieb arrived in Hampton Roads, modern dance was a rarity experienced only when the Virginia Arts Festival brought in a nationally touring company such as Mark Morris from April to May. While Michael Curry scheduled an occasional performance between September and April during the American Theatre's season, contemporary dance never established a real foothold in the region until a talented New Yorker by the name of Todd Rosenlieb began to visit Norfolk as a guest artist.
And as they say, the rest is history.
Rosenlieb, with the help of donors, created Todd Rosenlieb Dance ten years ago in a former shoe store on Granby Street in the heart of downtown Norfolk, a city that has changed much in the time since and sees itself as the arts and culture hub of the region.
I recently sat down with Todd for an interview with the dancer, choreographer, mentor and educator who is as entertaining a conversationalist as he is a performing artist.
NOTE: Todd Rosenlieb Dance's 10th Anniversary performance is Friday, November 13 and Saturday, November 14 at TCC's Roper Performing Arts Center.
When were you first drawn to the art of dance?
I actually discovered dance when I was in college at Bucknell University. I had been a young gymnast; had done a lot of plays; did musical theater; sang in the choir; played the piano. So all of the elements that are necessary to understand in order to dance were already there including a strong sense of physicality.
When I was in college we did a musical, "The Pirates of Penzance," and none of us could move. It was a mess. So we went to the dean and said, "If you're going to make us do musicals we need a dance department." And they brought in someone from the Ailey School that spring and hired the very first dance professor.
And since I opened my big mouth I showed up to every class I could possibly take, not even registered for them. That's how it all began.
What were your early experiences working with professional dance companies?
The earliest experiences working with professional dance companies was when they came in as guest artists at the university, which was great. Guest choreographers would come in like Ralph Lemon, all of which were very hot in the late 1980s and early '90s. I made friendships with them and their assistants.
When I got to New York there were a group of people willing to ask me to dance for them in a lesser production, not a company status. That really gave me the connections I needed to get to New York.
I went to graduate school one year after getting to New York. I took class; did independent projects with choreographers; and then I went to NYU to the School for the Arts and got my master's, MFA in Dance and Performance.
It was after that that the auditions started. I very quickly got into the Erick Hawkins Dance Company. That was one of my most spectacular experiences working with a legend who danced with Martha Graham and was married to her. He was friends with Stravinsky and Noguchi; a wild history book I walked into. For some reason he was very generous to me with knowledge, time, mentoring. Truly his technique changed the way I danced and how I looked at my artwork in general.
Other professional things – crazy things – like doing videos for MTV where Twyla Tharp's choreographing for The Eurythmics. Those kinds of fun experiences that were one in, one out. It was always the same pool of people. People think the dance world's huge. It is not. Particularly in a city like New York where you see the same people at auditions and project that you went to. But I think the longevity of working with Erick and then directing his company gave me a sense of legacy that I was responsible for. After he died there was a sense that his work that he passed on to me I needed to keep alive, which is part of the reason we're doing "New Moon" in this concert (10th Anniversary performance). As well as how his aesthetic influenced mine over time in shape, form and sensation.
Then I went to dance with the most austere modern dance choreographer in the country. There was such a juxtaposition that it found a wonderful balance for me.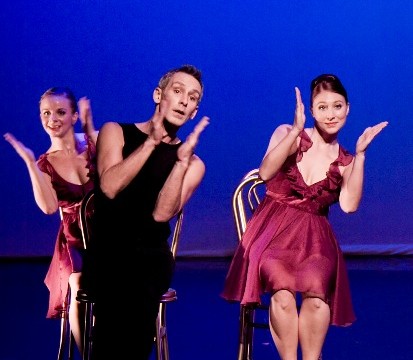 What brought you to Norfolk, Virginia, of all places?
I originally came to Norfolk as a guest artist for the Governor's School for the Arts. Deborah Thorpe used to study with Erick Hawkins, and loved the technique, loved the dancers and was friends with many of them; and would hire them when they were off contract.
I came down once in '94, twice in '95, three times in '96 and then started getting work with the Opera, the Virginia Arts Festival; collaborating with all the arts organizations I could possibly get my hands on. It just seemed like the place to be if I really wanted to achieve something artistically and leave my own legacy. The devotion to the arts in Norfolk was so great and so important to the culture and the economy that I thought this is the place. This is my little New York City. It has all the talents, gifts and appreciation for what I did. Really there was no modern dance company, so I found a niche and was super pleased that we were the only professional modern dance company in Hampton Roads – and have been for our whole ten years.
We are celebrating your 10th anniversary of TRDance. What was the process of starting a modern dance company here in Norfolk at that time?
It was always a dream to have a dance company, but it came out of dance professionals and parents of my students in the community saying, "Hey, why don't you have a dance company? What can we do to make this happen?"
It was that strong group of people, including a pilates client of mine and her husband. She was an ex-ballerina with the National Ballet of Canada, became a doctor. She came in after seeing a concert of ours in New York City. My friend Kim and I – from graduate school – did a commemoration for 9/11. Elizabeth saw the concert and the next week she said, "My husband and I have a dream, and we think it's for you."
We went from there, raising the funds to having a fun business plan in order and a full artistic plan in order. We had collaborators onboard like Tidewater Community College, the Governor's School for the Arts, and it just seemed to roll at a time where people were very interested in expanding the dance portion of our culture here in Hampton Roads.
Having been involved with Virginia Ballet Theatre, in its other times, really gave me connections to some people in the city and recognition for my choreography and work so it wasn't like, who is the guy that just showed up? It was a development of a relationship with many people and organizations.
One of my favorite experiences was doing "I Never Saw Another Butterfly" for the Virginia Arts Festival. It was with the Virginia Children's Chorus. It's a Holocaust piece about the kids at Terezin. It was a remarkable experience. There were opportunities I embraced and had the freedom and time and passion to really pursue. It gave me the grounding from which this building came and where the company came.
As the company grows and the responsibilities grow so has the organization. More and more I'm getting relieved of some of the administrative duties as we move into our tenth year, as well as a facelift to the building; a brand new façade. The tenth anniversary is aluminum. It's not very romantic. So we tried to spruce up everything else.
What did you envision for the new exterior of TRDance Center?
The sculpture should be done by mid-November. We've had a full resurfacing of the front of the building. Full signage, not only for the TRDance Center but for the Benjack Studio Theatre which is our convertible theater, which has had over 300 performances in ten years.
We wanted to match the outside of the building with what happens on the inside. There's going to be a beautiful sculpture with multi-color tubes that intertwine like old telephone wire. It will actually disappear into the side of the building. It was time we were branded and identified on the street front and really represent the creativity and imagination and sense of movement that lives inside.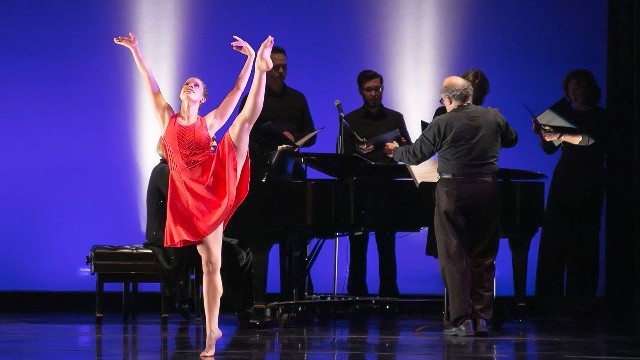 Cities across America are increasingly viewing the arts as an economic driver. How important are the arts to the economic vitality of downtown areas of cities like Norfolk?
A couple of things that we are very proud of at TRDance is that all of our dancers live locally, work locally, shop locally and are residents of our community. In some arts organizations they go outside of our community to find talent, which is their way, but it make us happy that ours all live here.
We bring in probably 200 people a day into downtown for classes, for Governor's School, for Tidewater Community College, for the adaptive dance class and for people just looking for a place to study dance. With the performances on weekends we can bring in another 400 people depending on whether they are in the studio or the Roper Center.
That, of course, impacts shopping, eating and all of the things that go with it.
We have the equivalent of seven full-time faculty. That brings in revenue to the city and brings the economy to a new place.
It is exciting to know that we have grown and changed. We are very proud of what we've built, but I think we're more proud that we know how to build. That's something that goes forever. It was no punctuation. We can expand into any activities whether they're community oriented or based on the artistic venture of the companies.
We've been very proud to grow a reputation as dance educators because first and foremost if you're a student here we need you to learn how to dance. The artistry comes on top of that. We have raised dance artists who are now all over the country, and some around the world. That has been a legacy I didn't expect. Those ten years produced it. Dancers I trained in the Governor's School go away to college or have careers with other companies and then return because they love the aesthetic and love being home, sharing their gifts with their hometown. There's a great gift they bring back through their arts education and arts careers.
You have some dancers such as Beth Blachman who have been with you for a long time. Can you share how someone like Beth has developed in that time?
I think this is her seventh year back with the company.  She left Nashville Ballet to come back here. Beth was a journalist major at NYU. I taught her dance since the age of 13. I danced with her in many productions. She was an apprentice trainee and I a professional with Virginia Ballet Theatre.
To see her develop as an artist, as a spirit, as an intellect and see how all those meld together as this vibrant performer who embodies all of the things we believe in is an incredibly rewarding situation for us to be in. Every day that she shows up is a reminder that what you're doing is the right thing. That how you're doing it is a successful path and that you can change lives and create careers based on the ability to mentor and teach, and by doing so change their point of view on how they look at life and look at dance.
Part of the Virginia Arts Festival's mission is to bring dance companies like Alvin Ailey, Dance Theatre of Harlem to Hampton Roads. Ferguson Center regularly brings contemporary dance companies to its stage. American Theatre, in Hampton, does the same. Over the past ten years, what is your assessment of the audience's appreciation for modern dance and the turnout numbers of support?
I have to say that the number of dance companies traveling through Hampton Roads has increased greatly in the last ten years. It used to be that the Arts Festival might have been the only game in town, and then the American Theatre did a great job bringing in companies both new and legendary. Then the Ferguson Center has developed an incredibly strong dance program in terms of who they're bringing in and the master classes they're able to afford for the community. I think there's been a great spectrum of both American and international companies that get to come through, which is essential to educating a young dancer.
The audiences have grown. The enthusiasm has grown. The partnerships we have with the organizations you've mentioned not only through their performances but through guest artists coming to teach master classes has really changed the level of our ability to educate dancers and to keep the professionals who live in town completely stimulated and inspired to continue their journey. Sometimes in a regional setting you can become a bubble and that's nothing I ever want to have occur. It always has to be an open conversation and flow of arts and ideas, new dance, new choreography coming through. And often we have lost dancers to companies who have come through. They teach a master class and then they take a company class, and lo and behold I wave goodbye. That is part of being a dance educator and artistic director. You want for your dancers to have the best career they can have. If you're just one step on it that's great. If you are the whole plateau then that's also a remarkable journey.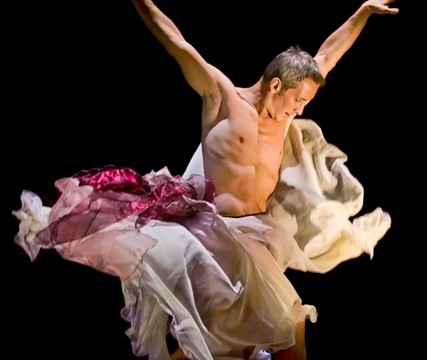 Are you content with being TRDance in Norfolk or would you like to have a regularly touring company?
We have actually had several gigs out of town. We danced with the Indianapolis Symphony. We've been the opening act for the South Carolina Dance Festival. We've been at Piccolo Spoleto. We have been in Richmond many times for different festivals.
Really what our first goal is is to get a tour on the college level and to get residences. Often if you can touch base with young dancers at that point they relate to your work, love the way you teach dance and then you're on the map. Your pool of dancers grows.
We are traveling to North Carolina this year. We're going to the American Theatre. We're looking into a collaboration with Starr Foster's Dance Project in Richmond. So regionally we're getting around. But really as we've grown and developed it's the thing that's next on the list, and this year's we're hiring an executive director and the process of doing all of those things will become so much more doable. There are only so many hours in a day that Ricardo and I can plug away.
When I've interviewed traditional Irish musicians such as The Chieftains and Danu they described Riverdance as both a blessing and a curse for Irish artists. What is your view of the reality TV shows and travelling productions of Dancing with the Stars etc?
I love the fact that everyone is talking about dance. Did you see Dancing with the Stars or So You Think You Can Dance? Who's your favorite?
I think the ballroom idiom works better for that scenario where it's competition and you have a minute and a half, and you better do every good trick and every quick step and perfect waltz.
As a concert dancer I think that a minute and a half often ends up being packed with every trick you can throw in there. Where in a concert dance, which is 15 to 20 minutes long, it is the development of the concept or theme that tells a story or is just movement for movement sake and has a beginning, a middle and an end. It's like a good composition of music or a good script. There's got to be a moment of realization. There has to be a climax to the plot. There has to be a development of characters.
Often, I think, that is misconstrued by young dancers – that everything can happen in a minute and a half. And there's a large competition dance world out there too, which is also based on time. It serves the commercial dance world. I think you have fine dancers out there who've been passionate and inspired by this. Some of them move into concept dance. And as we saw Travis Wall touring with his company, boy, did he move into concept dance in a beautiful way. But he had a long history with Denise and many of the faculty over at Denise Wall Dance that were remarkable concert dancers in their day. He was an enigma.
An interesting culture defining characteristic is dance. Dance is very important in what might be viewed as primitive culture as well as sophisticated, contemporary culture. The ritual of dance before going to war or celebration of a wedding…there are so many things that inspire dance. What is it about the human experience that dance is really a part of being human?
I think in more primitive communities it is often based on ritual and also a sense of community building. That movement in innate and the development of natural postures and activities instantly inspires dance. And it's never without music. So it is sort of the same instinct; the desire to make music and dance to it. There's an inner joy that evolves.
Part of it is physical, and that is the sheer fact that you are releasing endorphins and the endorphins will bring you to a heightened state or more happy state.
I think as dance developed and became codified through dance history in terms of ballet and the evolution of modern dance so grew the sophistication of the audience. As education developed so did the ability to comprehend those art forms, particularly dance, that has no words. It's an interpretative thing and one where you can't be wrong.
If you go to see a dance and you're sitting there watching it the dance happens in two places: in the choreographer's brain when he makes it and your brain when you see it. The interpretive web is what's in between. You can't be wrong because it is based on your experiences as an individual. If you come from a small town in South Carolina or whether you grew up on 58th and Broadway you're going to have a very different way of looking at dance and experiencing that dance.
In a way dance is a great leveler; it's a universal thing. It is based on your perspective.
What I have enjoyed in watching your dance company perform over the years is that you incorporate lighting and props to set a mood, but facial expressions and movements to convey comedy. When choreographing a concert how do you mix all of these elements together?
I think it starts with the inspiration for the new dances, whether they're going to be a humorous concept or some sense of mentality to it. Then you look at what you want to draw from in the past. It is all about programming. How do I take the audience on a journey that isn't too jarring but also gives them a tear in their eye, a moment of wonder and then also a great belly laugh if you can. I have always enjoyed humor in dance and that sense of physicality that's born out of vaudeville, a time gone by. And to make the audience have their own journey while sitting in that chair and wanting to know what's going to happen after intermission. And what can that title possibly mean? And for each one the mood of the costumes; the style; the period and the ideas that go behind that bring each piece into at art work of its own and then blending those all together is like pointillism; from up-close it might not look like anything but from far away that whole program takes each audience member on a journey.
What is on slate for the tenth anniversary performance?
We're doing a classic piece of Erick Hawkins called "New Moon." It's a score written by Lou Harrison for "New Moon." It was originally premiered in 1989. Laura Pettibone-Wright, who is setting the piece, was in the original cast and has a lot of insight into Erick's ideas and inspirations behind it. It is a gorgeous, lush, quiet, terribly physical poetic piece of choreography that was one of the first pieces of Erick's I saw live on stage. I was just blown away. The curtain went down and you just feel the audience – exhale. It was something about his ability to translate his ideas based on an E.E. Cummings poem and inspired by a new moon and that meaning life, beauty and sense of possibility and new beginnings. His dance metaphor embodies all of those things.
We're using original costumes from the Erick Hawkins Dance Company. We found the original scores and light plots so it really is an historic event as well.
I was lucky enough to dance every male role in the dance over my tenure with the Hawkins Company so I have great insight and knowledge from all the company members who came before me.
With our tenth anniversary it is also the 100th anniversary of Frank Sinatra. I started doing some research knowing there have been many piece choreographed to Frank Sinatra. I was inspired by his transformation from a young teen idol wearing a bowtie – he was the original Elvis though people don't admit it – and then to see him evolve into an incredibly sincere artist and keeping the (crooner) genre alive into decades when rock and roll, punk rock and hard rock were all evolving. For him to be able to keep that legacy alive, and often still trying to fit in.
I was also inspired by his life, from hanging out with presidents to The Rat Pack to coming from Hoboken, New Jersey, and coming from nothing and into this world icon. And to see his persona grow and change.
The Sinatra piece is a world premiere called "To Be Frank."
I also think this generation has lost touch with that music. I love finding music that my dancer can then become a part of their vernacular and musicology. I try to do that for the Governor's School too. I don't think anyone would know a Nina Simone or Ella Fitzgerald or listen to a Doris Day song had I not chosen pieces of their music.
Ten years in the future: Where will Todd Rosenlieb be?
Ten years in the future I really look forward to a company that has a very strong guest artist or choreographer in residence. We have an opportunity now to bring in guest artists, but I think this could be a center where we help develop young choreographers and give them the opportunity to have high production quality and mentors from many points of view that could build their capabilities.
Always embroiled with our organization has been the desire to educate and mentor the next generation of choreographers, dancers and of artists.
In ten years I want more live music, whether it's a rock band or symphony. We need to keep live music around and in the arts. Everything's becoming synthesized and homogenized, and often the piece requires that and I'm not against it, but if you can use some live music and you can raise the funds that is something that's very important to me.
Company-wise, I don't know that I want it to grow. I think it is a nice size company.
2015-16 Todd Rosenlieb Dance Performance Schedule
Todd Rosenlieb Dance
10th Anniversary
November 13-14, 2015
TCC Roper Performing Arts Center
World Aids Day Benefit
November 30, 2015
Benjack Studio Theatre@TRDance
Virginia Ballet Theatre Concert
February 26-27,2016
TCC Roper Performing Arts Center
TRD & VBT Ensemble Concert
March 11-12, 2016
Benjack Studio Theatre@TRDance
Todd Rosenlieb Dance
March 18-19, 2016
American Theatre in Hampton, VA
Studio Concert Series – Mixed Bill
Todd Rosenlieb Dance & Virginia Ballet Theatre
April 8, 2016
Arts of the Albemarle
Studio Concert Series – Mixed Bill
Todd Rosenlieb Dance & Virginia Ballet Theatre
April 29-May 1 & May 6-8, 2016
Benjack Studio Theatre@TRDance
Storybook Ballet
with Virginia Ballet Theatre, TRDance Academy & VBT Ensembles
June 3-4, 2016
ODU University Theatre