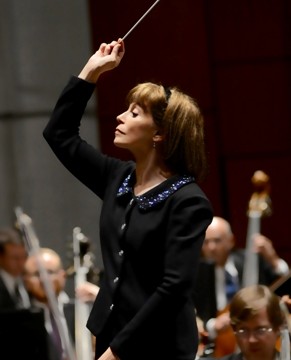 By Montague Gammon III
The Virginia Symphony Orchestra marks its 25th year under the baton of JoAnn Falletta with a Classics Series that touches, in each concert, on high points of her quarter century as its Music Director.
From Bartok's Concerto for Orchestra, which she conducted as her audition piece when she was being considered for the job, to the Elgar Enigma Variations that VSO played on their first visit to Carnegie Hall, to a tango piece Falletta herself commissioned, the 2015-2016 Season might not be "all about the lass," but her influence surely forms its axis.
British composer William Walton's 20th Century Cantata Belshazzar's Feast, with which the Orchestra made is Kennedy Center debut, and Handel's Messiah, which was the first CD that VSO did with Falletta, refer to other milestone achievements since she took over.
Opening Night features violinist Sarah Chang, not only "one of our first big stars," says Falletta, but also "one of the most memorable artists we have brought here." (Sept. 18-20)
Chang will play Leonard Bernstein's West Side Story Suite for violin and Ravel's flashy Tzigane.
"She was particularly keen on playing those pieces," says Falletta, who calls the two "really sparkling.". This Opening Night with Sarah Chang, the conductor says, "[I]s really a night for fireworks, not [a time] to be introverted. A night that is celebratory!"
Bernstein and Falletta also have a musical association that goes back to her student years when she studied with him.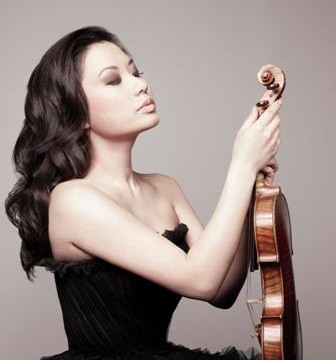 The Opening Night concerts at Ferguson Center, Chrysler Hall and Sandler Center will begin with Samuel Barber's Overture from The School for Scandal, and close with Brahms' Symphony No. 2. Barber, Falletta says, is her "favorite American composer," and the Virginia Symphony has done a Brahms piece every year.
Belshazzar's Feast is part of an program that will feature a unique performance of Ottorino Respighi's Fountains of Rome, featuring VSO photographer David Beloff's especially created photographs of the very fountains that inspired the composer (Oct. 16-18).
The Elgar performance comes hard on the heels of the Walton and Respighi, along with Jacques Ibert's Ports of Call, which VSO recorded on their Seascapes CD (Oct. 29-Nov. 1).
Between the Chang opening and the multi-media Fountains concert, VSO Resident Conductor Benjamin Rous will lead a performance of Mozart and Tchaikovsky works that will feature the Orchestra's Simon Lapointe and Beverly Baker as soloists on violin and viola (Sept. 24-26).
"We have chosen every year to showcase our players," Falletta points out. "Just celebrating our musicians…[is] especially fun and very meaningful" for soloists, orchestra members and audiences alike, she adds.
Yearend Holiday Season concerts featuring the Virginia Symphony Chorus in Home for the Holidays (Dec. 13) and the Virginia Symphony Brass in Holiday Brass (Dec. 17 & 18) include The Chorus and Symphony in the Messiah (Dec. 17-19) . The Chorus, Falletta notes, has been a part of VSO for 26 years this season.
The Tchaikovsky Piano Concerto No. 1 concert that kicks off calendar year 2016 (Jan. 22-24) for the Classics Series will include a rendition of the Bartok that helped Falletta win her place here. It will also feature Symphonic Minutes, by Hungarian composer Ernő Dohnányi, Holocaust resister and grandfather of conductor Christoph von Dohnány.
Tchaikovsky is "a staple" of the orchestral repertoire, says Falletta, who is also known as a deliberate champion of, in her terms, "lesser known romantic composers like … Dohnányi."
Four concerts that make up a Beethoven Festival will have Rous and guest conductor Taeyoung Lee on the podium (Feb. 6, 12, 18, 20). Falletta touts this Festival as a chance to hear Beethoven pieces together, "in the context" of one another, to look at "his life's work" as a whole, rather than at individually great pieces.
She's back for Concerto en Tango (Feb. 25 & 26), which features contemporary Uruguayan-born American composer Miguel del Aguila's Concierto en Tango, which Falletta herself commissioned with Buffalo Symphony's principal cellist Roman Mekinulov in mind. Mekinulov will solo here as well.  Spanish pianist and composer Enrique Granados' "Intermezzo from Goyescas" and Mendelssohn's Symphony No. 5, know as the "Reformation" symphony, for its connection to the tricentenary of the Lutheran profession of beliefs known as the Augsburg Protestant Confession, bracket the new piece.
Falletta calls Cameron Carpenter, the titular soloist of Cameron Carpenter plays Saint-Saëns (Mar. 12-14) "one of the greatest organists of all time [who is] like a force of nature," and Falletta knows the best in the world throughout the world of classical music, so she does not toss around that sort of superlative lightly. Francis Poulenc's Concerto for Organ is the curtain raiser before Camille Saint-Saëns' Symphony No. 3, "Organ."
Maher 5 – the great Romantic's Fifth Symphony – joins Alexander Glazunov's Violin Concerto for the next to last of the Classics season (April 1-3). Since Falletta took the helm, the Symphony has done every one of Gustav Mahler's symphonies.
"It's always been a high point for the musicians and for the audiences [for the VSO] to do Mahler. We tried to choose the one that is a favorite. [The Fifth Symphony] is in some ways the most spectacular one."
VSO concertmaster Vahn Armstrong will be the soloist for the season closing Philip Glass' Violin Concerto No. 1 (May 19 & 29), which Falletta calls a wonderful, hypnotic, vibrant audience piece." It "get a jump on [the composer's] 80th birthday in 2017," she adds.
In other words, the celebration of the past 25 years ends with a look toward the future.
Virginia Symphony Orchestra
Classic Series
757-892-62366