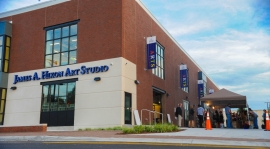 By Tom Robinson
Fine arts at Old Dominion entered a new era Wednesday when President John R. Broderick dedicated two new buildings and an amphitheater bearing the names of longtime friends and benefactors of the University.
"We deeply appreciate your gifts and what they mean to the University, what they mean to our students and what they mean to the Hampton Roads community," Broderick told Richard and Carolyn Barry, Macon and Joan Brock and James Hixon at the "Arts in the Village" celebration on Monarch Way.
Before 250 guests, who later toured the venues and enjoyed performances, artisan demonstrations and catered food, Broderick said the Barry Arts Building, the James A. Hixon Studio Art Building and the Brock Commons amphitheater complete Old Dominion's vision for a centralized hub for fine, studio and theatre arts.
"This solidifies Old Dominion's rank among Virginia universities as a place that puts the arts in a spotlight," Broderick said.
Joining the Baron and Ellin Gordon Art Galleries and the Goode Theatre on Monarch Way, in the University Village, the cutting-edge facilities offer Old Dominion students and faculty a wealth of academic opportunities and Hampton Roads residents a vibrant destination for performances, demonstrations, festivals and exhibits.
"These facilities are going to allow us to expand our talents to become better performers, artists and teachers," Christian Hayward, a senior vocal performance major, told the guests. "I can speak on behalf of my friends, colleagues and fellow performers by saying that what you have done for us will live on for generations. And the things we will learn here will stay with us the rest of our lives."
The Barrys donated $2 million to help bring the Barry Arts Building to life. The $13 million, 39,000-square foot building has three floors of offices, classrooms and studios, in addition to two of the finest art history libraries in the country – the Elise N. Hofheimer Art Library and the Jean Outland Chrysler Library of the Chrysler Museum of Art.
The latter had outgrown the Chrysler Museum in downtown Norfolk, which Richard Barry recalled with amusement as the spark for he and his wife's involvement in the Arts Village. Carolyn Barry has been a docent at the Chrysler Museum for more than 30 years.
"The first thing we did was come see John Broderick and ask him if he had a place to put the library," said Barry, the retired vice chairman of Landmark Communications and a former rector of ODU's board of visitors. "He said, 'No, but we can create one.'''
Barry noted that, as a child attending nearby Larchmont Elementary School, he rode his bike through the neighborhood, comprised largely of derelict houses, that is now home to his state-of-the-art namesake building.
"This remarkable growth and development in recent years is very much because of President Broderick's visionary leadership across the board," Barry said.
James Hixon, executive vice president of law and corporate relations for Norfolk Southern Corporation and a former ODU board member, said he was thrilled to contribute to the arts village that now features the 26,000 square-foot, $6 million Hixon art studio.
"This will help transform Old Dominion's impact on the arts," Hixon, who donated $1 million, said of the arts village. "It gives students modern facilities to develop their skills and a venue in which to display those skills."
The Brocks, who gave $1 million to help complete the $3 million outdoor amphitheater, were recently named national "Outstanding Philanthropist 2015" by the Association of Fundraising Professionals. Joan Brock holds a master's in humanities from ODU, and she praised the University for its leadership-role in the arts.
"This is the hub of creativity in our region now," she said. "With these new facilities, the sky's the limit."