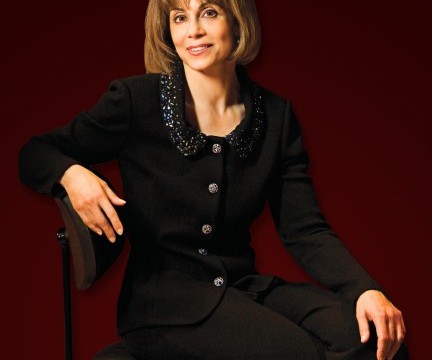 Virginia Symphony officials today announced that JoAnn Falletta's contract has been extended for an additional five years, and she will remain at the helm of the Virginia Symphony Orchestra through the 2020 – 21 season.
Falletta, already the longest-tenured Music Director in the history of the Virginia Symphony Orchestra, received this unprecedented contract extension honoring her distinction as one of the longest –running American music directorships – for either a man or woman.
Since coming to the VSO in 1990-91 season, Falletta has revitalized the orchestra's recording program, working with the international classical music giant Naxos to release numerous CDs. She has taken the orchestra to Carnegie Hall and Kennedy Center, and mounted multi-city tours across Virginia.  The orchestra has performed multiple world premieres under her direction, including several pieces commissioned for the VSO and its musicians. A champion of the music of our times, she has earned several ASCAP Awards for Adventurous Programming.
"During her 25 years as Music Director of the Virginia Symphony Orchestra, JoAnn Falletta has taken a good regional orchestra and raised it to the highest level of professional accomplishment with a national reputation. Her passion for music is matched by her perseverance for artistic quality.  This is evident every time she steps to the podium, to both our musicians and to our audience. Maestro Falletta is now recognized as a regional asset having led the VSO to a position where it is the anchor of a thriving regional performing arts community. We are pleased that she will be continuing as our Music Director for years to come," said VSO Board Chair Steve Test.
Through partnerships with colleges, universities, museums, and dance and theater companies, Falletta has integrated the orchestra into the Hampton Roads community to an unprecedented degree.  Collaborations include Virginia Arts Festival, Virginia Opera, Virginia Stage Company, Todd Rosenlieb Dance, Richmond Ballet and many more.  She has been honored by the Library of Virginia – Women in History, Norfolk's Downtowner of the Year and WHRO's Vianne Webb Lifetime Achievement Award.  She holds local Honorary Doctorates from the College of William and Mary, Marian College, Old Dominion University, Newport University and Virginia Wesleyan College.
In addition to her position as Music Director of the Virginia Symphony Orchestra and a resident of downtown Norfolk, she also serves as the Music Director of the Buffalo Philharmonic, and is Principal Guest Conductor of the Brevard Music Center. Her extremely busy world-wide career as a guest conductor has taken her to orchestra podiums in Asia, Europe, Africa and South America as well as throughout the United States. She has been awarded 12 honorary doctoral degrees and prestigious international conducting awards such as the Seaver/National Endowment for the Arts Conductors Award and the Toscanini Award for Conducting.
"I am truly happy to be able to spend another six years with the VSO in an area I have loved for 25 years," said Falletta of her contract extension. "Making music with the outstanding musicians of VSO is one of the great pleasures of my life, and a dream for any conductor.  I am thrilled to continue working with this exemplary orchestra, board, a visionary President & CEO and dedicated staff and volunteers who propel this organization into the future with enthusiasm."
Under the leadership of GRAMMY-winning music director, JoAnn Falletta, the Virginia Symphony Orchestra is Southeastern Virginia's pre-eminent professional symphony orchestra with a mission of inspiring, educating and connecting audiences of all ages. Founded in 1920, it is ranked in the top ten percent of professional orchestras nationwide and serves the entire Southeastern Virginia region with Classics, Pops and Family concert series in Norfolk, Virginia Beach, Newport News and Williamsburg as well as performances in outlying Virginia and North Carolina communities, reaching more than 160,000 concert-goers every year. Additionally, the orchestra annually reaches 45,000 children, students and lifelong learners with its education and community programs. The Virginia Symphony has performed at Carnegie Hall and the Kennedy Center and is the cornerstone of the performing arts in Southeastern Virginia.