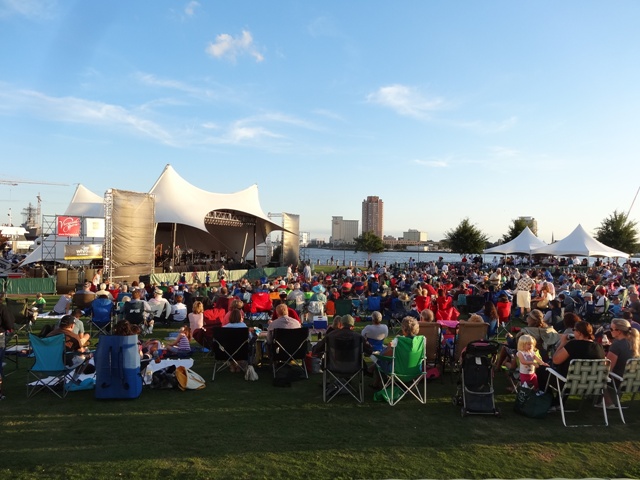 By Montague Gammon III
Hell is open for (monkey) business, and even the gods are partying there. (Olympus is just sooo boring!).
The Greek gods' "Grand Galop" at that soirée, from Orpheus in the Underworld, gives Virginia Opera's big free outdoor Opera in the Park concert in Norfolk's Town Point Park its rousing finale for Act 1.
Loads of folks will be surprised when they hear the rollicking tune that is titled Galop Infernal in the original French text.
It's usually called …"the can-can."
That skirt swirling, high stepping, calf twirling dance from the movie Moulin Rouge on the silver screen, Monty Python on the small one, and from numerous YouTube and even Second Life Cheerleading Squad appearances, was actually written over a century and a half ago, for Jacques Offenbach's 1858 thoroughly tongue-in-cheek work that is now considered to be the world's first full length operetta.
Orpheus in the Underworld kicks off the Virginia Opera's 2015-16 season not quite two weeks after Opera in the Park previews the company's season with a showcase of operatic voices singing a mix of opera and show tunes, accompanied by players from the Virginia Symphony.
Opera in the Park – which according to the VOA is seen by more folks each year than an entire season of staged operas – "is the moment for people who have never entered the opera  house to see our art form. Outside and next to the waterfront, it's a perfect environment to experience this music for the first time," says conductor Adam Turner, who is conducting his third OiP.
Turner, as Principal Director and Artistic Advisor for the VOA since the beginning of last season, is about as close to an Artistic Director as the company has right now. (He and VOA President and CEO Russell Allen are primarily responsible for putting together the season of shows and the production teams for each one, and they cast all of them.)
He wants folks to "be enticed to come to the theater," which he jokingly calls "the hallowed halls."
Turner's aware that lots of people who have never seen an opera are worried unnecessarily about unimportant matters: How to dress, or when to applaud or just making some other sort of social gaffe.
"None of that matters," he says. "They need to come and hear this first hand."
Though the outdoor concert will necessarily be amplified, what is unique to the opera house, in Turner's words, is "the beauty of, and the sheer power of, the unamplified voices, [which] is just breathtaking….that's the experience we want everyone to have.""
"It will grab you," he guarantees.
The other operas that make up this 41st VOA season – La Boheme by Giacomo Puccini, Romeo and Juliet by Charles Gounod and The Flying Dutchman by Richard Wagner – are all represented in the free outdoor concert. Show tunes by Bernstein, Sondheim, Jerome Kern, Richard Rodgers and Aaron Copland, are mixed with songs from works by other opera composers – Wagner, Donizetti, Rossini, Gounod, Léo Delibes, Camille Saint-Saens and, of course, Verdi and Mozart.
(Most appropriately, the Rodgers tune will be "It's a Grand Night for Singing.")
Verdi, Rossini, Wagner, Gounod, Puccini and Donizetti are pillars of the operatic repertoire. Rodgers, Sondheim and Kern have been lynchpins of Broadway, and Bernstein's compositions are associated with The Great White Way as well.
As for Mozart – he's known for everything.
By contrast, Delibes is best known for his ballet Coppélia; Saint-Saens especially for his light-hearted chamber piece Carnival of the Animals, and Copland for orchestral works such as Fanfare for the Common Man and for the ballet Appalachian Spring, so their inclusion broadens the spectrum of the program.
"The Flower Duet," a popular recital piece from Delibes' opera Lakmé and his contribution to the concert, has been used in films, on TV (The Simpsons!) and in a British Airways commercial.
Saint-Saens' "Amour! viens aider ma faiblesse" from Samson et Delilah is another favorite recital piece, and Copland's "The Promise of Living" from his written for TV but rejected (!) American Depression quasi-pastoral The Tender Land is often excerpted as a choral work, as it will be here.
Which is to say, this Opera in the Park is something of a Greatest Hits show that offers more than just the "same old same old" arias.
The selection of songs for Opera in the Park and the choices of shows for this season and the way they are ordered sends a clear if softly voiced message: this is not only your grandfather's opera company; it's yours and your young offspring's as well.
That is very much in line with the Opera's recently stated goal of "securing the youngest opera audience in the United States by 2025."
Convention and play-it-safe marketing practice (of subscription tickets) usually dictate that the season of any producing theatre or opera open with something tried and true, and close (when tickets for the next season are first being sold) with a similar safe bet.
That's why leading off with Orpheus in the Underworld is a gutsy move.
To pick Offenbach's wry look at Greek mythology and spoof of serious opera as a opener, and to close with The Flying Dutchman, which is the earliest Wagner to hold a permanent place in the repertoire, while placing old favorites Boheme and R&J in the middle of the season, serves clear notice that this is the year that attention must be paid to Virginia Opera.
Opera in the Park will be the eye-opener.
PS: Opera in the Park attendees can win door prizes, like tickets for opening night, gift certificates from restaurants and other swag as well!
Opera in the Park
Town Point Park, Norfolk
Sat., Sept.12, 2015 at 7:35 PM
Rain date: Sun., September 13, 2015 at 7:35 PM
Orpheus in the Underworld
Jacques Offenbach
Virginia Opera Association
Sept. 25, 27, 29
Harrison Opera House
160 W. Virginia Beach Blvd., Norfolk
(VB Blvd. at Llewellyn and Boush)
1-866-673-7282