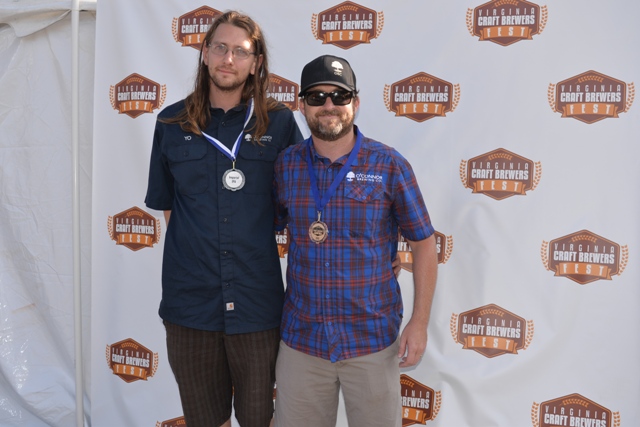 By Jeff Maisey
When craft beer enthusiasts in Hampton Roads order their local brew they are drinking many of the best libations made in Virginia.
Norfolk's O'Connor Brewing Company earned five medals, including a Silver in Best of Show, at the Virginia Craft Brewers Fest and the fourth annual Virginia Craft Brewers Cup competition at Devils Backbone Basecamp Brewpub & Meadows.
With 306 Virginia craft beers entered in the competition, O'Connor's Backyard Bonfire Smoked IPA won second overall.
Other breweries from Hampton Roads also scored medals including St. George (Hampton), Alewerks (Williamsburg), Smartmouth (Norfolk), Reaver Beach (Virginia Beach), Young Veterans (VB), Pleasure House (VB) and Big Ugly (Chesapeake).
One promising trend of the competition is that several upstart breweries earned awards. RVA's The Answer Brewpub shpcked everyone by winning Best of Show honors.
"We saw a few brand new breweries win medals this year, which is awesome because you know how stoked they are," said Devils Backbone brewmaster Jason Oliver. DB had won the Virginia Beer Cup for three consecutive years. "I think it's great for the festival. This lends credence to the fact that it is impartially judged by professionals. This is great for Virginia beer."
Brett Vassey, President and CEO, Virginia Craft Brewers Guild, echoed Oliver's enthusiasm for the high caliber beer being produced across the Commonwealth, ranging from small operations like Big Ugly Brewing to large scale manufacturers such as Starr Hill.
"Uniformly, the judges said the quality overall is even better than last year," said Vassey. "That's a great sign."
Vassey and the Guild keenly observed the number of new, upstart breweries (Big Ugly, Pleasure House) winning medals compare to awards earned by established operations.
"Having the Cup go to not only a newcomer but a company that's been in business about a year, that is huge to win Best of show. That is motivation and inspiration to all the startups."
Here's how the craft breweries of Hampton Roads performed:
O'Connor Brewing Company (Norfolk)
Gold, Smoke & Wood Aged Beer, Backyard Bonfire Smoked IPA
Silver, Best of Show, Backyard Bonfire Smoked IPA
Silver, Imperial IPA, Heavy Footer DIPA
Silver, Stout, ODIS
Bronze, American Amber/Brown Ale, Red Nun Red Ale
Alewerks Brewing Company (Williamsburg)
Gold, Sour Ale, Lover's Greed
Silver, American Pale Ale, Shorty Time
Bronze, Fruit Beer, Pumpkin Ale
St. George Brewing Company (Hampton)
Gold, Herb, Spice & Vegetable Beer, Pumpkinfest
Bronze, Russian Imperial Stout, Imperial Stout
Smartmouth Brewing Company (Norfolk)
Gold, Belgian Session Ales, Alter Ego Saison
Pleasure House Brewing (Virginia Beach)
Silver, Belgian Strong ales, Glo
Reaver Beach Brewing (Virginia Beach)
Silver, Sour Ale, Jolie Rogue
Big Ugly Brewing (Chesapeake)
Silver, Porter, Ghost Rider Porter
Young Veterans Brewing (Virginia Beach)
Bronze, IPA, Semper Fi. PA