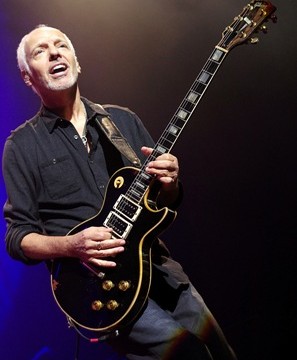 By Jeff Maisey
No one knows when their star will shine or for how long — certainly not Peter Frampton.
If anyone scraped his way to the top of the pop mountain only to be blown off by a gust of wind, it is Frampton. His career is as much a tragedy as a success.
"I definitely had a rollercoaster career, but then most careers are like that in someway shape or form," said Peter Frampton in a phone interview. "It's just that I've been on the biggest rollercoaster yet to be built, with "Frampton Comes Alive."
During the 1970s, live recorded concert albums sparked the careers of a numerous artists, most notably Cheap Trick ("Live at Budokan") and Kiss ("Alive").
Peter Frampton, like the others, had slowly built a loyal following by relentless touring in support of studio recordings that failed to achieve mainstream popularity. After a brief stint as guitarist for Humble Pie, he made his solo debut in 1972 with "Winds of Change." The English-born singer/guitarist would go on the release three additional albums before recording the double-LP "Frampton Comes Alive" (1976).
"Comes Alive" captured the essence of Frampton, something his studio records failed to do. He was lighthearted and fun. The acoustic ballads demonstrated signs of life. The screams from the audience provided excitement. The album spawned Frampton's first hit singles: "Baby, I Love Your Way," "Do You Feel Like I Do" and "Show Me the Way."
But why was "Frampton Comes Alive," with 16 million copies sold worldwide, such an enormous success?
"My live album was a collection of the best of all my solo records, and then a track from Humble Pie, as well," he said. "It was sort of like doing six years worth of writing for one album. For me, there's something that I'm able to put across live that is part of my personality. It's what I do and I enjoy it. I think you feel that on "Comes Alive." You don't know what it is, but there's something you feel coming across on that record that makes you smile."
With an album setting sales records for a live recording, Frampton was rushed into the studio to cut a new set of songs. "I'm in You" (1977) ranked at the number two position on both the album and singles charts (the single was the title track). The pop star image on the cover, however, was contrived.
"I call the "I'm in You" cover the "Little Lord Fauntleroy" album cover," he said. "It was like this English little character that is spoiled. There I am with Sean Penn's uncle, Irving Penn, one of the greatest photographers of all time. And there I am in this God-awful outfit; they had to primp my hair. I wasn't in control of my own look even at that point. Underneath all that, I'd always been a T-shirt and jeans guy. That's the way I am today. So that I think was a big mistake. It was misleading to the public. I was doing a disservice to myself, but then I had people around me who were trying to make me into this pop star. The unfortunate thing, and I would have thought that the management and everyone that was around me at the time would have realized then, that the life of a pop star, or an idol of a particular age group, they grow up within 18 months and they wonder why they had that person's picture on the wall. So it's very short-lived, whereas, what we had was a viable, musical…everything that record had; great playing, great songs, and a great band. And the image that was almost manufactured to go with it was the complete opposite."
Peter Frampton says the success turned his life upside down.
"The thing that was the most noticeable for me was the fact that I couldn't go anywhere without being accosted, whether it was a doorman in a building in New York, or a cab driver. All of a sudden, everyone knows who you are."
In 2003, Peter Frampton released "Now," perhaps his finest studio effort since "Breaking All the Rules" (1981). In addition to covering George Harrison's Beatle tune "While My Guitar Gently Weeps," Frampton, who performed on Harrison's landmark "All Thing Must Pass," wrote the sitar tinged "I Need Ground," which smacks of the late guitarist.
"I thought it was a nice thing to do," said Frampton.
His most recent album is 2014's "Hummingbird in a Box."
Frampton still shines.
Peter Frampton
With Cheap Trick
August 11
Ferguson Center