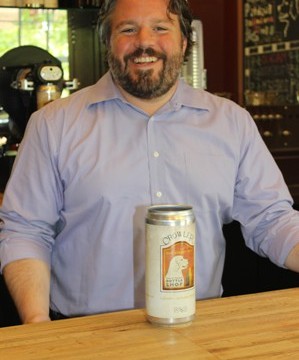 By Jeff Maisey
The popular DoG Street Pub Craft Beer Festival has gotten a new name this year. Scheduled for Sunday, August 2 (12:30 PM to 5:00 PM), the event is now dubbed Whistle Belly and will be presented by The Juniors Woman's Club of Williamsburg with DoG Street Pub in Colonial Williamsburg.
So what the heck is a Whistle Belly?
"It is the name of a Colonial era cocktail/hangover remedy made with spoiled beer & molasses," said event organizer and DoG Street Pub GM Michael Claar. "One of the things we'll feature at the festival is Colonial Era cocktails. I thought the name was cool. Syllabub was equally humorous but didn't make the cut."
The previous festivals have been on Duke of Gloucester Street in front of the Pub. The festival is moving to the parking lot behind the Pub/Trellis/Blue Talon. Plenty of space under large tents so rain or shine.
Represented will be 36 breweries, over 90 beers plus Williamsburg Winery and Colonial era cocktails. Food by DoG Street Pub, the Trellis Bar & Grill & Blue Talon Bistro.
There is an Early Access ticket available for just $20 extra and gain you entry at 11:30 AM and an opportunity to try some unique beers. Early Access Session Beers include tasting of the following: Devils Backbone Cuvee Gooch, Green Flash Barleywine, Starr Hill Witbier with Cherries, Alpine Duet Pin, Heavy Seas Red Sky at Morning, Reaver Beach Cthulu, Hardywood Gingerbread Stout, Center of the Universe El Duderino, Evolution Winter Migration, Victory Sour Monkey and special stuff from AleWerks, Smartmouth and O'Connor.
Tickets ($50 unlimited beer and food, $40 drink only, $20 food only) available at www.dogstreetpub.com & at Hair of the DoG Bottle Shop. More info at whistlebelly.com.
While at the festival, check out the recently opened Hair of the DoG Bottle Shop. It's another brainchild of Michael Claar.
"The space became vacant in 2014 and Chef Everett and I rolled around some options," said Claar. "We actually discussed a sort of fast food version of DoG Street Pub, but when we went to Colonial Williamsburg they were very clear they didn't want another restaurant. They were looking for retail. The idea hit me of doing a bottle shop. We had the means to create the best bottle shop in Virginia."
Located next to the gastro pub, Hair of the DoG is 100% beer. Shelf after shelf featuring craft and international beer displayed in a most attractive way. They also offer draft beer to go.
"We strongly promote Virginia beer," said Claar. "We have 8 taps to enjoy draft beer in the shop while you browse, and then we have a state-of-the-art growler filler. We also have a canning machine so you can take the draft beer home in crowlers, a one-time use aluminum growler (shaped like a can)."
Be sure to request Maizie's ESB, an English style Extra Special Bitter brewed for DoG Street as a collaboration between Claar and Geoff Logan at Alewerks Brewing Company. The beer is named after Chef Everett's Golden Doodle (as seen on the logo).