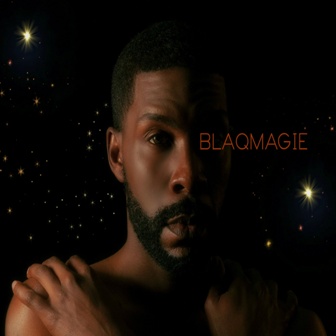 By Jeff Maisey
Traprock Misfit, aka K'Bana Blaq, is known to many as the flamboyant male vocalist in The Fuzz Band, a Hampton-based R&B group known for its cross-over appeal, whether taking on soul, hip hop, rock, jazz or '80s synth-pop.
K'Bana also has an emerging solo career and has released a fabulous, trippy 14-track album titled "Black Magie." The album explores the cosmos of contemporary R&B, electronic, punk rock, hip hop, gospel and jazz. The first single "I'm Not Perfect" is ready for primetime.
I recently caught up with multi-faceted entertainer to learn more about the creation of the album. Here's an excerpt of our conversation.
Let's start with the album cover artwork where you resemble Teddy Pendergrass. You are known for switching your image quite a bit, but what's behind this particular look?
I really wanted to go vinyl. That why I did my release at Groove Records. I wanted an album cover as opposed to a CD cover. Album covers are classic. I just remember my dad's albums: Barry White, Teddy Pendergrass, Marvin Gaye, they always had those great headshots and they always wore beards. I also always liked the stars and the Commodores kind of feel.
I wanted people to see it (the cover) and have it remind them of the past but be trendy enough to remind them of the present. I actually did my own graphics for the background. I was very proud of that.
How did you decide on the album title?
I got it from Mike Holtzclaw of the Daily Press. He did a story on me for the play at American Theatre. The article was titled Blaq Magic. I was, like, "Wow, I really like that name." But I didn't want anyone to get too hocus pocus on me. It's just a name. These days everybody makes a big deal about everything. Social media is like a blessing and a curse.
So I thought, "Well, what does magic mean in another language?" I said it out loud and someone was standing beside me and said, "Magie." It looked good. It felt good. Basically, that's where the stars and everything came from.
My brand of music is unique and it's different. I just want to get people to drift off, escape, party, dance, and cry a little bit. That's where "I'm Not Perfect" came from. I wanted to draw on people's emotions again.
When I listen to the tracks they're very chilled, cosmic. What was the overall sound you were going for?
At first it was the hybrid of hip hop, rock and soul being as my voice is soulful and I love edgy beats. Once I started doing the project I felt like I'm not really doing an album. I've done many projects and I felt like they were mix tapes. When I was doing this record I felt I just have a melting pot sound. That's what happens when they hear my stuff. It's the same thing when they see me. They don't really know what to expect. But when they get it, they're, like, "Yo, that was great." But it's really a melting pot sound – good folk and blues; you can feel churchy kind of things; you can feel edgy rock. I have somehow figured out a way to be musical without being too much. I don't think I've overdoing it; it's just natural. And I have to give it to The Fuzz Band because being in that band it allowed me to always do new things. Like I just finished singing Mumford & Sons "Below My Feet" and I'm in love with it and I'm adding it to my show. I would have never done it if it wasn't for the person requesting it. So it's always great to learn new things.  It is the first record where I actually getting real responses.
I detect a little bit of Prince in your voice. Having seen you perform, I understand that. How has Prince influenced you, even if subliminally?
You know I did not realize how much influence Prince had on me until I did my performance at the VEER Awards. I had sung Prince, and always thought it was funny because I'm a baritone. Prince was definitely a tenor. So I was always surprised I could sing Prince. My first favorite Prince album was "Controversy." My favorite song was "Private Joy."  I love how out-of-the-box he was. I love his look, even from the eyeliner and all these crazy things. The androgynous stuff I do I pull from him. Him and Little Richard, James Brown and Michael Jackson really have influenced me as a performer. Musically, my roots are embedded in gospel, like the soulful sound that comes from me, even though I'm not a gospel singer.
You really weave that gospel vibe with contemporary R&B and electronic in places. With so many different producers on these 14 tracks, I amazed at the overall cohesiveness of the sound. How did you manage this?
Not only do I have a number of producers but the two main producers are DJs. I have DJ Kalismeo and I have DJ Alien 1. DJ Alien 1 is my MD. I do not have a traditional band.
One of the things that made me go to these DJs was the fact that they're connected to radio. They play a lot of music that is underground. So their ears are far more sensitive than ours. I've been working with these two people for two years. The first song we did, which was "Snakes," it kind of predicted where I would go. I tell people all the time if I had to be under an umbrella I would easy be classified under a Pharrell. Some of the beats of the early N*E*R*D especially.
DJ Kalismeo is in Atlanta. He would just start sending beats. DJ Alien 1 would do beats. I had the honor of working with Derrick Braxton. Armani Wadley is the featured rap on "You Can't Hold Me Down," and he produced it at age 16. I'm open to doing not just for seasoned people but young people as well. I also worked with vocalists, which was different for me because most everything I have done I have been vocally the driving force. The reason I love Luther Vandross is he would never feel the pressure of having to do background vocals. He had singer-singers in the background, and I thought they fit. I say, "Well, let me try that."