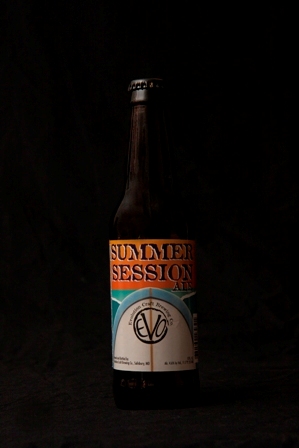 By Diane Catanzaro and Chris Jones
Summertime in Hampton Roads, when air temperatures are in the 90s and the percent relative humidity is also in the 90s, no sane person wants a barley wine or an Imperial Stout.  What we want is a session beer, a relatively low alcohol quencher of both thirst, and desire, the desire to have a few righteously good beers and still function in the sweltering 757.
What is a session beer? From Beer Advocate: "Any beer that contains no higher than 5 percent ABV, featuring a balance between malt and hop characters and, typically, a clean finish – a combination of which creates a beer with high drinkability. The purpose of a session beer is to allow a beer drinker to have multiple beers, within a reasonable time period or session, without overwhelming the senses or reaching inappropriate levels of intoxication." A session beer is suitable for when you're having more than one, over a period of a multiple-hour "session" with your mates at a pub or your friends at a biergarden. Classic British styles like the mild and the dry stout, and German styles like Helles and Kolsch fit the session beer bill quite nicely.
What is the difference between a "session beer" and a "lawnmower beer"?  Some may use these terms interchangably, but they are not the same thing. "Lawnmower beer" describes a lower-alcohol beer (under 5% ABV) that is light, crisp, refreshing and "quaffable", meaning you would drink it with gusto as a thirst-quencher after doing yard work on a hot day. While most lawnmower beers would qualify as session beers, the reverse is not always true. For example, Guinness Stout on draft, at 4.2% alcohol, is a classic session ale, surprisingly low in alcohol and calories. However most of us, after a hot afternoon of mowing the lawn, mulching, and weeding, are not craving a Guinness. A session beer is more of a long-drinking-session "sipper", and a lawnmower beer is more of a thirst quenching "quaffer." The session beer croons "you love me long time" while the lawnmower beer is urgent like "a hunk of burnin love."
The session beer, as marketed today, is typically a lower-alcohol beer with flavor. A great trend, as for many years craft breweries have focused on bigger beers with higher alcohol. There is certainly a demand for lower-alcohol beers with flavor, and this is evident in today's marketplace. Every brewery seems to make something they call a "session beer" or "session ale" and many of these would fit the lawnmower category as well. Beers labeled as "session" or "sessionable" tend to be lower in alcohol but on the quaffable side. Two of the more ubiquitous ones are Founder's All Day IPA and Terrapin RecreationAle.  Both come in at 4.7% ABV and 42 International Bittering Units (IBUs – the bigger the number the hoppier the beer); they have big flavor but with a more modest alcohol presence than your typical craft beer. New Belgium's Shift Pale Lager, at 5% ABV and a modest 29 IBU is another example of a sessionable beer, with less hops for those who prefer lower bitterness. All three are available in cans, making them perfect for the boat, the pool, or the beach. Local favorites like O'Connor's Green Can Golden Ale, Reaver Beach's Sandshark Kolsch, St. George's Summer Ale, Smartmouth's Safety Dance Pilsner, and Young Veteran's Green Bullet Session Saison are all examples of session beers that would also qualify for lawnmower duty.
Purely in the interest of science, we went to our local Total Wine and More store and grabbed a handful of other session ales, invited a friend over, and had a session to determine which ones floated our boats, and perhaps yours, too.  There are many to select from, with both labels and descriptions that almost force your hand to put them in the basket and take them to the cash register. Session beer? We're in!
The table below is not comprehensive list as this beer category is exploding.  Saunter to the store and bring home some session sippers to savor with your friends.
| | | | |
| --- | --- | --- | --- |
| Name | ABV | IBU | Tasting notes |
| Long Trail – Summer Ale | 4.3% | 32 | Very pale, mild citrus notes; light-bodied, very easy to drink; clean; just enough hops to balance; a keeper! |
| Evolution Craft Brewing -Summer Session | 4.6% | 25 | Light enough to refresh but with enough flavor to keep you interested in the next sip. Sign us up for this summer session! |
| Schmaltz HeBrew – Genesis Dry Hopped Session Ale | 5.5% | ? | This American pale ale tastes more like a malty amber; the ABV is a bit high for a session beer; mildly sweet caramel malt flavor profile in spite of the dry hopping. |
| Full Sail – Session IPA | 5.1% | 47 | The squatty little 11 oz bottle fits nicely on the short fridge shelf; malty and mildly hopped; we were divided on this beer as our desired number to drink were recorded respectively as several, one, and zero. |
| Peak Brewing – Organic Summer Session | 5% | 61 | An American pale wheat ale; mildly malty but a bit drying on the palate, which limits quaffability. |