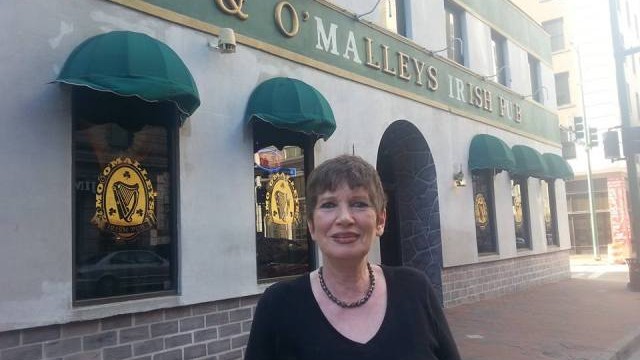 By Jeff Maisey
It is said you can find an Irish pub in every great city of the Western world, but that will no longer be the case in Norfolk, Virginia when Mo & O'Malley's closes its doors at the end of business on Saturday, July 25.
Known affectionately by longtime patrons as Mo's, the pub was originally opened in 1997 by Jim Manning. At the time, it was an essential part of the rebirth of downtown Norfolk when the 100 block of Granby Street (between Main and Plume streets) came to life with new bars, restaurants and retail. On each St. Patrick's Day during the mid-'90s, the businesses came together to throw a festive block party, filling Granby Street with green-clad revelers dancing to the sounds of rollicking Irish music, food and beer.
Gudrun "Gudi" Seeger has been the owner/operator of Mo & O'Malley's for the past 17 years. The pub is on the street level floor of the Virginia Building, an eight-story historic building Seeger owned but sold for $1 million in November 2014 to developer Buddy Gadams. Gadams has been in the process of renovating most of the structure, creating small, upscale apartments.
Over the years, Mo's expanded from a two-level snug pub on the left side of the building to eventually incorporating the entire first floor on the Granby side. Mo's is known for pouring the most proper pint of Guinness you'll find in Hampton Roads. Seeger attributes the accolades to sheer volume.
Patrons have contributed many of the uniquely visible traditions at the pub.  The dark green walls are adorned with dollar bills with messages inscribed by passers-through. Back in the '90s, it was common for women to remove their bra and toss it onto the small stage to show approval for the entertainer performing Irish drinking songs and keen sense of humor. Some of those bras are tacked to the walls today.
Live music has been a main ingredient of Mo's success.  Among the popular musicians are Don Bunch, Martin Marron, Dave Crumpler and Jay West.
Business remains strong at Mo & O'Malley's. Many of the weekend patrons are members of the military. Seeger said she decided it was time to retire once the building was sold. She plans to tend her flowers at home and travel as much as possible.
Veer Magazine has been told the likely new tenants will be a North Carolina-based hamburger chain and a jeweler. They will split the first floor space.
In the meantime, go have a pint of Guinness while you still can. Don Bunch will perform live on the final weekend, July 24 and 25.