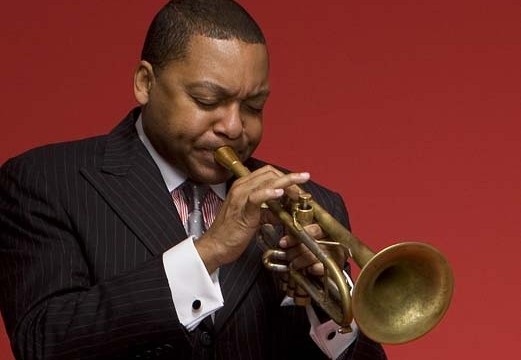 By Tom Robotham
As a longtime jazz fan, I feel blessed to have lived in New York City in the early 1980s. Many of America's greatest jazz pioneers were still alive, and I was fortunate enough to catch them in concert: Ella Fitzgerald, Benny Goodman, Count Basie, Chet Baker, Bill Evans, Dizzy Gillespie, among others. At the same time, there was a kind of jazz renaissance going on—a surge of young players who were embracing straight-ahead jazz rather than the jazz-rock fusion that had dominated the previous decade. But within a few years, one of these young artists would emerge as the personification of "the new jazz age," as Time magazine called it in 1990. His name was Wynton Marsalis.
I hadn't heard of Marsalis the first time I saw him play. Few people had. It was the summer of 1980, and he had recently become a member of Art Blakey's Jazz Messengers, a band that had long functioned as a kind of training ground for musicians who went on to have stellar careers. I remember being struck by both the purity of Marsalis' tone and his displays of virtuosity, which he had honed playing classical music as well as jazz.
The following year, Marsalis broke out on his own and quickly made a name for himself, playing with many of America's top jazz artists as well as his own group. By the time I saw him again in 1983 with Herbie Hancock, Ron Carter and Tony Williams, he was well on his way to becoming America's leading jazz messenger, as it were.
By that I do not mean he was the best musician on the scene. That would be a subjective judgment, needless to say. Moreover, in the early '80s, he was still in the process of developing his artistic vision. "He's an impressive player," Dizzy Gillespie told me when I interviewed him in 1983. "But he still needs to find his own voice."
No, what I mean by the phrase "jazz messenger" is that Marsalis soon proved to be more than a formidable musician and composer. He became America's most prominent jazz spokesman and educator.
"In the 25 years since his dramatic leap into the spotlight," Nate Chinen wrote in a 2006 article for The New York Times, Marsalis "has achieved the cultural celebrity of Duke Ellington. Or, perhaps more accurately, Leonard Bernstein, since Mr. Marsalis, too, is a lovingly adopted New Yorker who serves as global emissary for the music he loves and the institution he leads."
The institution to which Chinen referred is Jazz at Lincoln Center, where Marsalis has served as artistic director since its inception.
The jazz arm of Lincoln Center would never have materialized had it not been for Marsalis. Initially, in fact, many people opposed the idea of elevating jazz to the stature of Lincoln Center's other institutions: The New York Philharmonic, the Metropolitan Opera, and the New York City Ballet. Indeed, as Chinen notes in the same Times article, a 1986 report by Lincoln Center's Committee for the Future concluded that "no compelling case" could be made "for adding a new constituent in an area like jazz."
The snobbery implicit in that statement might have prevailed were it not for the fact that Marsalis had already established his credentials in the world of classical music as well, having won a Grammy for his recording of trumpet concertos by Haydn, Hummel and Mozart.
The year after Lincoln Center issued that dismissive report, the powers that be decided it might be a good idea to organize a jazz concert series—not as a permanent addition, but perhaps as an experiment—and called on Marsalis to organize it. The series was a success, and a new committee was formed to reevaluate the idea of making jazz a bigger part of the arts complex.
"There were people on the board of Lincoln Center who thought this was nuts," the committee chair told Chinen. But they forged ahead nonetheless. Jazz at Lincoln Center finally became a reality in 1995, and by 2004 Marsalis and the board had raised enough money to complete a new building for jazz, not far from the main Lincoln Center complex.
It's hard to overstate the cultural importance of that achievement. But when you consider that jazz—a distinctly American art form—had long been shunned by the arts establishment, the symbolic significance of this breakthrough becomes clear.
Success doesn't always elicit praise, of course. When anyone achieves the status that Marsalis did so early in life—and eventually becomes the media's go-to expert in his field—naysayers tend to come out of the woodwork. In some cases the motivation is thinly veiled jealousy. In other cases, the criticism may have some validity. Marsalis has had his share of critics over the years who've argued that his forceful advocacy of a "narrow neotraditionalism," as an article in The Atlantic Monthly put it, hurt jazz by stifling innovation.
That has always struck me as more than unfair. First of all, from my point of view, a lot of the "innovations" in jazz over the last couple of decades or so have been tediously cerebral. They sound innovative, and perhaps they are, as far as musical architecture is concerned, but they lack soul.
Marsalis has always stayed true to the key elements of jazz—swing, improvisation within a composed framework, and its roots in the blues. In doing this he has not only produced a formidable body of music; he has educated Americans about their art form. (He's all over the great documentary Jazz, by Ken Burns, and if you haven't seen that, you must.)
But you can judge the music for yourself. On April 12, Marsalis will arrive in Norfolk with the Jazz at Lincoln Center Orchestra for two shows (4 and 7 p.m.) at the historic Attucks Theater, as part of the Virginia Arts Festival. For more information, go to vafest.org
Wynton Marsalis
April 12
Attucks Theatre