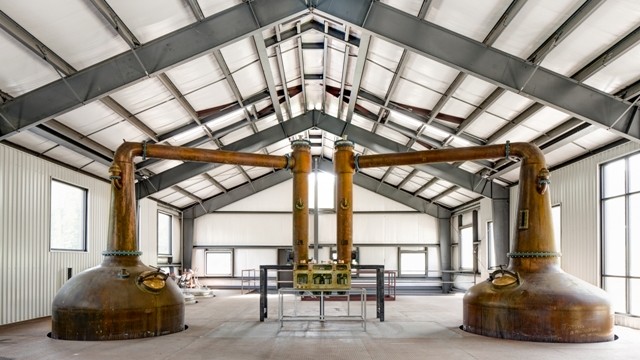 By Jim Roberts
According to Andrew Shand, a master distiller who worked in Scotland's whisky industry for 35 years before moving to Virginia two years ago, the most important qualification in his trade is patience. "We always say: If you want gin or vodka, you order it on Monday, it's made on Tuesday, you get it on Wednesday," he said in a recent interview with Veer Magazine. "In the Scotch whisky industry: You order it on a Monday, you make it on a Tuesday, and you can come back and collect it in 12 years' time."
So what is a whisky start-up like Virginia Distillery Company to do while its production facilities are still under construction?
Well, the owners bought a young, vatted single malt from a Scottish distiller and "made it their own." More specifically: They took an anonymous six-year-old Highland malt, imported it to the U.S. and aged it in Virginia port-style wine barrels before bottling.
"The whisky just totally transformed," said Dan FitzHenry, Virginia Distillery's director of operations. What started out the color of chardonnay, he said, "took on this beautiful copper/rose hue. The flavor profile deepened incredibly. It got lots of red fruit, dark cocoa and tobacco notes on the palate to go along with the brighter notes of a younger whisky."
The result is Virginia Highland Malt Whisky. At the moment, it's distributed exclusively in Virginia, New York, Massachusetts and Washington, D.C. Locally, it's available at select Virginia ABC stores and at a few restaurants in Williamsburg, including Blue Talon and Silt. (For reference, Virginia ABC sells it for $57.50 a bottle—the same price point as Glenlivet Single Malt and Glenmorangie Quinta Ruban.)
Reviews have been favorable. Most recently, distiller.com gave Virginia Highland Malt Whisky a score of 89 and reported: "​This is unmistakably a Highland malt and drinks older and better than the age would imply. The port wood finishing did a fine job of rounding out and adding a touch of sweetness to this fresh and round whisky. Lots of cereal grains and ginger on the nose as well as on the palate along with some secondary flavors of peach, pear and brine. A textural and mineral finish makes for a whisky that was overall a very pleasant surprise."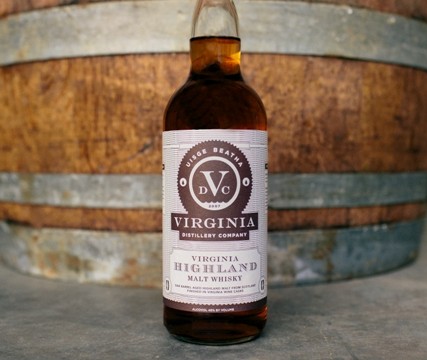 FitzHenry knows that feeling first-hand. "Everything's right with the world when you're sitting with a glass of whisky," he said. "When I tasted the Virginia Highland Malt, knowing that I was creating that moment for people was really special. That's why we do what we do."
Virginia's Alcoholic Beverage Control website notes that the state is home to more than 250 wineries but only 28 distilleries—less than half of those with associated stores. FitzHenry said he believes the industry is poised for major growth. "Beer and wine are kind of in a different world right now," he said, "but we're hopeful and we're working very hard to get spirits into that same place." (In fact, whiskey sales accounted for more than $241 million in state revenue in 2014—about 6 percent more than 2013. Scotch made up nearly 20 percent of the overall whiskey sales.)
"Virginia has the chance to foster the growth of the distilling industry," FitzHenry said, "and I think if it does so it can really reap the benefits through tourism and just putting Virginia on the map as a commonwealth that creates amazing craft spirits—not just whisky, but brandies, vodkas … there's stuff all over the map."
Virginia Distillery Co. has the potential to put Lovingston, a small town about 30 miles southwest of Charlottesville, on the map. The company was founded in 2007 by an Irish immigrant named George Moore and two investors who are now board members. When Moore passed away two years ago, his son, Gareth, took on the role of chairman. "I wanted to finish out something that he had started," he said.
The owners purchased copper pot stills, a mash churn and other production materials early on but kept them in storage until they could lure Shand from Scotland to Virginia to build out their distillery and adjacent visitor center. "When I came out here," Shand explained, "it's very like Scotland—this part of Virginia—except the weather is much nicer."
Full disclosure: Having grown disenchanted with the increasingly corporate atmosphere of Scotland's whisky industry, Shand jumped at the chance to move to the U.S. and build an "old school" distillery from scratch. "It's almost like the old days when people left Scotland to come to the New World to start again," he said. "I'm trying to go back to what we used to do."
If all goes as planned, the distillery and visitor center will open in the fall, and production will start soon thereafter. While 8-, 10- and 12-year-old whiskies will be their core products in the 2020s, they will continue to sell the existing Virginia Highland Malt Whisky until the first bottling of their own original whisky takes place—possibly in four years.
"Much depends on how it matures in the casks here," Shand said. "The one question everyone in Scotland asks me most is: How will it mature out there?" I'm quite fascinated by that. In theory, it should mature quicker, but theory and fact are normally miles apart, but we'll see what happens."
It all comes back to patience. Years and years of it.
"I suppose it's like having kids, isn't it?" Shand said. "You just watch them grow and see what they turn into."
For more information about Virginia Distillery Co. and Virginia Highland Malt Whisky, visit: vadistillery.com.