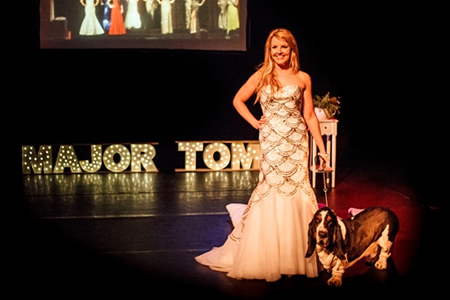 By Montague Gammon III
A British performance artist successfully turned beauty queen, and a "stubborn" basset hound somewhat less successfully turned show dog, bring their irreverent and humorous two performer multi-media look at competitive beauty and associated topics to the Virginia Arts Festival's Robin Hixon Theater for a 6 evening run this April.
The hound and the show are both called Major Tom.
Victoria Melody, the titular Mrs. Brighton for 2012 and a Mrs. UK competitor in 2013, does the talking. The passively "unruly" canine Major Tom, whose highest award seems to have been "Biggest Ears in the South East," tail-waggingly accepts the applause as his own.
Of course, every person in the performing arts knows about sharing a stage with an animal. Your scene will get stolen. Like daily sunrise and sunset, that's a given. And audiences will love it.
Mrs. Melody told the Welsh Weston Studio blog, "Major Tom does exactly as he pleases on stage which is mainly sabotage the punch lines of my stories by looking at the audience and yawning or walking off stage. He is very comedic and every performance is different because you never know what he's going to do."
She creates her shows by immersing herself in Britain's 21st Century "clubs and tribes," which form around such endeavors as pigeon racing, the Anglo-American hybrid called "northern soul dancing," and dog shows and beauty contests. It's something like the participatory approach of late-mid-20th Century New Journalism, used to create performance art.
(Prompted by the hair extensions she used in beauty contests, or as she says, "Freaked out by wearing a piece of somebody else's body," she researched the origins, economics and implications of trafficked human hair for a show that will be called Hair Peace.)
As a beauty contestant, Mrs. Melody was told to lose weight. As a dog handler, she was told to lose the dog, or rather, to replace him (after he came in last an early contest).
Feeling "guilty" about her "loving" and lovable pet being so scorned, she decided to put herself in his place, or at least in one that was the approximate equivalent for a human.
So, in her "mid-30s," with a self admitted stubbornness she likens to a breed trait of basset hounds in general, she applied her self-involving, self-described "ethnographic approach to generating material," to the world of beauty contests.
Apparently the dog shows were way rougher on people than were the pageant competitions. The other would-be beauty queens were supportive; "Dog shows were much more hostile," she has said.
"We are much more forgiving of animals than we are of live performers," commented Tina Rasmussen, Artistic Director of Toronto's Harbourfront Centre.
The show got a host of great reviews at Edinburgh's famous Fringe Festival last year; the Edinburgh Evening News called it "An incredibly funny production… heart-warming yet bizarre."  Exeunt Magazine and the Guardian called it "Continuously hilarious," and "startlingly bonkers and… deceptively thoughtful fun." The Times reviewer not only termed it "A truly winning comedy" but added, "I laughed tilI cried."
Thoughtful comments on "the British fascination with celebrity, beauty and winning" – which fascination is hardly unique to the UK – were equally positive.
"A tale that is both life affirming and an effective indictment of our modern, image-obsessed society," was the description in Fest Mag.
A Younger Theatre recognized Major Tom as being both "A wry statement about the social expectations on women" and as "charming and funny."
Total Theater Magazine said "Victoria Melody seduces us into her world with laughter. We guffaw at the absurdities, and we share her ambivalence towards it all."
Mrs. Melody cites this comment from Rosemary Wagg in Exeunt as a favorite: "Major Tom proves something I had always suspected: that the best politics come heavily coated in humour and everything is better if a dog is involved. "
Victoria Melody: Major Tom
Virginia Arts Festival
April 14-19, 8:00 PM
Robin Hixon Theater
Clay and Jay Barr Education Center, Norfolk
www.vafest.org 
757-282-2822