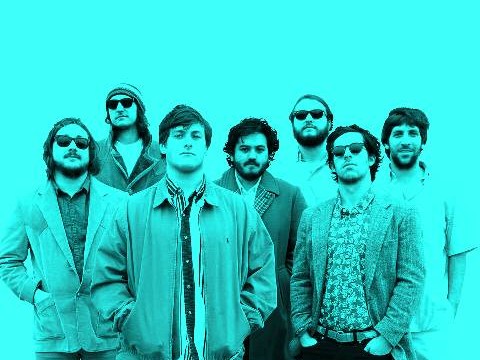 By Jim Morrison
There was nothing to debate about where Neal and Cole Friedman, the twins who helped form Major and the Monbacks, were headed after graduating from college last spring. It was on the road with the band
With two key members sprung from the ivied walls of academe (William & Mary for Neal; the University of Virginia for Cole), the only place to be was the road.
"We have no other obligations," Cole Friedman says. "Do we want to do this? Yes. Everyone knew this was the direction we wanted to go. We went ahead and booked 100 shows. That was day one in turning into a touring band."
Over six years, the Monbacks, formed originally with four friends from Maury High School and Norfolk Collegiate, had evolved from a loose garage band into something more, a rollicking good-time group with originals sprinkled in among the soulful covers. About every other weekend in 2013, members converged from several cities — Norfolk Williamsburg, Charlottesville — to play, often fraternity parties, but also clubs and the occasional festival.
"To go from two fraternity houses on a weekend to touring for a week or two at a time, we had to start acting like a real touring band," Neal adds.
So they began organizing lodging, often leaning on friends or friends of friends or fans for couches or floors or extra bedrooms. They had to deal with the inevitable flat tire on the van they purchased (along with a trailer), which replaced the borrowed Prius, pickup truck and other vehicles they used to lug their gear to gigs.
They handled everything in house. Cole did – and does – the booking. Guitarist Harry Slater, a Maury grad who attended Roanoke College, handles the graphics. Tyler West, another Maury guy, deals with social media. Neal Friedman, Slater, and guitarist Michael Adkins handle songwriting with others beginning to get involved.
Now, the band takes another leap forward with the release of their first full-length album, Major and the Monbacks, on May 12. They play a release party April 25 at O'Connor Brewery in Norfolk, part of a five-month tour of the East Coast. They will play Harborfest on June 5.
It's something they never imagined when they went off to college five years ago.
An early listen reveals a band finding its groove, a combination of the Norfolk sound of the Sixties, old soul, rock, and even a little Americana. Listen and you'll hear a bit of St. Paul and the Broken Bones, Otis Redding, The Specials. Jr. Walker and the All-Stars, and even The Band. Slater likes to say the band plays psychedelic garage soul and roll.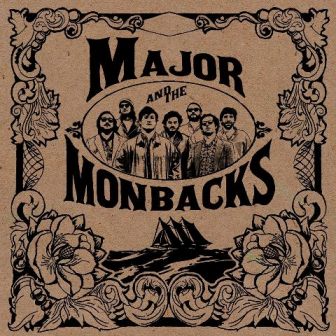 Listen to "Annabelle," for instance, which opens with a soulful Band vibe, then metamorphoses into a soulful rave-up. "Somedays," the first single, opens with keyboards and horns and sounds like it would fit perfectly on an old Billy Price platter. "Be My Baby" is beach music, doo woppy delightful with a ska edge. The whole package is captivating; irresistibly toe tapping, the party record of the summer.
For the album, the band journeyed to Nashville and Welcome to 1979 Studios, fitting for their sound. The retro studio, used by Eric Burdon of the Animals, Jason Isbell, and The North Mississippi All-Stars, features all analog equipment. Cole learned about it from a fan who messaged the group. They toured it during a trip through town and decided it fit.
"I don't think we could have ever imagined a place that would fit us better," says Cole, who plays bass and lends harmonies. "Even the room we recorded in had wood panel walls. The band got its start in Neal's bedroom in Larchmont and that room had wood panel walls so it was like bringing it all back."
With new drummer Bryan Adkins, they rehearsed for a month before leaving for Nashville, starting at 9 p.m. after he got off work and often going until 2 a.m. "We've only been practicing as a band these last three months," Michael Adkins says.
At the Broadberry in Richmond just before leaving for the studio, they gave the ten originals a run-through. "For me, that was what the band could be. We had a brand new drummer who fit perfectly with what we were doing after we were finally able to sit back and perfect every little thing (with rehearsals)," Cole says. "We hadn't gotten a chance to do that because we were on the road or we were in school. So we were able to step back and look at what we had and make it even better."
Some of the songs — "She Don't Knock," "Be My Baby" and "Sunshine" — were three or more years old. Slater remembers singing the chorus of "She Don't Knock" with Neal in the hallway of his house even before he joined the band. It was a turning point when the band started taking original material more seriously.
Neal was the only writer at the beginning and some of those older songs have been given makeovers, upgraded with horns and more harmonies. "They are all very road-tested," Neal says.
Road-tested during a 2014 tour that would make The Blues Brothers jealous. The Monbacks played 100 shows over five months, putting 20,000 miles on the van traveling to places like New York City, Burlington, VT, Washington, D.C. Nashville, Chapel Hill, Athens, GA, Birmingham, and Atlanta.
In D.C. in October, they played in The Bullpen, the entertainment complex across from Nationals Stadium,  before a playoff game against the San Francisco Giants. During their set for about 3,000 people, a dancing costumed panda jumped on stage. It was an omen. The Nationals lost the game and the series and the Giants and third baseman Pablo Sandoval, the panda, went on to win the World Series.
A typical day at Welcome to 1979 Studios started about 10 a.m. and ran for 12 hours with a short lunch break. Rhythm tracks took the first three days, and then solos and harmonies were added. The takes were done live. Some songs took only three tries, others as many as a dozen to get the best take.
"We really wanted to record in a situation where we were all playing together," says percussionist and hypeman Tyler West (just watch him on stage and you will understand the title).
Money for the recording was raised through Kickstarter. The boys had an $8,000 goal and exceeded it, raising more than $11,000, much from family and friends. They stayed with friends and friends of friends. The mother of one of Cole's fraternity brothers is the manager of Alan Jackson. She arranged the first two nights in a hotel courtesy of Jackson.
They were originally named the Oaks, but quickly changed to something more distinctive. Monback is shorthand for "come on back." And Major, well, Major as Neal says, just fit.
The band has evolved over the years with the Friedmans, West, and Michael Adkins as the original members. The newest members are Bryan Adkins on drums and Aaron Reeves on trumpet. Reeves joined after the Nashville sessions.
They point to the fall of 2012 when the Monbacks started venturing out every other weekend to play fraternities. They were still a garage band, but the money was good. They began to think this was something more than an occasional lark. "Fraternities pay you more money than any bar or club would ever pay," Slater says. "It's a bunch of people dancing their butts off. They make you feel like a rock star."
It also created a fan base. "No matter where we go, somebody there has seen us before," Michael Adkins adds.
Adding horns to the band in early 2012 proved key. "Once we got our horns together, we kind of worked on this old school vibe," Adkins says. "That was when we started playing music that we liked, not just playing covers at frat shows."
The horns started out as a joke. When the band would be asked for a stage plot, Neal would send one with about ten players, including horns. When Cole told him, that didn't depict the actual band, Neal replied, "So what, it looks cool."
They added a trumpet player first, then quickly a saxophone player. They have since been replaced by Reeves and saxman extraordinaire Nate Sacks.
On the album, the songwriters each take the lead on their cuts. Neal on five songs, Harry on Thee and Michael on two. Sometimes they switch off in the same song.
"It's been a natural progression," Slater says. "We're not getting really popular instantly."
Cole describes it as "pretty organic growth" and notes that in places where 30 or 40 people showed up a year and a half ago, they're now playing to full houses. "It's a testament to how hard we're working, especially without having a CD," he adds.
None of the band members thought even a couple of years ago that they'd graduate and go on the road as musicians.
"So far it's been successful," Cole says. "We've had fun and grown together as a band. We're all in it together."
Major and the Monbacks
April 25 @ O'Connor Brewing Co (CD Release Party)
May 16 @ Lava Festival
June 5 @ Harborfest